Classic DACB Collection
All articles created or submitted in the first twenty years of the project, from 1995 to 2015.
Lambie, Thomas Alexander (C)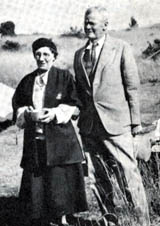 Introduction
Dr. Thomas Lambie was a prolific writer, the author of five books: Abayte or Ethiopia's plea for Help (1935); Doctor Without a Country (New York, 1939); A Doctor Carries On (New York, 1942); Boot and Saddle in Africa (New York,1943); and A Doctor's Great Commission (Wheaton, 1954). Lambie published numerous articles in Evangelical Christian (edited by Rowland V. Bingham, founder of the Sudan Interior Mission). Other articles by Lambie were published in The World Dominion magazine, The Muslim World and dozens of articles in The United Presbyterian in the late 1920s. He was also an engaging letter writer. The rich archival resources at the Sudan Interior Mission (SIM) International Archives in Charlotte, North Carolina, contain dozens of these letters. Recently, SIM learned that Dr. and Mrs. Lambie's granddaughter, Mrs. Margaret Hall, who resides in Wales, has a small but significant collection of letters written by both her Lambie grandparents.
It is surprising that no major missiological writing has been undertaken about the missionary activity of Dr. Thomas Lambie. Peter Cotterell's eleven page, "Dr. T.A. Lambie: some biographical notes", published in the Journal of Ethiopian Studies, 1972, provides significant historical data. Brian Fargher's published University of Aberdeen PhD. thesis The Origin of the New Churches Movement in Southern Ethiopia, 1927-1944 touches on Lambie's missiological impact under the aegis of the Sudan Interior Mission within Southern Ethiopia. Debela Birri's unpublished D.Th. dissertation at the Lutheran School of Theology in Chicago provides insightful historical data of Lambie's mission activities among the Oromo in Western Ethiopia while serving with the United Presbyterian Mission. Mikre Sellassie G/Ammanuel's unpublished PhD. thesis, "Church and Missions in Ethiopia in Relation to the Italian War and Occupation and the Second World War," University of Aberdeen, 1976, has significant material about Dr. Lambie. The Dictionary of African Christian Biography contains two short biographical sketches of Lambie and the Biographical Dictionary of Christian Missions also contains a one-page biography.
I trust that the Lambie story will be told not merely as hagiography, but that an attempt will be made to show that through his influence a vital Christian movement was launched in Southern Ethiopia.
Personal Background
Lambie was born in 1885 in Pittsburgh, one of nine children – he had six sisters and two brothers. His father, John S. Lambie, was a lawyer and active in the Eighth Presbyterian Church of Pittsburgh, serving as the church trustee and superintendent of the Sunday School. He was a leader in local political affairs, a sought-after speaker and a personal friend of the American President, William McKinley. In 1903, when Thomas was only 18, his father John died, leaving his wife Annie, a feisty lady of Scottish descent, to raise their nine children. [1] Besides Lambie's strong spiritual parentage, he was mentored by a saintly pastor, Dr. James M. Wallace, who gave young Lambie "much needed help in learning to believe in Jesus Christ and to walk the Christian paths." [2] Also at this time, the credo "The Evangelisation of the World in this generation" was heralded at church conferences and missionary conventions that young Lambie attended. He wrote, "No church entered more heartily into this forward movement than the United Presbyterian Church of North America." [3] This was the missionary ethos that propelled young Lambie to volunteer for mission work. He received his medical degree from the Western Pennsylvania Medical College in 1907 and soon after, at the age of 22, was accepted by the United Presbyterian Church Mission and sailed to Alexandria, Egypt for missionary orientation and placement.
Lambie's Initial Missionary Career in Sudan
Lambie's first assignment in 1907 as a single missionary doctor was to the Nasir mission station at Doleib Hill among the Nuers of Sudan, along the Sobat River. [4][5] When he arrived, stationed there were a single man and a married couple, the Carsons, but eventually the Carsons were replaced by another bachelor. The three bachelors became known as the "Three monks at Doleib Hill" [6] but there were frequent visits back to Alexandria.
While attending the Robinson Memorial Church in Alexandria, Lambie spotted a young woman who had recently arrived from the USA as a missionary. Lambie described Charlotte Claney as, "bright and vivacious; somehow I found her attractive." [7] Thomas and Charlotte were married in Alexandria in 1909. They had two children, Wallace in 1910 and Betty in 1911.
Sudan had been colonized by the British in 1898, when General Kitchener defeated the Mahdist Army. Writing about the newly imposed British Colonial Government in Sudan, Lambie commented:
The young British officers often took themselves far too seriously. They were, as a rule, from good families and schools of England; some had gained honours in sports. The large power delegated to them frequently enlarged their heads. The whole system of government was conducive to this; yet they were, by and large, a wonderful set of administrators. The British officials in Sudan were above any suspicion of bribery or dishonest dealings. [8]
It was during his eleven years serving in Sudan that Lambie honed his diplomatic skills, as he interacted with the various Colonial officers. [9] He had a high regard for Captain C. H. Stigard, who was the inspector of the Nasir district and would socialize with the Lambies on Friday afternoons. "From him came to me the first desire to visit Abyssinia, a few years later we went to that country of our dreams." [10] On a clear day, after a heavy rain, Lambie would often look east to the mountain escarpments of Ethiopia. "We… wondered if the providence of God would ever lead us there." [11] They dreamed of penetrating that area with the Gospel of Christ.
Lambie praised Charlotte, his wife, for her "flair for gardening; everywhere we went she planted gardens and orchards… She also took a pen of Rhode Island Red chickens which Doctor Giffen gave us; thus we had chicken and eggs, things unknown to the Nuers." [12]
At Nasir Lambie was kept busy by his medical work, as well as building a suitable residence for his wife and children, so there was little time to preach. He felt that he was not accomplishing very much. "The only virtue I could claim was that I tried to be obedient to Him at whatever personal cost. Often I failed; stumbling and falling again, staggering by adverse circumstances, and weakened by malaria and dysentery and hard climate, yet we struggled on." [13]
In 1917 the four Lambies were home on furlough in Pittsburgh. They were weary, partially sick with bouts of malaria, and discouraged by the slow progress in church planting among the Nuers. Lambie's brother-in-law, Dr. Edward Wiggins made him a tempting offer. "You have spent a long time in Africa. It is time for you to think about yourself and your family: Betty and Wallace are ready for school. I need an assistant. If you will come and help me, I will make it worth your while." [14] This appeared to be an excellent proposal. Lambie was already licensed as a medical practitioner in Pennsylvania and there was the temptation of 'laying up something for a rainy day.' So Lambie asked himself, "Should I forget my own future, forget the question of money and making a name in my profession, and go back to the obscurity of Nasir?" [15]
By 1918 the Lambies were back in Egypt on their way to Nasir, where Charlotte's fruit trees were flourishing, the Rhode Island Reds were laying well, there was a plentiful supply of fish from the Sobat River "and plump Egyptian geese shot each Saturday supplied the Sunday noon meal." [16]
Exploratory trip and locating in Western Abyssinia [17]
James McEnery, a British major and former acquaintance from Khartoum now stationed in Gambeila, offered to arrange to get Lambie into Sayo, Abyssinia to give medical help to those who were being devastated by the hidar beshita [18]. The Abyssinian Governor, Dejazmatch (commander) Birru Wolde Gabriel, located some thirty-five miles from Gambeilla, up in the Abyssinian highlands at Sayo, had sent repeated pleas to Major James McEnery for medical assistance to stave off this pestilence that was ravaging the highland population. In 1918 Lambie cabled the Foreign Board of the United Presbyterian Mission in Philadelphia as well as the British Government in Khartoum for permission for an exploratory trip into the region.
Clearance from the Foreign Board in Philadelphia as well as the Governor-General in Khartoum, Sir Lee Stock, took time. In the meantime the Presbyterian missionaries, the Lambies and the Giffens, were in Cairo where they made the acquaintance of the quartermaster of British army supplies in Egypt. "The colonel went with us and we were able to get equipment, tents, mule-boxes, chairs, cots, and all sorts of wonderful camp furniture, at a minimum price." [19]
The Foreign Mission Board assigned Lambie, Giffen and McGill to make the exploratory trip into the highlands of Sayo, Abyssinia. Charlotte, the children, and Mrs. Giffen remained in Gambeilla, on the Baro River. Lambie describes Gambeilla as "a beautiful place. Great spreading trees on the river [Baro] front give it a park-like appearance, but it was very unhealthy." [20] After an exhausting trek of some thirty-five miles up into the Abyssinian highlands, the three men were heartily welcomed at Sayo by Dejazmatch Birru, a person of some standing in Ethiopia as he was an adopted son of the former Emperor, Menelik II. Lambie felt that his warm welcome was indeed providential. All he could say was, "The good hand of God was upon us." [21] After one week, when the Lambie family returned to reside in Sayo, Governor Birru had already built them a house. But the Lambies wanted to live on the outskirts of Sayo. "My wife had an eye for beauty and practicality. She discovered a hilltop half a mile from Sayo, where there would be ample space for a garden and grazing as well as for ordinary Mission activities. It had a delightful outlook in all directions." [22]
While Lambie was involved with his medical work he found he had an open door to share the Gospel with both the Oromo, followers of the traditional religion, and with the Amhara who were of the Orthodox faith. Lambie met with no resistance from the Orthodox clergy in telling the Jesus story. One of the early Oromo converts was blind Gidada, who was converted at one of the meetings, which had been organized for the poor, maimed and blind. He was later taught to read the Bible in Braille and eventually became an effective evangelist and leader in the Wellega Mekane Yesus Church. [23]
A second request for medical help came from Ras Nadew, the governor of Illubabor province, located in Gorei, some five days by mule southeast of Sayo. Ras Nadew had been a delegate to a Peace Conference in Versailles and had visited Washington, D.C. during the time of Menelik II, so was well travelled outside of Abyssinia. When he returned to his homeland, he "had the best interests of the country at heart." [24] In 1921, after some negotiating, Lambie (ever looking forward to new opportunities for advancing the Gospel) was able to purchase suitable buildings from a Greek coffee merchant for US$ 4,500. [25]
In 1921 the Lambie family were on their way to Addis Ababa to go on furlough. They spent the night in the newly purchased buildings at Gorei. While the Lambie family was sleeping, Ras Nadew was brought in with his entourage of soldiers. He was suffering great pain because a wood-boring beetle had crawled into his ear. Lambie extracted the beetle with an ear speculum. When the soldiers saw the beetle, they all agreed that their governor might have died had the beetle not been extracted. "He [Ras Nadew] chose to believe them rather than me, and wrote a letter to the Regent – His Majesty Ras Teferi, saying that Dr. Lambie had saved his life, and a lot of other nonsense, which had the happy result of gaining access to His Majesty a month later." [26]
While the Lambies were in Addis Ababa for a month, prior to leaving on furlough, Dr. Lambie met with Ras Teferi at least ten times and discussed the possibility of building a hospital in Addis Ababa. In February 1922 it was eventually agreed that Lambie would raise funds for, and manage the hospital and that Ras Teferi would be the patron. [27] However, Lambie then hit a sudden road block when he met with the General Secretary of the United Presbyterian Board of Foreign Missions. He was told that no new mission projects were to be financed until the existing approved projects were fully funded. Lambie was given permission to raise funds only through personal means – without any public appeal for funds. The Lambies began praying fervently, as they had never prayed before. They wanted God's will to be done regarding this project. Through various personal donors about US$12,000 was collected for the hospital. Then, quite miraculously, a Mr. W. S. George of Ohio donated US$70,000, channelled through the Presbyterian Women's Board. [28]
When the Lambies returned to Addis Ababa in late 1922 they took an autographed portrait of U.S. President Harding, which Lambie personally presented to Ras Teferi. Plans were soon drawn up for the construction of the hospital – which was to be one of the largest buildings in Addis Ababa. Two American builders were recruited to oversee the construction and Dr. C. L. Wilmoth was the first doctor, assisted by Nurse Hazel Ewing. Ras Teferi came around often to view the construction, and eventually the functioning, of a first class medical facility in Addis Ababa.
In spite of this significant project, Lambie felt his vision for evangelizing southern Ethiopia would not be fulfilled if he were to be over-involved in a medical ministry based in Addis Ababa.
When we first entered Abyssinia (in 1919), it was with the vision of reaching its southern and western sections that were either pagan or Mohammedan and for whose people no Christian work had been done. Sayo was an opening wedge, and Gorei followed soon after. We had gone to Addis Ababa with no real thought of opening mission work there, but had been drawn into it by the kindness of His Majesty in promising to help the hospital project, as well as the evident need. [29]
We now move on to a new phase of Lambie's missionary career in Abyssinia.
Formation of the Abyssinia Frontiers Mission and its Eventual Union with Sudan Interior Mission
While serving in the Congo in the mid-1920s, a serious rift developed between the missionary Alfred Buxton and his father-in-law, C. T. Studd. When Buxton and his wife Edith were in England, they came across a magazine article "The Importance of Abyssinia" written by Lambie in the missionary periodical, World Dominion. [30] Buxton made a trip to the United States to meet Lambie who was prayerfully considering an opportunity to launch a new effort for the evangelization of Abyssinia. [31] It was during this time that Lambie was informed by his mission agency, the United Presbyterian Mission, that there were no future plans to expand mission activity within Abyssinia because of limited resources. [32] Buxton biographer Norman Grubb's description of Buxton's pioneer qualities could also describe Lambie:
Alfred was a pioneer … with a pioneer's virtues he also combined his faults…. Was he not always moving on from one project to another? Was he not always bursting with new ideas, hopelessly bewildering to the average human tortoise? [33]
Buxton soon recruited George Rhoad, another former missionary in East Africa, who was disenchanted with the expanding institutional policies of the Africa Inland Mission. When Buxton and Rhoad proposed a survey expedition to Abyssinia, Lambie hesitated,
I did not want to give up my appointment as a missionary with the United Presbyterian Church, with which I had been associated with for nearly twenty years. They had been good to me. I had an assured salary, with liberal educational allowances for our two children… I was assured of a pension for declining years. Against all this, what could the new organization offer? Practically nothing. [34]
As Lambie struggled with the decision to join forces with Buxton and Rhoad, a verse from Exodus 33:14, "My presence shall go with thee, and I will give thee rest," helped confirm to all three men that God was indeed with them on this new venture. This was March 3, 1927. It was Charlotte who suggested the name, Abyssinia Frontiers Mission (AFM), which expressed the idea of serving all the frontiers of Abyssinia. [35] The three men decided that this new mission was to be established in association with the World Wide Evangelization Crusade, the mission agency which grew out of the ministry of C. T. Studd.
A rather lengthy paper was prepared by Lambie, Rhoad and Buxton entitled, "The Goals of the first Missionary Party of the AFM to enter Ethiopia" and was presented by Lambie to the newly formed board members of the Abyssinia Frontiers Mission. [36] A few of the AFM goals were: to reach out to the 'frontiers'; to use Jimma in south-western Abyssinia as their staging station; and, in the first few years, to place some fifty missionaries on mission stations in strategic populated areas of southern and western Abyssinia. But Brian Fargher, in his published PhD. thesis, comments, "It is obvious from statements that Dr. Thomas Lambie made before the group arrived in Ethiopia, and from the records we possess of their activities after they arrived, that the group had no blueprint of how they were going to go about their work [of church planting]." [37]
The fledgling AFM soon joined together with the older Sudan Interior Mission (SIM). [38] Several factors, which might be attributed to 'divine providence', came into play. Rowland Bingham, founder and director of Sudan Interior Mission which was established in Nigeria in 1893, had recently returned from a speaking engagement in Australia and New Zealand. He was keen to locate a mission field opportunity in East Africa which would be accessible by trans-Pacific sailing. An Ethiopian field suited this need. The newly established AFM would benefit from its union with the older, established Sudan Interior Mission with its various Home Councils and church networks. Also, Rowland Bingham was editor of the popular Evangelical Christian, a widely read North American magazine which would provide a mouthpiece for the Ethiopia mission venture. [39] A dozen years later Lambie would comment, "Passing years have confirmed the belief that the union of the Abyssinian Frontiers Mission with the Sudan Interior Mission was indeed of God: and they have also confirmed the high opinion we formed of the character of our beloved Dr. Bingham." [40]
Lambie Launches Sudan Interior Mission into Ethiopia, 1927
When the first party of the Sudan Interior Mission arrived in Addis Ababa on December 25, 1927, they were met with cold reserve by the previously friendly Abyssinian officialdom. [41][42] The reason behind this cold reserve was opposition from the reactionary Empress Zauditu and her conservative advisers. [43] Patriarch Matheos, former head of the Abyssinian Orthodox (Coptic) Church and friend of Lambie, was now dead. It was the Echege (Abbot), Gebre Menfes Qiddus, head of the Debre Libanos Monastery, and his coterie of conservative priests who were assigned the task of examining the beliefs and doctrine of the Lambie missionary party before any permission would be granted for missionary activity beyond Addis Ababa. In the ensuing discussions with the Orthodox Church leadership, Lambie and two of his SIM cohorts met an impasse in their doctrinal discussions of peripheral matters such as the efficacy of fasting, praying to Mary and the intercession of angels. [44] To add to the uncertainty of the nascent missionary venture, a political uprising against Ras Teferi was being led by Dejazmatch Balcha, governor of Sidamo from South Abyssinia at that particular time. [45] The diplomatic skills of Lambie were being taxed. It was now over two months since the missionaries had arrived in Ethiopia. The torrential rainy season was about to be upon them. In desperation Lambie again approached Blatein Geta Hiruy, Minister of Foreign Affairs about a travel document to travel south. [46][47] The Foreign Minister was a well-educated man who had extensive experience of international travel to various cities in Europe and to Washington D.C. and so had a strong desire to modernize his country with the assistance of missionaries. With the approval of Ras Teferi, Blatein Geta Hiruy eventually issued the missionaries a permit to travel into the South but they were restricted from doing any kind of mission work.
On March 7, 1928 the party of Dr. and Mrs. Lambie, with daughter Betty, Mr and Mrs. Rhoad, with son George, Glen Cain, Walter Ohman, and Clarence Duff, set off from Addis Ababa with sixty mules, nearly a dozen riding horses, some twenty head carriers and around seventy-five muleteers to assist. [48] As the party travelled south they were advised that the road to Jimma via Kambatta [Hadiya] would be better, so they travelled on to Hosanna. [49] There, they were welcomed by Dejazmatch Mosheshe, godfather to Ras Teferi and a former patient of Lambie's during his Wellega days. Mosheshe informed Lambie that another of his patients from his time in Wellega, Dejazmatch Yigezu, was now governor in Soddo, the capital of Wolamo. [50] Yigezu warmly welcomed the Lambie party and allowed the Rhoads, Duff and Ohman to remain. The Lambies and Cain pushed on to the highlands of Agere Selam, Sidamo and were met by Dejazmatch Birru, the former governor of Sayo, Wellega. Glen Cain settled temporarily in Agere Selam.
Lambie Faces Heavy Opposition from the Orthodox Church
While the SIM missionaries were constructing small grass covered houses in preparation for the heavy rains, the three Dejazmatches: Mosheshe in Hosanna, Yigzu in Soddo and Birru in Ager Selam, received orders from the authorities in Addis Ababa to evict the missionaries and send them back to the city. [51] This was a dark day for Dr. Lambie and his colleagues. Lambie returned to Addis Ababa with his deputy, George Rhoad, to find out the reason for this sudden eviction notice. Lambie discovered that there were two reasons. The first was that several decades before, the Catholic Italian priests in Kafa province had purchased property in six different localities of the province. When asked to leave the priests had refused, and the Italian legation in Addis Ababa had laid court charges against the Abyssinian Government for a large sum of money. This prejudiced the Abyssinian officials against all missions and so jeopardized SIM's ongoing ministry. In a cablegram sent to the SIM International office in Toronto, Lambie wrote, "Great political uneasiness and Roman Catholic intrigue threaten to stop work. Situation is serious." [52] The second issue was that the Orthodox officials had renewed their attacks on Ras Teferi, accusing him of being favourable to foreign missions. The Regent did not want to jeopardize his chances of becoming the Monarch, even though he secretly wanted to assist Lambie and the SIM missionaries. [53]
This was a very trying time for Lambie. New recruits were arriving. There was a question of where they should be housed, as rental places in Addis Ababa were costly. There were also inevitable misunderstandings developing between fellow missionaries and Lambie found himself in a situation beyond his control. He wrote,
In times of adversity the heart looks upward in a peculiar way, and we often sought guidance from the Lord. Was this to be the end of the enterprise? So many times God gives us a word of encouragement, either in prayer or by bringing to our mind a special verse from the Bible that applies. [54]
After some months the question of the missionaries' eviction from their locations down-country eased somewhat. During an appointment in late March with Ras Teferi, Lambie was told in confidence, "Do not be angry with me or think I am unwilling to help you. You do not know the enemies I have. Do not ask too much of me for one year, after which I will be in a position to help you." [55] But help came sooner rather than later. A letter drafted by Blatein Geta Hiruy on April 1, 1929 was sent to Dejazmatch Mosheshe in Hosanna with permission for Dr. Lambie's association to build a hospital "and establish a school within the enclosure of the hospital to teach languages and trades… watch them occasionally that they may not teach other religious knowledge." [56] Also during that first week in April, the Minister of Foreign Affairs wrote an open letter in Amharic to Dejazmatch Birru in Agere Selam. It seemingly said nothing about permitting the missionaries to stay but when the Governor read the letter, his response was, "This is a very good letter. It's all right for you to stay now… How many missionaries would you like to place in Sidamo? Would ten be enough?" [57] The Governor based in Soddo, Dejazmatch Yegezu, who wanted Lambie to establish a hospital there, drafted a fifteen point agreement for Lambie to approve. When Lambie read point thirteen, "They promise that they will not teach religion", he firmly refused to approve the agreement. After much arguing, the Governor relented, deleted point thirteen and signed the agreement. [58] Now with official permission in three locations, and a fourth location at Marako (in facilities rented from an Armenian coffee grower and trader, some four days' mule journey south of Addis Ababa) the SIM enterprise seemed to be gaining a firm foothold in Southern Abyssinia.
Lambie's Missiology: How and when was it Developed?
While Lambie served with the United Presbyterian Mission in Sudan as well as in Sayo, Wellega, there appeared little evidence in his ministry of a well-defined missiology. Although he spent as much time sharing the Good News with people as his busy medical practice allowed, the records available give no indication that any group of committed believers formed a church during his United Presbyterian ministry in Sudan.
A core group of SIM missionaries, including Glen Cain, Alfred Roke, (now relocated at Homatcho, Sidamo) Earl Lewis and Walter Ohman (serving in Soddo), Clarence Duff and Reg Annan (stationed at Lambuda, Hadiya) and Mr. and Mrs. Orval Kirk (placed at Marako) was diligently reading and discussing Roland Allen's Missionary Methods: St. Paul's or Ours? Alfred Roke had been introduced to Roland Allen's writings while enrolled at the New Zealand Training Bible Institute in Auckland. [59] Lambie espoused indigenous church principles, following Church Mission Society (CMS) missionary Bishop Tucker's example in Uganda, as well as the reading of Roland Allen's Missionary Methods, which had shaped the SIM Ethiopia indigenous church policy. "In fact all our workers were so thoroughly convinced that these were the right lines from the very beginning that the greatest emphasis was placed upon the necessity for a truly indigenous church." [60] These indigenous church principles were affirmed by Rowland Bingham, the General Director of SIM when he visited SIM, Abyssinia in 1930 and again in 1934. [61]
In 1942 Lambie described the missiology that SIM practised in Abyssinia in this manner:
In brief outline it is this: Missionaries go to a place where Christ is not known. They study the language, translate some of the Bible, preach Christ crucified as the only way of salvation. In time they gather, or rather the Holy Spirit gathers out a small group of true believers. They baptise these believers and form them into a church, ordaining elders. They give them teaching from the Bible about church organization as outlined in the Epistles of Timothy and Titus. Then the missionaries take their hands off and let the believers carry on. The missionaries do not build any churches or pay any native evangelists, but from the very beginning they encourage the native believers to do these things for themselves. [62]
Limited translation of select New Testament books was done. Glen Cain produced the Gospel of Mark in Sidaminya. Walter Ohman translated John's Gospel into Wolaittinya and Clarence Duff worked on the Gospel of Matthew in the Hadiya language. [63]
Fargher, in his stellar research on the methods of church planting practiced by the early SIM pioneers in Abyssinia, identifies six steps: 1. They told the Jesus story. 2. Converts were developed. 3. Converts were instructed in the basics of Christianity. 4. The converts were baptized. 5. The converts were authorized to celebrate the Eucharist. 6. The converts were assisted in establishing their own ecclesial communities, worshipping in buildings constructed with their own resources. [64] That this method, implemented by the SIM field missionaries and encouraged and directed by Lambie, was successful is recorded in the Field Council Minutes of April 1-4, 1936, just one month before the Italians occupied Addis Ababa.
In spite of the war which broke out last October, on ten of fifteen stations the work of preaching and teaching has gone on to the present practically unhindered… When we remember that on one field twenty-six have been baptized and on another twenty-five, and lesser numbers on other stations and that of these some twenty were baptized since the war began, we rejoice, give thanks, and take these victories as the pledge and promise of greater things. [65]
But this success in planting the church in Abyssinia came with various stresses for both Dr. and Mrs. Lambie; in the form of misunderstandings with SIM colleagues and personal health issues for both the Lambies.
Discouraging Trials and Testing for Lambie
Lack of Funds
The SIM Abyssinia enterprise was launched just prior to the great depression of 1929. Finances were never sufficient for this expanding pioneer enterprise. Alfred Roke made this entry in his diary, June 11, 1932, "Our servants have not been paid and are working on in the hope that we will pay them when we receive money." [66] During 1932 major SIM building projects were undertaken in Addis Ababa – new headquarters as well as the Leprosarium at Akaki, on the edge of the city. Allowances had been very low. In April, 1932 Lambie wrote to Ernest Jones, the SIM Treasurer in Toronto, after receiving only 41% of the agreed financing, "We are glad of course to receive reinforcements, but the continual financial depression has given us some alarm over the increase of missionaries without a corresponding increase in mission funds." [67] Later in November Lambie wrote to Rhoad, "I believe this is the longest continuous shortage we have ever had." [68] This was a trying experience for Lambie as several of the down country missionaries were struggling with health issues that were related to lack of a proper diet. On July 17, 1932 Glen Cain was evacuated from Homacho to Addis Ababa by Ras Teferi's private plane. Lambie writes, "Over-work and undernourishment seem to have contributed to his breakdown. While none of our missionaries has been actually hungry, yet some have had to resort to native food to an extent that is prejudicial to health." [69]
Delay in Baptizing New Converts
The issue of delayed baptism placed a rift between Lambie and three of the young missionaries. Duff, Cain and Lewis wrote a rather strong letter to Lambie and Rhoad, entreating their leaders to grant permission to baptize a growing group of believers. "We are convinced that progress is being arrested and the working of the Holy Spirit hindered by certain restrictions upon steps needful for the advancement of the work." [70] To bolster their argument they quoted the first paragraph of article fifteen from the SIM Handbook, Principles and Practice. Lambie responded to the three young men on April 7, 1932 "You must realize that there are other things to be considered and for us to hurry a formation of a native church at this juncture would seem unwise. It is a step that we should take only after the most mature deliberations and conference and prayer." [71]
A month later, Lambie wrote to Bingham, "We feel that the time has hardly come. It has been so difficult to get in [to Abyssinia] at all. We are only in on sufferance and we are anxious to get into a dozen other places. To begin baptizing and organizing churches now, would most certainly arouse the Abyssinian Church and cause us to be bitterly opposed in new advances." [72] Finally a conference was convened at Soddo from May 16-18, 1932 to clarify the Mission's understanding of when to baptize new converts and form new churches. After Glen Cain had been given the opportunity to share what was taking place at Homacho, it was recorded, "The general conviction expressed by Mr. Rhoad, Dr. Lambie and others was that from the evidence submitted, there were apparently believers in Sidamo ready for baptism." [73] The first baptism of four Sidamo believers was performed at Homacho on December 25, 1932 with no repercussions from the Orthodox Church. [74] This first baptism in Homacho, eventually initiated the birth of the Ethiopian Kale Heywet Church.
Personality Clash between Lambie and Rhoad
Another source of stress for Lambie was his relationship with his co-founder of the AFM, George Rhoad. During the short period in 1927 when the Lambie and Rhoad families were at the SIM head office in Toronto, discussing the future amalgamation of the AFM with the SIM, Rowland Bingham observed the potential differences that might arise between the two men and their wives. In a long letter to Lambie in 1932, Bingham attempted to reconcile these two men of different gifts, strengths and weaknesses. "You will remember (back in 1927) how I too pleaded and warned lest those things should be permitted to come between to divide one's spirit." [75] Bingham, recognizing that the two men were unable to serve together in harmony on the Abyssinia field, appointed Rhoad to serve as his deputy, based in North America. Subsequent to 1932 the Sudan Interior Mission official letterhead now read, "Rev. George W. Rhoad, Deputy General Director of Sudan Interior Mission".
Rhoad had taken up his new position in early October, 1932, but he and Lambie had not yet resolved their differences. Bingham now attempted to bring the two men together. But first, Bingham revealed several of Lambie's shortcomings. Apparently Lambie had a tendency to borrow funds from one account to meet a crisis in another. "You need to take every precaution to avoid a recurrence, and I beg of you to do as I have done through the years – keep those safeguards well around you." [76] Then Bingham chided Lambie for recruiting a housekeeper for the new SIM guesthouse/headquarters facility in Addis Ababa without going through proper mission channels. "I must beg you, Doctor, just to be constitutional in your actions, and don't let your heart run away … in this matter. You have that danger." [77]
While the Lambies were on furlough during 1931 and part of 1932, responsibility for the Abyssinian field fell to Rhoad. However, many of the SIM workers on stations in the south were unhappy with Rhoad's heavy-handed leadership and some threatened to resign. When confronted with this, Rhoad confessed to his inflexibility in dealing with the Abyssinia SIM community but apparently Lambie was unwilling to accept this confession. He felt that Rhoad continued to show a surly spirit towards him. In his letter to Lambie, Bingham continued, "I beg you, Doctor, to accept George Rhoad's confession as one of the most tremendous things wrought by the Spirit, and to accept that as an accomplished fact." [78] Bingham concluded his long letter with a handwritten note asking forgiveness from Mrs. Lambie for having inferred that she was jealous of Mr. and Mrs. Rhoad. We have no evidence that Lambie and Rhoad ever again met face to face because Rhoad resigned from SIM International in 1935 and returned to serve in Kenya with a new mission, the Gospel Furthering Fellowship.
Lambie Family Stress and Heartaches
Serving in missions far away from home is stressful – especially for families. When Dr. and Mrs. Lambie returned to Abyssinia with AFM in 1927, they left their son Wallace, now seventeen, with his Claney grandparents in Maryland. Their daughter Betty, also a teenager, joined them in Abyssinia where she had already spent nearly ten years. In 1935, Dr. and Mrs. Lambie were obliged to make yet another mule trip north to Lalibela, Gondar and Debre Markos to renegotiate land contracts for the missionaries who had been assigned there previously. The five missionaries stationed in the North were on the point of being evicted. Regarding the hardships of missionary life, Dr. Lambie paid his wife Charlotte special tribute, for she was a constant companion on his many travels:
In all these long journeys [by mule and horse], with one exception, my wife has been my constant companion… often with pain and weariness. On some high plateaus it would be too cold to sleep, even with four blankets to cover one. By day we might go through some low valley and be scorched by heat. We struggled on together. [79]
For the three months they were in the North, away from Addis Ababa, they were cut off from communications. It was when they were trekking back to Addis Ababa that they met up with the SIM mail carrier. They stopped by the side of the trail to read a telegram sent to Addis Ababa that bore shocking news. Their son Wallace had been killed in Medellin, Columbia. For the next two weeks they stumbled along the hard trek back to Addis Ababa. Soon after their arrival in Addis Ababa they went to see their close friend, His Majesty, Haile Selassie. "When we saw the Emperor, he said no word for the space of five minutes, while the tears streamed down his cheeks in sympathy with us. It meant far more than words." [80]
Waiting for them in Addis Ababa were two letters of condolence from the manager and the employees of the National City Bank of Medellin, Columbia. The manager, Mr. Carl E. Erickson wrote, "Wallace was with us only a short time but he had won our affection and respect both as a conscientious employee and as an honorable, likeable person in our midst socially." [81] The four bank employees penned these words to the Lambies, "We of the staff of the National City Bank of Medellin, partake of your sorrow which is so deep for us as companions of Mr. Lambie, whose death left us in an unexpected moment." [82] The Lambies found Wallace's sudden death, caused by the collapse of a movie theater roof, very hard to accept. It was difficult for them to mourn in a culturally appropriate manner far from friends and relatives.
Breakdown of Law and Order in Addis Ababa
When the Italians launched their major offensive into Abyssinia in 1935, law and order began to break down in many of the local areas where SIM personnel were stationed. On May 2, 1936, when it was seen to be inevitable that the Italians would capture Addis Ababa, Emperor Haile Selassie and his retinue of officials left the city by train. Once the Emperor abandoned Addis Ababa, the local population lost heart - law and order broke down. Looting was rampant as the local population tried to collect goods from the shops before the Italians arrived. Chaos erupted throughout the city. There was shooting, killing and the burning of houses. [83] Just prior to this, the British Legation had made preparations, fortifying their headquarters with barbed wire and placing about 150 Sikh guards around the establishment. Hundreds of expatriates of Greek, Armenian, and Syrian extraction flooded into the secure compound of the British Legation. After much prayer, Lambie and the Addis Ababa missionaries decided to stay at the SIM Headquarters and the Akaki Leprosarium. God protected them, whereas all who left their homes to seek refuge at the Legation lost everything to looting and fire. [84]
Loss of Life of Two SIM Missionaries
After the Italians entered Addis Ababa, orders were sent from the SIM Addis Ababa Administration that all missionaries were to remain on their stations. However, there were some exceptions. The SIM Red Cross unit, under the direction of Dr. Ralph Hooper, serving Ras Desta's retreating army in Sidamo, was in desperate need of medical supplies. Dr. Lambie asked SIM missionaries Cliff Mitchell and Allan Smith to take these much needed medical supplies to the South. The two men left Addis Ababa on March 18, 1936. They then met up with the SIM Red Cross unit in Yerga Alem, delivered their medicine and continued south to Tuttiti, Darassa to check on the SIM station, paying rent and wages to the local guards. Smith continued south to Kenya with the Norwegian Red Cross Unit. Cliff Mitchell returned to Yerga Alem and together with his SIM colleague, Tom Devers, decided to trek back to Addis Ababa on May 7, 1936. On May 9, as Devers and Mitchell were trekking with a party of twenty Amharas through the Arussi desert, they were ambushed and murdered by several hundred Arsi armed with guns and spears. Over a month after the martyrdom of the two men, Allan Smith wrote an account of it from Kenya and notified Myrtle Mitchell, the wife of Cliff, and Miss Gertrude Pogue, Tom Devers' fiancée. [85]
The death of these two stalwart SIM missionaries came as an unexpected blow to Lambie, who felt especially responsible for the death of Mitchell whom he had sent on assignment to the South. Afterwards, Lambie wrote, "The mystery of suffering and the blessedness of the fellowship of suffering is a secret that God reveals to His people, and somehow, if we take it patiently as Job did and as sweetly as Paul did, it seems good. Nothing is really sweeter than the fellowship of Christ's suffering if we take it rightly." [86]
Deteriorating Health of Dr. and Mrs. Lambie
During the thousands of miles of riding on mule and horse throughout much of Ethiopia, both Charlotte and Tom suffered various health issues. Writing to Bingham from Khartoum in 1942 Lambie wrote, "I get very breathless and pain in my heart and if I don't regard this and lie down, I begin to feel badly." [87] Twice Charlotte returned to America for medical attention. She suffered from diabetes and was gradually losing her eyesight. Doctors in America tried to reassure Mrs. Lambie that she would not completely lose her sight. Lambie said, "This was poor comfort for she would not improve." [88]
Lambie and his Christian Commitment to Humanitarian Services
During Lambie's missionary career he was responsible for establishing four hospitals in Ethiopia, a tuberculosis sanatorium near Jerusalem and countless medical clinics in Sudan and Abyssinia. Lambie had a compassionate heart for those who suffered from disease and sickness. Writing in a Christian medical journal in 1935, Lambie wrote, "There is perhaps no country where a medical diploma acts more efficiently as an entrance passport than Ethiopia." [89] Lambie's speech when laying the cornerstone of the Addis Ababa Leprosarium on November 17, 1932, expressed his theology of social ministry well. "We wish to lay this cornerstone in the name of Jesus Christ and because He said, 'Go, heal the sick, cleanse the lepers, freely you have received, freely give'. We want to touch these lepers in Jesus' Name and He will heal them of their sins and of their diseases." [90] Dr. Ralph Hooper, the initial director of the Leprosarium wrote, "We are able to rejoice in the fact that scores have been helped physically and hundreds have heard the Gospel." [91]
While serving as the SIM director in Abyssinia, promoting institutional schools was not a high priority for Lambie. There were two reasons for this. Firstly, during the pre-Italian period, the Abyssinians felt that education was the priority of the Orthodox Church. Secondly, in order to better communicate the Good News to the local populations, the SIM missionaries were encouraged to master the local languages rather than Amharic, the national language of the country. Fargher summarized the educational activity of the fifteen SIM stations during this period: "The main purpose of this education was to teach converts to read their Bibles." [92] The SIM Council that met at Soddo on June 3 and 4, 1931 was the only Council that specified a SIM educational policy. They agreed that, "A literacy school may be opened but care must be taken, lest this activity limits the sharing of the Gospel out in the villages." [93]
When Italy declared war against Abyssinia on October 3, 1935, little preparation had been made by Abyssinian officials for Red Cross services. Blatein Geta Hiruye, the president of the Ethiopian Red Cross since August 1935, summoned Lambie to his office that September and appointed Lambie as the official Secretary General of the Ethiopian Red Cross. [94] Lambie related, "I was not keen for the job; it was too late for me to make myself really useful… The first shot was fired about the time I took over." [95] On October 3, 1935 General de Bono crossed the Mareb River into Ethiopia. At the height of Ethiopian Red Cross activity, there were sixteen units in the field. SIM missionaries as well as the SIM International office cooperated with this endeavor. [96] Dr. Hooper of Toronto headed up the SIM Red Cross Unit which served on the Sidamo front, with Dr. Roberts, Allen Smith and Alfred Roke assisting. Hooper wrote a vivid thirty-two page account of his Red Cross service in Sidamo. He recorded the havoc Italian bombers wreaked on peaceful villages: "When we saw the number of planes swooping down upon us we knew they meant business, and a bloody business it was. One hour it was a village of rest and peace, another it was of pain and death. Such a time brings home the reality of war and the utter helplessness of those who are attacked." [97]
The SIM Red Cross unit was bombed and with difficulty made it by mule and camels to Ras Desta's forces in Borana, which were now in retreat. Dr. Hooper retreated to Yerga Alem and was flown back to Addis Ababa in a Red Cross plane. In Addis Ababa, the looting, burning and shooting of the May 3-6 atrocities had greatly damaged the Red Cross supply stores. Barrels and barrels of gasoline went up in flames. Medical supplies were looted or severely damaged. It looked like the entire Ethiopian Red Cross operation would have to be curtailed as the supply base was practically defunct. Lambie was deeply disappointed by the devastating actions of the Ethiopians upon their own Red Cross resources. [98]
Lambie's Severed Relationship with Emperor Haile Selassie
Soon after the Italians entered Addis Ababa on May 5, 1936, the Italian military ordered Lambie to reveal all records of the movements of the sixteen Ethiopian Red Cross Units. Lambie, as the Executive Secretary of the Ethiopian Red Cross, cooperated with them. The Italians were somewhat leery of Lambie as they were aware of a letter he had written to The Times of London on March 25, 1936, revealing the Italians' use of mustard gas. And there was no doubt the Italian secret service was cognizant of Lambie's open resistance to the Italian invasion in his various writings. A year previously, he had written the following for publication, "If Italy should succeed in her desire to take the country, what would result? It would result I fear, as it has in Eritrea, in the expulsion of all Protestant Missions and this gracious work would cease." [99] While in the USA, just prior to his appointment as the Secretary General of the Ethiopian Red Cross, he had given a lengthy interview to reporter Josephine G. Rickard, which again echoed his anti-Italian sentiments. Rickard wrote, "The work which Americans and British have been doing in Ethiopia in education, medicine, and Christian ministry, Dr. Lambie fears, will be barred in the event of Italian domination and thus benefits decreased rather than improved." [100]
In his interview with General Graziani, Lambie indicated that as Italy was now the power in charge in Abyssinia, and because the Haile Selassie government had departed Ethiopia, he would submit to the Italian rulers as admonished in Romans 13:1, "Be subject unto the higher powers."(KJV) [101] Lambie may have been aware of the vacillating position of Britain and France regarding the intent of the Italians' invasion and colonization of Abyssinia. [102] He rather unwisely agreed to put in writing that the Italian bombing of two of the Red Cross units was justified as Ethiopian riflemen (not part of the ambulance staff) had fired from nearby tree cover, targeting the overhead Italian bombers. When Lambie's deputy Clarence Duff heard what Lambie had done, he strongly protested and threatened to resign. This prompted Lambie to submit a second letter to General Graziani. "I made this letter so strongly anti-Italian that my wife earnestly begged me not to send it, as she said that it might put me into a prison camp or even cost me my life, but I felt that I must send it at any risk to right what wrong I had done… I was counted as an Ethiopian at that time and had undergone great mental and physical strain." [103] When Duff was shown this second letter he rescinded his decision to resign as Lambie's deputy.
The Italians disregarded the second letter and used Lambie's first letter, as well as forged letters and documents in his name, as propaganda which they spread among the Patriot fighting forces of Abyssinia. This was done to undermine Lambie's strong pro-Abyssinia stance. [104] Earlier in his Abyssinian career, he had had excellent relations with the Emperor and with various Abyssinian governors posted in the provinces. He served as a personal physician to the Emperor and other members of the Abyssinian court. Since 1922 Lambie had been his Majesty's friend and personal advisor. However, it seems that the foul Italian propaganda about Lambie reached Haile Selassie who was now exiled in Bath, England. When Selassie arrived in Khartoum in 1940, preparing to return to his country as Emperor with the British troops, Lambie attempted to restore their former relationship. Lambie invited Malcolm Forsberg to join him for worship in the Anglican Khartoum Cathedral and to view Emperor Haile Selassie as he entered the Cathedral. Forsberg, as an eyewitness to this event wrote,
The crowd too, was obviously waiting for His Majesty, who had become the outstanding symbol of the battle against fascist aggression. Soon he arrived at the back of the church and began his progress down the aisle accompanied by his aides. As one man the congregation rose… He was en-route to his throne in Addis Ababa, and the Italian armies were crumbling. [105]
This was the last time Lambie ever saw the Emperor who had been his very close friend and confidant.
Lambie attempted to make amends with Emperor Haile Selassie by writing an apology, which he hoped the Emperor would eventually read.
For the pain and injury done to my benefactor and one time friend, His Imperial Majesty Haile Selassie, I can only say that I am very sorry and if he sees this statement, that he will accept my humble and sincere confession of wrong in writing that letter. As far as I know, this is the only thing that I have ever written or spoken that would give aid or comfort to his enemies. That I ever said anything that the Italians did not use poison gas or anything like that , as has been reported is not so. I have repeatedly said that it was the cowardly use of poison gas that alone enabled Italy to win the war. [106]
Lambie comments with heavy heart that he was unable to make contact with the Emperor in Khartoum. "Something I said earlier in this book [writing] had greatly offended him. I never knew quite what it was, and would have done anything possible to be reconciled to him, but it was not to be." [107] By 1942 former SIM Abyssinia personnel began entering Ethiopia. However, Lambie was permanently denied entry.
Lambie Back in Sudan
When the Lambies returned to the USA in August, 1936, it took several years for Lambie to regain his American citizenship, which he had voluntarily surrendered. It took a special act of the 75th Congress of the USA (July 11, 1940) to restore his citizenship. Lambie became an Abyssinian citizen in 1935 Lambie so that SIM could buy property in his name, on which to establish mission stations. [108]
In March, 1937, Rowland Bingham and Lambie made an investigatory trip to Sudan in order to reassign the evicted Abyssinian SIM staff. In Khartoum they met with officials of the Anglo-Egyptian Sudan, including the top official, Governor-general, Sir Steward Symnes, who was sympathetic to the cause of missions. [109] They made an exploratory trip of some 900 miles by a contract vehicle, travelling into the Dar Fung district, a lengthy escarpment along the Eritrea and Abyssinian border. Ever the optimist and innovative pioneer, Lambie wrote, "It is our plan to start work in this area amongst the Ingesana in October [1937]." [110] The two SIM leaders anticipated that when the Italians forced out the Abyssinian SIM workers, South Sudan would be a "virgin field' where up to five mission stations could be established.
The Lambies were located once again in Sudan by November 1939 after a twenty year hiatus. Located in Khartoum, Lambie now served as the director of SIM Sudan. [111] In a four page letter to Bingham in 1940, Lambie shared his frustration with the heavy educational demands the British Colonial Government was placing on SIM. Launching elementary schools before the missionaries could get established in adequate housing and learn the local languages developed tensions between Lambie and the missionaries. The Sudan situation was very different from that which they had experienced in Abyssinia. The missionaries complained that they had neither the time nor the skills to share the Gospel with the local populations. [112]
Tragedy struck the Doro station on August 23, 1940. Several Italian planes from nearby Karmuk, Ethiopia, dropped around thirty bombs on the station, killing Dr. Grieves and seriously wounding Mrs. Grieves who died soon after. Mr. and Mrs. Oglesby also suffered shrapnel wounds but survived. [113] This placed a heavy burden on Lambie as the Sudan mission leader. Dozens of letters were written to the British officials in Khartoum as well as to the American Embassy in Cairo. Parents of the Grieves were contacted and sympathy offered. This additional workload coupled with the hot climate of Khartoum took a toll on Lambie's health.
Without adequately consulting the Sudan SIM community, the Lambies took up a temporary British Government position in Malakal in late 1941. [114] From his base in Malakal, Lambie served for several months as the Propaganda Officer for the Abyssinian Patriots, sending coded messages in Amharic that their King was returning to Addis Ababa and urging them not to give up their resistance. This prompted SIM Sudan missionary Malcolm Forsberg to write a strong letter to Rowland Bingham, which expressed the feelings of most of the SIM community regarding Lambie's abdication of his role as the SIM Sudan Director. "We were unanimous in feeling we could no longer continue working under Dr. Lambie's leadership." [115] Lambie was soon called back to the USA by Bingham for health reasons. Just prior to leaving Sudan, Lambie wrote, "It will be with very mixed feelings that we turn our faces to America. Joy and sorrow." [116]
However, Lambie had had several successes in the Sudan. He is credited with devising a special crate for securing jerry cans of fuel in British military trucks for when they had to drive over rough Sudan roads . Thousands of these were constructed using bamboo strips securely wired to milled mahogany frames. These could also be knocked down and placed as corduroy under the truck wheels on muddy roads. And, while based in Khartoum, the Lambies opened their home to British airmen and soldiers; offering them hospitality, refreshments and spiritual counsel. [117]
The Lambies flew out from Omdurman in a British war plane on July 9, 1942, never to return to Africa again. Alfred Roke, who drove the Lambies to the airfield, felt sorry that the mission family gave them no formal or public farewell. "We owed Dr. Lambie much for the years of loving and invaluable service in that very difficult war [Sudan] period." [118]
Lambie's Final Years in Bethlehem
In 1945, under the auspices of the Independent Board for Presbyterian Missions, the Lambies sailed for Palestine to establish a T.B. sanatorium in Bethlehem. On route Charlotte became very ill. She died at Port Said, Egypt and was buried at the Anglican Church cemetery. When Lambie reached Bethlehem he wired SIM missionary Irma Schneck, then serving in Nigeria, and asked for her hand in marriage. She consented and was his wife, as well as a nurse in the Bethlehem Berachah Tuberculosis Sanatorium, for about eight years. In 1954, Lambie died of a heart attack while preparing for the Easter Sunrise service at the Garden Tomb, on the outskirts of Jerusalem. He was buried in Bethlehem.
An Assessment of Lambie's Missionary Life
In assessing Lambie's life as a missionary, one could say that he operated as an "opportunist" in gaining access to various stations and locating SIM personnel within Abyssinia. He deviated from the original stated objective of the AFM whose purpose was to reach the "Unevangelized pagan tribes of South Abyssinia rather than attempting to revive the ancient Abyssinia Coptic Church." This objective was compromised when he placed six SIM personnel in the heartlands of the Orthodox Church - Lalibella, Debre Markos and Gondar.
He developed a father-son relationship with Rowland Bingham. Many of Lambie's letters to Bingham began with "My Dear Beloved Doctor." And Bingham wrote to Lambie in 1932, "No man has come into my heart in a sweeter way than you have. I have loved and do love you dearly, Doctor, and at the same time Mrs. Lambie as a sister has been in a similar way one whom I have admired for her work's sake." [119] Lambie's leadership was also affirmed by the SIM family at the February 3-6, 1932 SIM Council, convened at Soddo.
And at the SIM Soddo Conference held on March 13, 1933, Lambie affirmed the indigenous self-principles being practiced by the missionaries among the new believers at their respective stations. [120] Lambie, always the enthusiastic evangelist, encouraged the missionaries to reach the lost for Christ. These converts in turn were to share the Jesus story with their relatives, friends and those in the market places.
Throughout Lambie's service in Abyssinia he expressed a deep appreciation and respect for Abyssinians. In his extensive writings he often lauded them. For example, of Ras Imru, cousin of the Emperor, Lambie wrote: "He was in my opinion, after the Emperor himself, the very finest man in Ethiopia. Honest and faithful to his friends, he never took a bribe or concealed a fault; he was generous and unselfish. In the war he proved himself the best general of all." [121] In his various books and letters, Lambie expressed the highest regard for the integrity and character of both Blatein Gebre Hiruye, the Foreign Minister, and His Majesty, Haile Selassie, Emperor of Abyssinia.
But there were those within the SIM family who were critical of some of Lambie's decisions. Malcolm Forsberg no doubt expressed the sentiments of others who found it difficult to excuse Lambie's so-called "surrender" to the Italians, mistakenly thinking that the Fascists would allow SIM to continue serving in Abyssinia, "I deny that the Lord has to depend on disloyalty and inconsistence to maintain His Work." [122]
Clarence Duff, a long-serving and respected colleague of Lambie's in Abyssinia, disagreed sharply with Lambie for compromising the SIM organization by surrendering to the Italian Junta, but years later assessed Lambie fairly and objectively, "I regard Dr. Lambie as one of the best and greatest men it has been my privilege to know. If sometimes his judgement or his actions proved to be unwise, he rose above his faults, outlived them and the criticism incurred, and went on to fresh achievement." [123] Others were more critical of Lambie. He was criticised for resigning from the United Presbyterian Mission in 1927 to join in launching a new faith mission. Some thought it was a misjudgement on Lambie's part to surrender his United States citizenship to become an Abyssinian subject. This action, in the final analysis, gained him no advantage in obtaining mission station properties. And when Lambie made a hurried decision "to give his hand to the Italians" in an attempt ensure SIM's longevity in Abyssinia, history proved him wrong. He based the decision on proof-texting such verses as Romans 13:1. This seems to have been his practice when making decisions as the SIM Director of Abyssinia. SIM missionary Alfred Roke commented, "This kind of theology seems to need a lot of luck." [124] Another criticism levelled against Lambie by his coworkers serving down-county was that he was over involved in institutional activity, such as pushing to build hospitals; first Soddo, in 1930, then the Addis Ababa Leprosarium in 1932 as well as the hospital proposed for Lalibela in 1935.
He was honoured by colleagues in the scientific world. For his professional medical career in the Sudan and Ethiopia, and his three years of tuberculosis research and lectureship on tropical medicine at his alma mater, the University of Pittsburgh, he received an honorary Sc.D. Moreover, he submitted substantial geographical findings on the origins of several Abyssinian river systems to the Royal Geographical Society and for this scientific observation he was awarded the prestigious FRGS (Fellow of the Royal Geographical Society).
Buxton, Rhoad and Lambie launched the church planting ministry within Abyssinia in 1927. Of these three AFM pioneers, it was Lambie who persevered as their leader for the next ten years, under difficult and trying circumstances. Lambie had the full confidence of SIM General Director Rowland Bingham from 1927 until his death in late 1942. Between 1927 and 1937 nearly 100 SIM missionaries were recruited to serve on fifteen Abyssinian stations. Under Lambie's pioneering leadership, Ethiopia's largest evangelical community eventually emerged - the Ethiopian Kale Heywet Church, with an estimated membership of seven million or more, also the vibrant Bethel Synod within the Ethiopian Evangelical Church, Mekane Yesus. There is a description of Richard Baxter, the English Puritan divine of the 17th century: "Baxter was a big man, big enough to have big faults and make big errors … yet he could not always use his best gifts in the best way." [125] The same could be said of Dr. Thomas Alexander Lambie.
E. Paul Balisky
---
Notes
Thomas A. Lambie, Doctor Without a Country, (New York: Fleming and Revel Company, 1939), 13-14.

Lambie, A Doctor's Great Commission, (Wheaten: VanKampen Press, 1954), 14.

Lambie, A Doctor's Great Commission, 15.

Charles Partee describes Lambie as "The most famous loose canon on the deck of the American Mission ship in Africa." The story of Don McClure: Adventure in Africa, (New York: University Press of America, 2000), ftn. 38, 445.

Lambie, Doctor Without a Country, 29.

Lambie, A Doctor's Great Commission, 39.

Lambie, A Doctor's Great Commission, 16.

Lambie, Doctor Without a Country, 25.

See F. Peter Cotterell, "Dr. T.A. Lambie: some biographical notes" Journal of Ethiopian Studies, Vol. X, No. 1, 1972, ftn. 9 where Lambie is described as of "patrician background" as he was gifted in communicating with high officials in various countries – especially with Ethiopian officialdom, as we will see below.

Lambie, Doctor Without a Country, 97.

Ibid., 116.

Ibid., 87.

Lambie, Doctor's Great Commission, 101.

Lambie, Doctor Without a Country, 108.

Ibid., 109.

Ibid., 111.

Throughout this paper, the name Abyssinia will be used to designate present Ethiopia. The name change took place after 1941 when Emperor Haile Selassie, with British military assistance, defeated the Italian usurpers.

The yellow fever epidemic raged across the Ethiopian highlands during 1918. See Richard Pankhurst, "The Hedar Beshita of 1918," Journal of Ethiopian Studies, Vol. XIII, no. 2, July 1975, 103-131.

Lambie, Doctor Without a Country, 123.

Ibid., 124. This 35 mile expedition from Gambeilla to Sayo and back again is well described in Lambie, Boot and Saddle in Africa, 14-31.

Lambie, Doctor Without a Country, 131.

Ibid.

See "Gidada Solan" in Dictionary of African Christian Biography by E. Paul Balisky and the appended bibliography describing the effective ministry of this outstanding church leader.

Lambie, Doctor Without a Country, 136. This account is also printed in "The Call of Ethiopia," Evangelical Christian, 344-345.

At that period in Abyssinian history, Lambie could legally purchase property from another expatriate.

Lambie, Doctor Without a Country, 138.

See Debela Birri, "History of the Evangelical Church Bethel," 143, ftn. 416, where it was agreed that the Gulele hospital be called Tafari Makonnen and American Mission Hospital. Internally the hospital was known as George Memorial Hospital, in memory of the mother of Mr. W.S. George, who donated US $70,000. Later it was called the Ras Teferi Hospital and presently is known as Central Laboratory and Pasteur Institute located in the Gulele district of Addis Ababa.

Lambie, Doctor Without a Country, 157.

Ibid., 162.

Lambie, "The Importance of Abyssinia," World Dominion.

Norman Grubb, Alfred Buxton of Abyssinia and Congo, (London: Lutterworth Press, 1942), 83.

Lambie, Doctor's Great Commission, 162, states, "But our church was not ready to advance into new territory."

Grub, Alfred Buxton of Abyssinia, 98-99.

Lambie, Doctor Without a Country, 164.

Ibid., 168.

Thomas A. Lambie, "Goals of the First Missionary Party of the AFM to Enter Ethiopia" June 27, 1927, SIM International Archives. This document is printed out in full in Cotterell,* Born at Midnight*, 16-20.

Brian L. Fargher, The Origins of the New Churches Movement in Southern Ethiopia, 1927-1944, (Leiden: E.J. Brill, 1996), 41-42.

See the minutes of the Sudan Interior Council meeting of September 16, 1927 in Totonto approving of the amalgamation of the Abyssinia Frontiers Mission with that of the Sudan Interior Mission. SIM International Archives.

R.V. Bingham, "Entering Ethiopia with Christ", Evangelical Christian, June 1936, 225-226, for a first-hand report of this union between AFM and SIM. See also F. Peter Cotterell, Born at Midnight, (Chicago: Moody Press, 1973), 15-16 for further information about this union.

Lambie, Doctor Without a Country, 168.

Henceforth, the acronym, SIM will be used.

See Bingham, "A New Land in the New Year," Evangelical Christian, January 1928, 1.

Zauditu was the granddaughter of Menelik II who died in 1912. Supporting Zauditu in her reactionary policies against the progressive Ras Teferi were the War Minister, Ras Welde Giorgis and the Echege, the head of the Debre Libanos monastery.

See Peter Cotterell, "An Indigenous Church in Southern Ethiopia" as found in The Bulletin for African Church History, 1969-1970, Vol. 311, Nos 1,2, 71-72 for a full description of this event.

Lambie, Doctor's Great Commission, 173. See also, Bairu Tafla, "Four Ethiopian Biographies," Journal of Ethiopian Studies, Vol. VII, No. 2, 18-20. The eventual arrest of Dejazmatch Balcha strengthened the hand of Ras Teferi.

See Reidulf K. Molvaer, "Hiruy Welde-Sillase: The Father of Amharic Literature," in Black Lions: The Creative Lives of Modern Ethiopia's Literary Giants and Pioneers, (Asmara: the Red Sea Press, 1997), 1-27. See also Bahru Zewde, Pioneers of Change in Ethiopia, (Oxford: James Curry, 2002), in which there are 53 pages of citations for Blatein Geta Hiruy.

Lambie, Doctor Without a Country, 170-171. Ras Teferi was keen to have Lambie and his missionaries locate in Jimma to offset the influence of Muslim Abba Jiffar of Jerain. It appears that the Regent was keen to help but not openly.

Clarence Duff, Cords of Love, (Phillipsburg, NJ: Presbyterian and Reformed Publishing Co.), 37.

The following material is gleaned from Lambie's trek Journals, entries from March 12 to September 24, 1928. This document is in the SIM International Archives, Charlotte, NC. Duff, Cords of Love, also records this journey in his letters written to his family, pp. 35-103.

Since the Revolutionary Government came into power in 1974 many place names were changed back to their indigenous originals. Wolaitta has replaced the pejorative word 'Wolamo'.

Duff, Cords of Love, 118-119.

Lambie letter of March 4, 1929 to Bingham, SIM Int'l Archives. See the account in Adrian Hastings, The Church in Africa 1450-1950, (Oxford: Clarendon Press, 1994), 144-148, of Catholic priests attempting to bring the Orthodox Church under the suzerainty of the Italian Papacy. See also Edward Ullendorff, The Ethiopians, (London: Oxford University Press, 1960), 74-78. This 16th century maneuver by the Papacy continues to be very much alive in the consciousness of the Ethiopian Orthodox Church.

Lambie, Doctor Without a Country, 177.

Ibid.

Ibid., 181.

Duff, Cords of Love, 129.

Ibid., 183. Lambie comments in a letter to Bingham, Oct. 20, 1929, "The Abyssinians are past masters of subtlety of expression and double entendre to an extent that white people are incapable of."

Lambie, Doctor Without a Country, 179.

Alfred G. Roke, They Went Forth: Trials and Triumphs of a S.I.M. Missionary in Ethiopia, (Auckland, NZ: Self-published, 2002), 61.

Lambie, A Doctor Carries On. (New York: Fleming H. Revel Company, 1942), 171. Lamin Sanneh, Summoned from the Margins, (Grand Rapids, MI: William B. Eerdmanns, 2012), 163, expresses a similar idea, "critical of mission agencies for their slowness to transfer power into African hands."

Roke, They Went Forth, 184-185.

Lambie, A Doctor Carries On, 171-172. See also Lambie to Bingham, December 14, 1933, SIM International Archives.

Fargher, Origins of the New Churches Movement, 168 comments, "It is hard to know how much use was made of the translations in comparison with the Amharic Bible."

Fargher, Origins of the New Churches Movement, 41-59. See also Tibebe Ishete, The Evangelical Movement in Ethiopia: Resistance and Resilience, (Waco, Texas: Baylor University Press), 77-81.

Field Council Minutes, April 1-4, 1936, SIM International Archives.

As found in Roke, They went Forth, 181.

Lambie to Jones with cc to Bingham, April 7, 1932, SIM International Archives.

Lambie to Rhoad, November 1, 1932, SIM International Archives.

Lambie report to Abyssinia mission family, July 17, 1932, as found in Roke, They Went Forth, 141.

Duff, Cain and Lewis to Lambie and Rhoad, March 23, 1932, SIM International Archives.

Lambie to Lewis with cc to Duff and Cain, April 7, 1932. SIM International Archives.

Lambie to Bingham, May 5, 1932. SIM International Archives.

Abyssinia Field Council Minutes, May 16-18, 1932. SIM International Archives.

See Dr. Hooper's first-hand report of the Homacho baptism, "A Notable Victory in Sidamo - Defeat of the 'Powers to be'", December 25, 1932. SIM International Archives.

Bingham to Lambie, October 17, 1932 (8-page letter), SIM International Archives.

Bingham to Lambie, October 17, 1932 (letter, 5).

Bingham to Lambie, October 17, 1932 (letter, 6).

Ibid.

Lambie, Doctor Without a Country, 213.

Ibid., 229.

Carl E. Erickson to Dr. and Mrs. Lambie, February 1, 1935. Personal archives of Margaret Hall, niece of Wallace.

Signed by four National City Bank of Medellin staff to Dr. and Mrs. Lambie, February 1, 1935, Personal archives of Margaret Hall. Wallace was accidentally killed by the collapsed roof of a movie theater.

Lambie, "When Addis Ababa Fell", Evangelical Christian, July 1936, 268-269.

Lambie, 15 page report, "Record of Disaster," May 15, 1936. SIM International Archives.

For this account see Myrtle Mitchell letter to "Praying Friends", October 9, 1936. SIM International Archives. Also Raymond Davis, Fire on the Mountains, (Chicago: Moody Press, 1966), 90.

Lambie, "Record of Disaster", May 15, 1936, SIM International Archives.

Lambie to Bingham, April 15, 1942, SIM International Archives.

Lambie, Doctor's Great Commission, 267.

Thomas. A. Lambie, "Conquest by Healing in Ethiopia," Conquest by Healing, September 1935, 70-73. He goes on to say, "Medicine was once again the spear point of the camel's nose – were there enough doctors, Ethiopia might be opened from end to end."

Lambie speech at Leprosarium cornerstone laying, November 17?, 1932. SIM Internationall Archives.

Hooper, "Testing God in a Leper Hospital," Evangelical Christian, October 1934, 392-395.

Fargher, Origins of the New Churches Movement, 125.

SIM Council at Soddo, June 3 and 4, 1931. SIM Int'l Archives. At a SIM "Field Conference" held at Soddo from April 21-23, 1930, Rowland Bingham indicated that schools not begin until there were a group of believers or those who really desired to learn to read and write and were willing to pay for the privilege. Teaching the Word of God must be pre-eminent in the school. As found in Roke, They Went Forth, 105.

See Getachew Bekele, "Origin and Development of the ERCS" in Ethiopian Red Cross Society, special issue, July 8, 1985, 11-18, for a well-written historical description of the sixteen Ethiopian Red Cross units that served heroically during the Italian war from 1935 to 1936.

Lambie, Doctor's Great Commission, 233. See also SIM Council Minutes, of November 20-28, 1935, when Lambie announced his new appointment to the Ethiopian Red Cross and that Duff and Cain were to serve as his deputies, SIM International Archives.

See Bingham's report in Evangelical Christian, March 1936, 96-97, on the sacrificial service within the Ethiopian Red Cross of many missionaries. This same issue of Evangelical Christian carried a full page advertisement for SIM's Red Cross activity and a plea for funds.

Ralph E. Hooper, "With the Red Cross in Ethiopia" November 12 to December 10, 1935, 25. SIM International Archives.

Lambie's letter to the International Red Cross Committee, Geneva, May 21, 1936, as found in Mikre-Sellassie G/Ammanuel, "Church and Missions in Ethiopia in Relation to the Italian War and Occupation and the second World War," PhD thesis, University of Aberdeen, 1976, Appendix 1, 393-397.

Lambie, "Ethiopian Events," May 25, 1935. SIM International Archives.

Josephine G. Rickard interview with Lambie, June 1935. SIM International Archives, EA-1 82 File.

Lambie, Doctor Without a Country, 250.

See Harold Marcus, A History of Ethiopia, (Berkeley and Los Angeles: University of California Press, 1994), 140, where he describes the European power's attitude towards Abyssinia as "mostly racist and considered blacks as incompetent and irresponsible."

Lambie, "Statement Made by T.A. Lambie," March 16, 1942, as found in Roke, They Went Forth, 211-212. Apparently, beyond Mrs. Lambie, only Duff and Cain of SIM were aware of this conciliatory action Lambie had taken towards the Italians in May of 1936.

See Mikre Sellassie G/Amanuel, "Church and Missions in Ethiopia," Appendices 1 and 2, 393-399.

Malcolm Forsberg, Land Beyond the Nile, (New York: Harper and Brothers Publishing, 1958), 182. In 1961, while in the Wheaton home of Dr. Forsberg, he shared this story with the author. As best as I can recall Forsberg's words, Lambie, attempting to heal the breach, arrived early at the church and took an aisle seat. When the Emperor drew near, Lambie prostrated himself in the aisle in front of the Emperor. The Emperor just passed him by.

Lambie "Statement" as found in Roke, They Went Forth, 212.

Lambie, Doctor's Great Commission, 261. See also report of the Bingham/Lambie interview with Governor-General Symes, March 14, 1937. SIM International Archives.

See this account in Lambie, Doctor Without a Country, 225-226. Charlotte never felt that she could surrender her American citizenship.

Lambie, Doctor Without a Country, 251.

Lambie, "Exploratory Trip into Anglo-Egyptian Sudan" (five page report), April 1937. SIM International Archives.

Roke, They Went Forth, 233

Lambie to Bingham, March 24, 1940. SIM International Archives.

For a detailed report of the Doro bombing see Blanche Oglesby to Gus Helm, September 27, 1940. SIM International Archives.

Lambie to Bingham, confidential letter of March 15, 1941. "About six weeks ago I was approached by the [British] army to come here [Malakal] and later to go into Abyssinia on work connected with the intelligence."

Forsberg to Bingham, three page letter of January 16, 1942. SIM International Archives

Lambie to Leslie Whitaker, June 25, 1942. SIM International Archives.

Lambie to Gus Holm, letter of December 31, 1940. SIM International Archives.

Roke, They went Forth, 239.

Bingham to Lambie, October 17, 1932. SIM International Archives.

Roke, They Went Forth, 109.

Lambie, Doctor's Great Commission, 222.

Forsberg to Bingham January 16, 1942 as found in Roke, They Went Forth, 203.

Duff, Cords of Love. p. 334.

Roke, They Went Forth, p. 180.

James I. Packer, in the introduction to The Reformed Pastor, by Richard Baxter, (Edinburgh: Banner of Truth Trust, reprinted in 2011), 9. I am indebted to my SIM colleague, Michael Madany for this quote.
---
This article, received in 2014, was written by Dr. E. Paul Balisky, former lecturer at the Ethiopian Graduate School of Theology and former Advisory Council member for Dictionary of African Christian Biography. The article was originally entitled "Dr. Thomas A. Lambie: Innovative Medical Missionary Pioneer in East Africa."