Classic DACB Collection
All articles created or submitted in the first twenty years of the project, from 1995 to 2015.
Manan Janterar Asfaw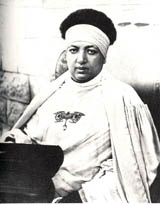 Empress Manan (circa 1891 - February 16, 1962), or Manan Janterar Asfaw, who was named Walata-Manan Asfaw at birth, was the wife of Emperor Haile Selassie I (q.v.), who reigned from 1930-74.
She was the daughter of Janterar Asfaw of Ambasal, a descendant of one of the ancient families of Wallo and of Wayzaro Sehin. She received the traditional education of a noble lady in her father's home, including a thorough instruction in Amharic and in religious knowledge.
On July 31, 1911, Wayzaro Manan was married to Dajazmach Tafari Makonnen, the future Emperor Haile Selassie. She was crowned as empress when he became emperor in 1930. They had six children, but only two, Princess Tangna Warq, and Crown Prince Asfa-Wassan, survived her.
Empress Manan was the perfect consort; a queen of irreproachable dignity, she was also a woman of deep feeling, of great generosity, and showed thoughtfulness for others. She was guided throughout her life by her profound religious convictions. Although she had great respect for tradition, she was also keenly aware of the need for innovation and progress, and she herself set the example of leadership in the field of social welfare and girls' education. Shortly after coming to the throne, she founded in Addis Ababa the Empress Manan School for girls, donating large sums from her personal treasury for its construction. In 1935 she founded the first national women's organization, the Ethiopian Women's Association, and remained its chief patron until her death. When the Italian Fascist forces invaded Ethiopia in 1935, she organized Ethiopian women to tend the wounded and instructed the populace on how to maintain regular food supplies for the troops. She also toured the capital, explaining to the inhabitants the need for taking air-raid precautions. She also sent out an appeal for moral and material help to international women's organizations.
On her way into exile in 1936, she prayed at the Grotto of the Nativity in Bethlehem, and there vowed to offer her crown to the Blessed Virgin if she were permitted to return to Ethiopia. In 1947 she fulfilled her vow, and thereafter reigned without a crown. After her return to Ethiopia, she continued her good works, even when in failing health. She constructed or restored a number of monasteries and churches, including the Ethiopian Church in Jerusalem. She distributed land, houses, and educational materials to various schools and churches, and, to the end, retained her deep interest in educational and vocational training for girls.
Belaynesh Michael
---
Bibliography
Yared Gabra Michael, Germawit Etege Manan ("Her Majesty Empress Manan"), Addis Ababa, 1964/65.
A.Zervos, L'Empire d'Ethiopie ("The Empire of Ethiopia"), Alexandria, 1936.
See also the Ethiopian Herald, February 16, 1962, and Addis Zaman ("New Times")" February 16, 1962.
---
This article was reprinted from The Encyclopaedia Africana Dictionary of African Biography (in 20 Volumes). Volume One Ethiopia-Ghana, ©1997 by L. H. Ofosu-Appiah, editor-in-chief, Reference Publications Inc., New York, NY. All rights reserved.