Classic DACB Collection
All articles created or submitted in the first twenty years of the project, from 1995 to 2015.
Massaia, Cardinal Gugliemo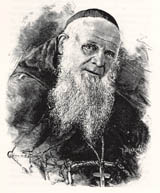 Cardinal Gugliemo Massaia (June 8, 1809 - August 6, 1889), born Lorenzo Antonio Massaia, was an Italian Catholic missionary who worked for 35 years in Ethiopia, organizing missions, chiefly in the south and southwest.
Born at Piova in the kingdom of Piemonte (Piedmont), not then united to Italy, he was ordained with the name Father Gugliemo. After the receipt in Rome of reports on Ethiopia from the French explorer Antoine d'Abbadie and Father Giuseppe Sapeto (q.v.), Massaia was sent to Ethiopia in 1846 to evangelize the Galla, with the title of Apostolic Vicar of the Galla. He was known in Ethiopia as Abuna Masseyas, and when he travelled incognito in Gojam, as Signor Bartonelli, because of anti-Catholic sentiment. In January 1849 he was consecrated as bishop Monsignor Guistino de Jacobis, a Lazarist priest who subsequently played a major role in promoting the Ethiopian rite of Catholicism, and in 1853 he ordained an Ethiopian Catholic priest, Dabtara Haylu.
Massaia was compelled to leave Ethiopia in 1879, and in the following year held a conference at the Convent of the Capuchin Fathers in Toulouse, France, where he announced that he had resigned as head of the Apostolic Vicarate. He also asked for new missionaries for the Galla missions.
On November 10, 1884, Massaia was elected a cardinal by Pope Leo XIII (in office 1878-1903). He died at Frascati, Italy. Seventy-five years after his death, the Italian Fascists attempted to represent Massaia as a precursor of the Italian occupation of Ethiopia, although there is no evidence in Massaia's career of his having had any political interests.
Emperor Menilek II (q.v.), who became a good friend of Massaia, printed Massaia's grammar in Amharic and Oromo (Galla) at his own expense. At the Pope's order, Massaia wrote the record of his apostolate. Entitled I miei trentacinque anni di missione nell'alta Etiopia, it was published in Rome, and is a fascinating account, containing acute observations about men and manners. It was later translated in to English, French and German. His letters were collected and published in 1936.
André Clais
---
Bibliography
G. Berneville, Monseigneur Jarosseau et la mission des Gallas ("Monsignor Jarosseau and the Mission to the Gallas"), Paris, 1950.
R. Berruti (editor), Le lettere del Cardibal Massaia ("Letters of Cardinal Massaia"), Turin, 1936.
E.Cozzani, Vita di Gugliemo Massaia ("Life of Guglielmo Massaia"), Florence, 1943.
G. Farina (editor), Le lettere del Carniale Massaia del 1846 al 1886 ("Letters of Cardinal Massaia from 1846 to 1886"), Turin, 1937.
G. Massaia, Lectiones grammaticales pro missionariis qui addiscere volunt linguam Amaricum seu vulgarem Abyssiniae nec non et linguam Oromonicam seu populorum Galla nuncipatorum ("Grammatical Lessons for Missionaries who Wish to Learn Amharic, the colloquial language of Abyssinia, as well as the Oromo language of the Galla peoples"), Paris, 1867, I miei trentacinque anni di missione nell'alta Etipia ("My Thirty-five Years of Mission on the Ethiopian Plateau"), Rome, 1885-1893, In Abissiniae fra i Galla ("In Abyssinia and Among Galla"), Florence, 1895.
A. Zervos, L'Empire d'Ethiopie ("The Empire of Ethiopia"), Alexandria, 1936.
---
This article was reprinted from The Encyclopaedia Africana Dictionary of African Biography (in 20 Volumes). Volume One Ethiopia-Ghana, ©1997 by L. H. Ofosu-Appiah, editor-in-chief, Reference Publications Inc., New York, NY. All rights reserved.