Classic DACB Collection
All articles created or submitted in the first twenty years of the project, from 1995 to 2015.
Salama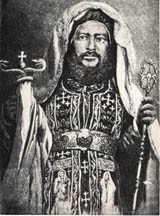 Salama (circa 1818 to October 25, 1867) was Abuna (head) of the Ethiopian Orthodox Church from 1841-67. During his years in the office he became on of the best known and most controversial leaders in Ethiopia's ecclesiastical history.
An Egyptian by birth, Indriyas ("Andrew"), as he was called, received monastic training in the Coptic Church, and also attended the Protestant mission school under J. Lieder, an employee of the British Church Missionary Society, in Cairo. As a young man of about 22 or 24, he was elected and consecrated bishop of Ethiopia with the name of Salama.
On his arrival in Ethiopia in 1841, he soon became deeply involved in the political and ecclesiastical turmoil of the closing decade of the Zamana Masafent ("Age of the Judges", during which all central government broke down). He sided with Dajazmach Webé (q.v.), ruler of Tegré and Semén, against Ras Ali Alula (q.v.), ruler of most of central and northern Ethiopia, and with the Qibat (the doctrine of the Ewostatian monks of Gojam regarding the divine and human nature of Christ, regarded as a heresy by the mainstream of Ethiopian Christianity) against the Sega Lij faction (a radical Shawan heresy about the nature of the Trinity) in the Church. He was therefore obliged to spend most of his first 12 years in Ethiopia in exile in Tegré, where his definition of the nature of Christ was more generally accepted. He seems to have totally lacked the tact and wisdom to deal with the situation he faced, and settled most disputes by excommunicating his opponents, who included Empress Manan Liben-Amdié (q.v.), King Sahla Selassé (q.v.) of Shawa, Ali Alula, Webé, and the Echagé (premier monk of the realm). In 1854 Kassa, soon to become Emperor Téwodros II (q.v.), and who was then swiftly rising to the position of supreme ruler of Ethiopia, managed to arrange a reconciliation between Salama and the Echagé, and other members of the Ethiopian clergy, at Gondar. In February 1855, Salama crowned Téwofros expelled the Roman Catholic missionaries, and probably gave the Abuna a free hand in internal ecclesiastical affairs.
The cooperation between Salama and Téwodros was, however, however, short-lived. Both were proud and strong-willed men, and Téwodros was suspicious of Salama. In 1856 the bishop was arrested for the first time. In 1857, after another clash, Salama threatened to excommunicate the supporters of Téwodros. The Egyptian Patriarch of Alexandria, Qerlos (who had been a bishop from 1815 to about 1828), who was visiting Ethiopia, solved the crisis temporarily, but as Téwodros pressed for a reduction in church land holdings, relations deteriorated further. In 1864 Salama was imprisoned in the mountain stronghold of Maqdala, where he died on October 25, 1867.
Sven Rubenson
---
Bibliography
M. Abir, Ethiopia–the Era of the Princes, London, 1968.
C. Conti Rossini, "Vicende dell'Etiopia e delle missioni cattoliche ai tempi di Ras Ali, Deggiac Ubie e re Teodoro," ("Events of Ethiopia and of the Catholic Missions in the Time of Ras Ali, Dejatch Wubé, and King Téwodros"), Rendiconti della Regia Accademia dei Lincei, Series 5, Vol. 25, Rome, 1916.
"Nuovi documenti per la storia d'Abissinia nel secolo XIX" ("New Documents for the History of Abyssinia in the 19th Century"), Rendicionti della Accademia Nazionale dei Lincei, Rome, 1947.
D. E. Crummey, Priests and Politicians, London, 1972.
Guébre Sellasié, Chronique du régne de Ménélik II ("Chronicle of the Reign of Manilek II"), Paris, 1930-1931.
G. Lejean, Théodore II, Le nouvel empire d'Abyssinie et les intérets francais dans le sud de la Mer Rouge ("Theodore II. The New Empire of Abyssinia and French Interests in ths South of the Red Sea"), Paris, 1865.
F.M. Mondon-Vidailhet, Chronique de Théodore II, roi des rois d'Ethiopie ("Chronicle of Theodore II, King of Kings of Ethiopia"), Paris, 1904.
S. Rubenson, King of Kings Téwodros of Ethiopia, Addis Ababa, 1966.
Henry Stern, The Captive Missionary, London, 1869.
---
This article was reprinted from The Encyclopaedia Africana Dictionary of African Biography (in 20 Volumes). Volume One Ethiopia-Ghana, ©1997 by L. H. Ofosu-Appiah, editor-in-chief, Reference Publications Inc., New York, NY. All rights reserved.