Classic DACB Collection
All articles created or submitted in the first twenty years of the project, from 1995 to 2015.
Takla-Haymanot (D)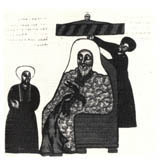 Täklä-Haymanot, Saint, established the earliest monastery in Šäwa and thus opened a new period of the evangelization of the Ethiopian region from the last quarter of the 13th century. The son of Säga-Zä-'Ab and 'Edzi'e-Haräya, he was born at Zoräré, in Selaleš, a district on the eastern edge of the Šäwan plateau, at a place today known as Etisa. He descended from a family of Christian immigrants who had settled in the region over ten generations earlier. The traditions about his life give a long clerical background to his family and his own father is said to have been a priest. According to hagiographical tradition, Täklä-Haymanot was born during a period which witnessed a strong resurgence of pagan activity in Šäwa, led by the legendary Motälamé, King of Damot.
Täklä-Haymanot appears to have received his early rudimentary education in Šäwa, probably from his own father and is said to have been made a deacon by Abba Qérelos . But a significant turning point in his religious career occurred when he decided to travel north and join the island monastery recently established by Abba 'Iyäsus-Mo'a at Lake Hayq. He received the monastic habit from 'Iyäsus-Mo'a, and spent about ten years studying the scriptures under the learned abbot of Däbrä Hayq. He then left for Tegré, apparently with the intention of making a pilgrimage to Jerusalem. This he appears to have failed to do, but he settled at Däbrä Damo, 'Iyäsus-Mo'a's original school, under Abba Yohanni. Here he considerably increased his knowledge of the Scriptures and the traditions of the Church and acquired a great monastic prestige. A small group of followers seems to have begun gathering around him. After a sojourn of about twelve years in Tegré, Täklä-Haymanot returned to Šäwa via Hayq.
Despite the presence of small isolated Christian communities in the central plateau, Šäwa was still predominantly pagan at the time. On his return to the country of his birth, Täklä-Haymanot began to preach, moving about in this area. Many disciples joined him and he finally settled at Däbrä Asbo (known as Däbrä Libanos from the 15th century onwards) in Gerarya. Täklä-Haymanot's community soon developed into an important centre of Christian teaching, which was carried on by his disciples further afield in the regions to the south and west of Šäwa. Most of the monastic communities in Ethiopia derive their origin from him and are collectively known as the House of Täklä-Haymanot.
Because of his remarkable contributions as the "New Apostle" of Ethiopia, and particularly after the post-15th century emergence of Däbrä Libanos as a major politico-religious power, many apocryphal stories have been built around his name. Of these the most significant is his alleged role in the dynastical change of 1270, when the Zagwé were deposed and Yekuno-'Amlak ascended the throne.
Taddesse Tamrat
---
Bibliography
C. Conti Rossini, "Appunti ed osservazioni sui re Zagué e Takla Haymanot," Rendiconti della Reale Accademia dei Lincei, Serie quinta, Vol. IV (1895): 341-59, 444-68.
——–, "Il 'Gadla Takla Haymanot' secondo la redazione waldebbana," Atti della Reale Accademia dei Lincei, Serie quinta, Vol. II, Pt. I (1896): 97-143.
——–, "La acduta della dinastia Zagué e la versione amarica del Be'ela Nagast," Rendiconti della Reale Accademia dei Lincei, Serie quinta, Vol. XXXI (1922): 279-314.
E. A. Wallis Budge, The Life and Miracles of Takla Haymânôt (London, 1906).
——–, The Book of the Saints of the Ethiopian Church (Cambridge, 1928), Vol. IV, 1241-6 (Synaxarium, 24 Nähasé).
G. W. B. Huntingford, "The Wealth of Kings' and the end of the Zaque dynasty," Bulletin of the School of Oriental and African Studies, Vol. XXXVIII (1965): 1-23.
S. Kur (ed. and trans.),Actes de Iyasus Mo'a, Corpus Scriptorum Christianorum Orientalium, Scriptores eathiopici, t. 49 and t. 50.
Taddesse Tamrat, Church and State in Ethiopia 1270-1527 (Oxford, 1972), 160-173.
---
This article is reproduced, with permission, from The Dictionary of Ethiopian Biography, Vol. 1 'From Early Times to the End of the Zagwé Dynasty c. 1270 A.D.,' copyright © 1975, edited by Belaynesh Michael, S. Chojnacki and Richard Pankhurst, Institute of Ethiopian Studies, Addis Ababa, Ethiopia. All rights reserved.