Classic DACB Collection
All articles created or submitted in the first twenty years of the project, from 1995 to 2015.
Aragawi, Za-Mika'el (A)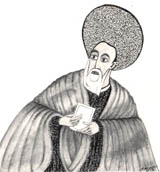 Abba Za-Mikael Aragawi (later 5th-early 6th centuries) is one of the Nine Saints of the Ethiopian Orthodox Church.
Like the eight other Saints - - Abba Afsé, Abba Aéf, Abba Garima, Abba Guba, Abba Liqanos, Abba Pantaléwon, Abba Sahma, and Abba Yamata - he is believed to have come from Syria, and to have participated in the translation of the Ge'ez Bible, which was based on the version of the Antioch school, which, unlike the school of Alexandria, emphasized the literal interpretation of the Bible, and Christ's humanity, rather than his divinity.
An account of Za-Mikael's life is contained in a Gadl, or book of Acts, which is believed to date from the 15th century, and emphasizes the supposedly miraculous side of his life. Born 'Abd al-Masih, he is reputed to have been a member of the royal house of Byzantium, and to have become a monk at the age of 14, when St. Pachomius gave him the name of Za-Mikael. His fame gradually attracted the other eight Abbas, who termed him Aragawi, that is "The Elder." Subsequently his mother joined him and became a nun.
From Byzantium, Za-Mikael, accompanied by his disciples, is said to have gone to Aksum, which was already Christian. They were welcomed by King Ella Ameda II (who ruled during the 5th century) in the fifth year of his reign, and later remained at the court of his successor, Tazena. Altogether, they spent 12 years at Aksum before each went his own way to found monasteries.
Za-Mikael, for his part, went with his mother to eastern Tegré, where he established a monastery on the mountain of Damo, during the reign of Gabra Masqal (ruled from about 550 to about 570). Tradition relates that since the holy man could not climb this mountain, he clung to the tail of a serpent, which pulled him to the summit. His Gadl claims that earlier King Kaleb [reigned circa 514-530] consulted him before embarking on his famous expedition to South Arabia. His death, which occurred in the month of October, is recalled in the Synaxarium (liturgical book containing the lives of the Saints) of the Ethiopian Church.
Richard Pankhurst
---
Bibliography
E. A. W. Budge, A History of Ethiopia, London, 1928; C. Conti Rossini, "L'omilia di Yohannes vescovo d'Aksum in onore di Garima" ("Homily of Yohannes, Bishop of Aksum, in Honor of Gariba"), Actes du XIéme Congres International des Orientalistes, Paris, 1898, Acta Yared et Pantalewon ("Acts of Yared and Pantalewon"), Paris, 1904, Storia d'Etiopia ("History of Ethiopia"), Bergamo, 1928; I. Guidi, "Gadla Aragawi," ("Acts of Aragawi"), Atti delia Regia Accadernia dei Lincei, vol 2, Rome, 1896, "La Chiesa Abissina" ("The Abyssinian Church"), Oriente Moderno, Rome, 1922; M. A. van den Oudenrij, La vie de Saint Za-Mikael 'Aragawi ("The Life of Saint Za-Mikael 'Aragawi"), Fribourg, 1939; F. M. E. Pereira, Historia dos Martyres de Nagran ("History of the Martyrs of Nagran"), Lisbon, 1899; Sergew Hable Selassie, Ancient and Medieval Ethiopian History to 1270, Addis Ababa, 1972.
---
This article was reprinted from The Encyclopaedia Africana Dictionary of African Biography (in 20 Volumes). Volume One Ethiopia-Ghana. Ed. L. H. Ofosu-Appiah. New York: Reference Publications Inc., 1977. All rights reserved.