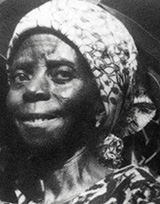 Introduction
Madam Afua Kuma of Ghana (baptized Christiana Gyane), one of the first modern African female oral theologians, "represent[s] the women who weave lyrics about Jesus and pour their hearts out in prayer and praise at all times and in all places, the women whose theology gets 'reduced' into writing by those who can write." [1] She is known to us today through a small booklet of her extemporaneous prayers and praises, Kwaebirentuw ase Yesu: Afua Kuma ayeyi ne mpaebo / Jesus of the Deep Forest: The Prayers and Praises of Afua Kuma, a transcription/translation of her Christologically-focused praises. [2]
Living during a complex period of Ghana's history, from the end of the colonial period and into post-independence, Madam Afua Kuma earned widespread recognition in Ghana for her gift for offering these oral praises, which she shared in a variety of Christian settings. More recently, she has gained a small but growing following among academics from both the Global South and North, who find her an important source for African Christian thought.
Her praises are significant for a number of reasons. First, they display Afua Kuma's incredible theological and linguistic ingenuity in adapting a traditional chiefly praise format, familiar in her Akan culture, for vibrant, Christologically-focused praise. Although she drew on aspects of the phrasing and verbal structures of this traditional format, she was the first to transform this rich template for Christian worship. The resulting praises capture the spiritual imagination of listeners with their exceptional displays of linguistic, cultural, and theological inventiveness. The following example illustrates this beautifully, with the themes of praise, eschatology, and redemption explored through biblical allusions superimposed upon her Ghanaian context:
Jesus says if we raise Him high,
He will draw all things to Himself. So, let us go and praise His name,
and let us raise Him up on high. Drummers, bring your assorted drums
and start playing the Atumpan. [3] Let your strokes beat out proud rhythms
to honor the name of Jesus, and join the earth to the heavens.
Jesus, if You do not help us,
there is nowhere else we can turn. You who are always close at hand,
if You do not come to our aid, then we are lost; no one can help.
Jesus, the redeemer of all,
come to receive our prayerful thanks. Musicians come and play your lutes
—let them praise and honor Jesus. All you singers sing your praise songs [4]
—let them rise to Him like incense.
You drums beat your song in tribute!
Nnawuta and aduwuro [5], —you instruments of King David—
and you, the mfirikyiwa [6]; all of you come and play your song
while Jesus is leading the way.
Northern peoples play their nnonno [7],
their multi-stringed instruments. Let them lead Him in procession.
Let strong porters put on head-pads to carry Him high on their heads.
We shall hear the words of His mouth —we shall listen to His stories.
See the multitudes of people
from all the nations of the earth. I feel shamed to be among them,
truly sorrowful to be there. The devil has hurled us all,
including myself, into mud —an enormous black pool of filth—
and has shackled our feet with chains.
Jesus has made his blood a rope
to drag us all out of the pit! Thousands of tongues roar out His name
—give Him praise for what He has done! [8]
A second reason for the significance of Afua Kuma's praises is the fact that traditionally, while women played a part in these processions, only men held the role of chiefly praise singers. By contrast, Afua Kuma, a woman, confidently appropriated this genre and was widely respected and celebrated for sharing her gift. As Archbishop Emeritus Peter Sarpong remarked, "For her to do this is like a miracle to me – I don't know where she'd get such words! They are very difficult and obscure; very unusual. It's really wonderful!" [9]
Afua Kuma is also important in that she points us "writing theologians" to the significance of oral theologies, and particularly women's oral theological contributions, a field replete with treasures requiring further examination. [10] In engaging with Afua Kuma's Christian community, it was quickly apparent that while she was uniquely gifted, she was by no means alone, but rather, representative of many Christian women in Ghana (and elsewhere across the African continent) who are engaged in what Ghanaian "writing theologian" Kwame Bediako has called "grassroots" or "mother tongue" theologies.
While all theology is contextualized to a degree, grassroots theologies are highly contextualized, less formal, and predominantly oral, drawing inspiration and images from the theologian's culture, community, and Christian tradition, expressed through performative forms such as prayers, praises, songs, and stories to engage questions of Christian thought and praxis. Furthermore, they are expressed in the vernacular, making them at once a deeply felt expression on the part of the theologian while remaining easily accessible to her audience. Bediako argues that "it is only through the vernacular that a genuine and lasting theological dialogue with culture can take place." [11] He sees in Afua Kuma's praises "theology which comes from where the faith lives and must live continually, in the conditions of life of the community of faith, the theology of the living church, reflecting faith in the living Lord as present reality in daily life." [12] This is clearly evident in her praises above, which paint a beautiful picture of those from diverse Ghanaian communities joining together in worship using traditional instruments and the framework of familiar community celebrations to "roar out His name" in thanksgiving!
For this reason, Afua Kuma's praises—and oral theologies in general—are a rich source of insight into the lived experiences and theological reflections of many Christians, and often women's voices in particular. Indeed, Afua Kuma's praises reflect the complexity of late-colonial and early post-independence Ghana, with imagery drawn expansively from her experiences with farming, midwifery, family, and diverse facets of traditional Akan life and culture, as well as more modern aspects of development, law, policing, education, and healthcare, for example. As such, it is accurate to call her "a product of two worlds," a reality clearly seen in her praises. [13]
Birth and Early Life
Since Afua Kuma introduces herself in some of her unpublished praises elsewhere, it seems fitting to begin with her own words here:
I am a Ghanaian from Kwahu Obo. My father's name is Albert Omari. He was a senior Presbyter in the Presbyterian Church. He has long gone to his Maker. My full name is Christiana Gyane, My other name is Afua Kuma. Anyone can find me by asking these names.
Elizabeth Nartey Somuaa is my daughter. Her husband is pastor Nartey. He is the senior pastor in the Church of Pentecost. People can find me if they contact any of the people I mentioned. If people are looking for me, I stay in Obo. One other town where they can find me is Asempaneye or Atuobikrom. This is where a Father priest first met me. Let us all say a big "Amen!" [14]
The date of Afua Kuma's birth is not certain, but is thought to be around 1908. As she tells us, she was born in the town of Obo Kwahu in Ghana's Eastern Region. Her name, "Afua," indicates that she was born on a Friday, and "Kuma" that she was younger or smaller, perhaps because she was the second born in her family. Significantly, she was from a royal family; however, she did not associate closely with the palace and carried that connection lightly, with many interviewees remarking that she was known for her humble spirit and simple lifestyle.
In her childhood, she stayed with her parents at Huhunywa in the Ga Adangbe area. She helped her parents in their farming work. As such, she was well trained in both farming and trading, and was an oral learner well versed in Twi (her mother tongue). However, she did not attend school or become literate, less common for girls at that time. Because of this, however, she strongly emphasized the importance of school and literacy to her children and grandchildren, seeing its value. As one interviewee emphasized, we should remember that "she was not schooled, but educated. There is a big difference between the two!" [15] In the town of Obo, her father was the first to own commercial transport vehicles and the family was reasonably prosperous.
Marriage and Family Life
As a young adult, she was first married to an army officer. She gave birth to her first daughter around 1928.[16] However, her father was unhappy with this marriage. He felt his daughter was unsafe living in army barracks surrounded by soldiers and moving frequently, so he came and took her home, effectively dissolving this marriage. She subsequently married Opanyin Kwabena Frimpong who, like Afua Kuma, was also a cocoa farmer. They moved down the mountain from Obo to the community of Asempanye Atuobikrom to continue farming.
Together they had six more children, as well as a set of twins who died at birth. This was certainly an incredibly busy season of Afua Kuma's life, though the challenges did not end as her children grew up. The family recounted a deeply troubling event with her third-born son, Joseph Ofori (b. 1933). He worked as a driver for the Minister of Education for a time during Kwame Nkrumah's presidency (between 1957–1966). At one point, a bomb was planted on the Minister's car, but exploded when Joseph was not in the vehicle. Because of this, he was detained on suspicion of conspiring to kill the Minister. This was during a period in which some of those who were detained were not seen again, so Joseph's situation was a matter of deep distress to his mother and family.
This was an important moment for Afua Kuma in terms of her faith and prayer life. She stood firm in her belief that God would deliver her son and said she would "fight with Jesus" on his behalf, through prayer and fasting. She challenged God, saying, "If you could get Joseph out of jail in Egypt [Genesis 39–41], you can get my son out too!" Finally, another son, Emmanuel, was able to free his brother, who fled to the USSR for eighteen years before returning home. We see some aspects of this ordeal reflected in her praises when she says:
If you are in trouble with the government, you go and tell Jesus. When you reach the court they will say, "Go back home!" No one will question you; you won't have to say a word. I'm going to tell Jesus about it: today my Husband is a lawyer – how eloquent he is! [17]
Afua Kuma's family home in Obo-Kwahu still holds some of the Russian art, music, and ephemera that Joseph brought back with him—an important reminder of some of the more cosmopolitan aspects of her life.
Afua Kuma's husband died in 1961. After his death, she was asked whether she intended to marry again. According to custom, this decision was entirely hers to make. She chose to remain unmarried and the remaining quarter-century of her life proved to be a highly productive and creative period. Firstly, she decided to train as a Traditional Birth Attendant (midwife), an occupation at which she excelled. And significantly, it was in this new season that she first began publicly offering her extraordinary praises and travelling within Ghana to perform at various Christian events. After fulfilling her responsibilities as daughter, wife, and mother, this season of independence offered her new opportunities, and she seems to have really come into her own as an artist and theologian, drawing from her rich life experiences to shape her poetic theological reflections.
Church Affiliations
The variety of her church affiliations holds particular significance. In the small body of research on her, she is only identified as a member of the Church of Pentecost. Yet, as research and her own introduction reveal, this is only one part of the picture. She grew up in the Presbyterian Church, where her father was an elder, and it is likely here that she received her early grounding in Scripture. However, when she moved to Atuobikrom, there was not a Presbyterian church nearby, so she joined a Catholic church for several years. While she is often described as being "Pentecostal," she in fact only joined the Church of Pentecost (CoP) later in her life. Her daughter Elizabeth was married to Apostle Nartey, and it was through them that she joined the CoP. Her self-introduction references this connection.
According to her family, she really admired the CoP and felt it was a very "modern" institution. She admired their European dress and their use of English. It was partly because of this that it was very important to her to send all her children and grandchildren to school or college, saddened that she had not had that opportunity herself. As her grandsons recalled, she liked to say that the CoP was "growing in glory!" While she received a warm welcome and ready platform in the CoP, her son-in-law was so well-known in the church that she could not rise above him. However, he gave her many opportunities to perform, and would often bring her along to church events. As her grandsons said, "She was always ready like a soldier," and "If you said we're going to do the work of the Lord, she'd even leave off eating and jump up immediately!"
While most scholars have honed in on her Pentecostal affiliation, it is helpful to note that Afua Kuma is equally viewed as "one of ours" among several Roman Catholic communities in Ghana. When her family held a memorial celebration for her in 2018, it started in the Catholic church near her home, with some joining from the CoP. When the celebration moved to the CoP, some from the Catholic church came along. Likewise, when I visited a Catholic mission in Kwahu Tafo, several elderly female parishioners shared stories of how they had encountered Afua Kuma at various Catholic celebrations and been inspired by her to offer their own praises publicly. They recalled fondly that she worked with them to train girls and young women in this art. In an interview with their priest, Fr. Henry Duah, he observed that she "unknowingly promoted ecumenism and brought people together; her efforts have helped to promote unity today between Roman Catholics and others." He went on to explain that "in those days" – the 1960s and 70s – "it was very strict; no drums in [the Catholic] church! One man almost died of an asthma attack when drums were first used in the Catholic church. Afua Kuma was ahead of her time culturally!" [18]
The Emergence of Her Praises
There are different accounts regarding the date and circumstances of her first praises, likely reflecting people's differing memories about this period. Her grandsons Tetteh and Ofori estimated her first public praises as being between 1969 and 1979. [19] However, her praises were first tape-recorded in 1976, which means that she must have begun towards the earlier part of this date-range, since her gift was widely enough known by 1976. [20] One familiar account of how she began giving her praises is that she heard a sermon about "giving thanks in all circumstances" and responded in praise:
When the preacher invited people in the congregation to pray at the end of the sermon, Madam Kuma astounded everyone when she burst out in praise of Jesus in a language so powerful, and unknown in the church. In the words of [her daughter] Beatrice Asantewah, "from that day God gave my mother a new tongue to praise Him." [21]
In Akosua Anyidoho's research, this event was tied to an account of two of her sons going through a very recalcitrant period and experiencing important life changes related to joining the Church of Pentecost.
However, in interviews with members of her community, several suggested to me that she first performed these oral praises during a Corpus Christi celebration and was subsequently invited to other Catholic events. Although the details of exactly how and when she first began performing her praises are lacking, it seems safe to suggest that she had long enjoyed the beauty and complexity of her Twi mother tongue, and had a strong poetic gifting. She also had an active personal prayer life, and at some point, recognized the adaptability and creative potential of the chiefly praise format (amoma) for Christian worship and gained the confidence to share her gifts more publicly.
It is helpful to consider the style of her praises, which share certain characteristics with traditional Akan chiefly praises, but which equally are her own unique creation. The original audio recordings, though not of excellent quality, help us to hear the rapid pace and musical quality of these spoken, poetic prayers, which Archbishop Sarpong describes as "deep words." [22] Afua Kuma herself seems to indicate an awareness of doing something new when she says,
Shall we hear a new kind of praise? We carried precious gifts to Him —to give to the child Jesus. [23]
In terms of categorizing these praises, there are four distinct styles of Twi orature, including: adehye kasa (speech style of the elders); obuo or opo kasa (courteous or polite speech); mmea kasa (speech style of women); and mpanyin kasa or kasa a emu dɔ (speech style of elders, or language that is deep). The latter "is considered the most important kind of speech style among the Twi speaking people. It consists of the use of proverbs and parables (mmebusem); by-names (mmeran); appellations (abodin); and metaphors of all sorts. It is considered the language that every 'cultured' or 'educated' speaker of Twi should understand and use." [24] He further explains that this is the language used in public settings, and emphasizes that the proper use of such language is viewed as an art. "It is taken for granted that they [women] also understand and use the speech style of the elders. The difference is that they are not often called upon or expected to speak on public occasions." [25] Significantly, Afua Kuma used the speech style of the elders; and as such, was equally celebrated for her linguistic as well as theological abilities. As Kofi Opoku said, "I cannot emphasize to you strongly enough how much we love our Twi language and those who use it well!" [26]
Gift or Ability?
There has been some discussion surrounding whether her linguistic and spiritual abilities should be seen as a "gift" or rather as a "skill" that she developed. When Anyidoho interviewed Beatrice Fantoaa, the latter "emphasized that her mother never watched traditional appellation performances nor rehearsed her praises, and that she claimed divine inspiration for her creative talent." [27] Anyidoho, however, suggests that she may have "unconsciously internalized the grammar of amoma, and used that knowledge to create a form suitable in Christian worship." [28] When I interviewed the family, her grandson Tetteh recalled often hearing her reciting under her breath; but in his words, "when the kids would say, 'What was that? What did you say?' she'd simply say, 'Oh don't mind me!'"
Archbishop Peter Sarpong, on the other hand, was adamant about the importance of recognizing her ability as a gift. In his words,
Within oral tradition, don't underestimate the power of gift! …Gifts aren't subject to analysis. Think of gifted mathematicians, or sports figures – it's not always that we should explain things by way of environment or training. It's not at all impossible that this woman from the bush comes out with this. The important thing is to acknowledge the gift – this woman has a gift! [29]
What is unanimously agreed upon by those who have studied the linguistic composition of her prayers at length is that while she may have taken inspiration from the chiefly praise format and may have rehearsed her poetic offerings, her praises are unique and should indeed be classified as a gift. Archbishop Sarpong noted that her prayers differ somewhat from those expressed within Akan indigenous religion. In his words, "these prayers center on one historical Christian figure, Jesus Christ – that's not too normal for us." As Sarpong further described it,
She composed them; she had a vision because she was a Christian – she uses ritualistic language, based on her Christian beliefs and ideas… In Akuapem Twi, the words are "big words" – but they appear to me to be words that describe the Christian mystery she's trying to portray. Some expressions are not traditional; some are coined, and flow from her beliefs. But while her symbols are perfectly symbolic of our tradition, many would not be used in normal religious situations.
He further elaborates, noting that her depiction of "Jesus like a basket you can fill with water, Jesus as a warrior…the immensity of Jesus, his ability to destroy the enemy, whatever that is… these are wonderful and very new. I'm not used to that!" His conclusion was that "for her to do this is like a miracle to me – I don't know where she'd get these words – it's really wonderful!"
Kofi Asare Opoku, an authority on African indigenous religion and Akan Language, had the chance to hear Afua Kuma perform her praises. [30] He echoes Archbishop Sarpong's words: "Her abilities were incredible – she produced these praises effortlessly! A master of the language – her images were just stunning! She opened her mouth and out flowed a torrent of beautiful language!" [31] He shed further light on the gift vs. skill debate by explaining that in Akan culture, if you encounter something special, such as a unique ability or exceptional talent and you ask the person, "Where did you learn how to do this?" the traditional Akan response is, "I was born with it, yɛde woo me." As Opoku elaborated, "In our way, with such exceptional genius, the origin always resides in the spirit world – as in, 'born with it.' When I met Afua Kuma, it was clear she was 'born with it,' no one could have taught her this. Her imagery was absolutely stunning. I couldn't describe it otherwise."
She gained a reputation for her incredible gift, and was regularly invited to a wide variety of Christian events and festivals to perform. As her grandsons recalled, "If it had something to do with Jesus, she would even put down what she was eating to go!" Additionally, when churches advertised their upcoming events in newspapers, they began to include her name as a feature attraction, and this is how some people heard about her. [32]
Her Role as a Traditional Birth Attendant (TBA)
She started her work as a traditional birth attendant in 1961, the year her husband died. A TBA received no formal training but, as was the practice, she apprenticed herself to an older, experienced midwife. These experienced TBAs called her to come and assist, and gradually she learned. She took over as the older women retired and, in turn, she trained other younger women. She received further training in 1984, when the Catholic Sisters at the Mary Queen of Peace Catholic Church (est. 1975) held Mother and Child Welfare training clinics.
She was particularly well known for her expertise in dealing with difficult deliveries. As her daughter-in-law Mary Ofosua, also a TBA, recalled, upon arriving at a birth, Afua Kuma would first wash her hands and then get down on her knees in fervent prayer, asking God to protect the mother and child, to guide the process, and bring them all through successfully. Only after praying would she start engaging with the mother. As she exclaims in one prayer, "When you heed the things of God, you need not wear an amulet to make your marriage fruitful. A woman is struggling with a difficult labor, and suddenly all is well. The child, placenta and all, come forth without an operation. He is the Great Doctor!" [33]
Rachel, a TBA who apprenticed with Afua Kuma, recalled that the most important lesson she learned from Afua Kuma was that one should not charge a fee for midwifery services, as she felt that this was in some way taking advantage of one's neighbor in her hour of need. If families wanted to give gifts of appreciation, that was up to them, but she did not want anyone to go without the necessary care due to poverty. Rachel, still practicing as a TBA, continues that tradition.
Healing/Prayer Ministry
Another important story that her family shared was of a mother who brought her small daughter, Rebekah, to Afua Kuma for prayer. The little girl had died, and the mother had already taken her to two different fetish priests. These priests each had declared her dead and said they could not do anything to help her. In desperation, she brought the little girl to Afua Kuma, who, together with her son Emmanuel, daughter Janet, and Emmanuel's wife Jane, all prayed over the child. Afua Kuma had a large sheep in her yard, and they suddenly heard a loud noise. They went outside to investigate and discovered that the sheep had fallen over dead, while in the same moment, the little girl was resurrected! They still call her "Resurrected Rebekah." I met her as we walked through the family's neighborhood!
This was not an isolated incident. Many people came to her for healing prayer, and on other occasions she went and prayed for those who were in the hospital. Afua Kuma felt this was another dimension of her prayers. When I asked if she would have considered this a healing ministry, her family said no; it was just an extension of her prayer ministry. Archbishop Sarpong suggested that the idea of a "healing ministry" is more of a modern Christian idea. Because Akan culture has a long history of healing practices it would have been natural for her to consider healing as simply an extension of her prayer life.
Conflict with the Fetish Priest and Accusation of Witchcraft
Afua Kuma's family shared several accounts of serious conflicts she encountered with the local Tigare priest who accused her of witchcraft. She had experienced a number of family difficulties: several of her children had faced health challenges and, in a short space of time, two of her brothers died quite suddenly. In her Akan context, sudden deaths and illnesses often raised questions about witchcraft. Such accusations were (and are) frequently directed at older women in the community and are very serious, carrying the threat of death or the possibility of expulsion from family and community. Her family explained that, at that time, if you were accused of witchcraft, you would be taken to the Akonedi Shrine and compelled to participate in a kola nut ordeal. Two kola nuts would be placed on the shrine, one of which would be poisoned. The priest would accuse you, you would deny the charge, and have to eat one nut. If you were a witch, it was believed that you would die instantly. If you did not die, you would be free.
One of her uncles was a prophet in the True Faith Church. During this time, he directed Afua Kuma to "declare the name of Jesus"—not necessarily in formal prayers but just the name on its own—a theme seen again and again in her prayers. Her uncle suggested that if she prayed in this way, the one causing the problems would reveal him or herself. So Afua Kuma did this, and went around just declaring "Jesus, Jesus, Jesus…" During this period, one night an unfamiliar neighbor woman came and heard Afua Kuma saying the name Jesus. She left immediately, and straightaway the children's health improved! Therefore, the community believed that this woman, not Afua Kuma, was responsible for these illnesses.
In a related account, pertaining to the unexpected death of her brothers (and possibly also her children's illnesses), the Tigare priest came to see her several times to challenge her to a kola nut ordeal, again charging her with witchcraft. [34] Afua Kuma, however, refused to go. She believed that God would vindicate her and so spent time praying fervently. Finally, the priest lost patience and came and said he would kill her within seven days if she did not face the ordeal. Afua Kuma boldly said that seven days was too short a time for him to prepare and said he should instead take his time and prepare very well and take forty days in order to get the job done well. But, she warned, if after forty days she was not dead, everyone would know he did not have power to kill her and that she was innocent. She said, "Even if I die on the forty-first day, they will know it was not you that caused it!'" She told him that if she died, he should take a piece of her cloth to bring to his house as a souvenir to show that he had killed her. During this time, she stopped reciting her prayers publicly, but committed herself to fervent private prayer.
The forty days passed and no harm came to her, and she began reciting her praises publicly once again. As she declared joyfully, "Jesus will come when you call; from very far he hears you!" and "Jesus! You say it once and the matter is settled; in all the world, you have the final say! [35]' Again and again in her praises, we find this theme of the power of speaking the name of Jesus.
Needless to say, the fetish priest was angry. Sometime later, Afua Kuma was travelling by train to Cape Coast and saw the priest, Kweku Ofori. She said to him, "I'm sick just now but if I die, it's not you who did it, you couldn't kill me!" He was embarrassed and tried to give her some money to cover over his offence, but she refused it and said, "If your ways are perfect, the Lord will make your way straight and make your enemies flee before you!" [36] As she recounted in a later prayer, "My enemies say they will kill me, but Jesus is the Chief of Police, and my enemies have fled, leaving me in peace." [37]
Her family shed a little more light on this process, saying that her brothers had been quite wealthy and that Afua Kuma was in line to inherit some money from them. They explained that once the fetish priest had killed you, your family would not bury you, but would put your body on the shrine for your body to rot. The fetish priest would then ask for the gold and cloth in the house, saying, "It has witchcraft in it." The priest knew that Afua Kuma had money. The family said that this was likely his motivation for persecuting her so harshly. Again, we cannot underestimate the serious and distressing nature of an accusation of witchcraft in Afua Kuma's context. And, by understanding the severity of this accusation, we are more fully able to see her incredible boldness in defying the Tigare priest, as well as her deep her faith in Christ her defender, protector, and vindicator. Such insights add further depth and color to our understanding of her praises.
Philanthropy
Afua Kuma was also remarkable in her charitable giving and humble lifestyle. Her family shared many stories to illustrate this. Her grandson Tetteh said that as a child during a big event in their community, he had found a large amount of money on the ground and brought it to her to keep for him, since no one nearby was asking about it. When he came back later to collect the money, she was a bit evasive about it, and he eventually discovered that she had gone door to door searching for the owner of the missing money and had returned it! As he said, there was no gong gong sounding, no one raising an alarm that they had lost it. [38] No one even realized it. She just took it upon herself to go door to door until she located the rightful owner. Tetteh was so mad at losing out on this "found fortune" that he made his grandmother sell a sheep to repay him, a request which she cheerfully indulged.
Other family members described her as a generous provider, saying that she might take ten of the grandchildren or neighborhood children to the farm with her to help carry loads back, but would direct them to take about 80% of it to her neighbors who were perhaps in need, with only a little bit coming back to her own home. She never took money for it. Also, she would not take money from churches after she performed, and she often added her own money to the offering to raise money for missions or other community needs. In fact, Tetteh recalled that churches were always excited to have her, because her performances would encourage people to give generously (in the tradition of putting money on the altar as an expression of appreciation for outstanding performances).
As previously noted, she would not charge a fee for her midwifery services. She refused to take any payment when she was invited to come and share praises, although she received with delight small gifts which he sometimes brought for her, such as a scarf or a necklace. For all her various philanthropic and business dealings, her family smiled to recall that the "bank" where she kept her money was under the banana tree in her yard, where she buried it.
While many of those whom I interviewed who had known her referred to her as a "simple woman," they clarified that this should not be mistaken for either a statement about her intelligence or her social/financial status. Rather, they said, it was a statement that indicates that while she could have chosen to live more comfortably, or to think highly of her significant accomplishments, she carried all of these things lightly and considered her donations of time, skills, and finances simply as ways in which she honored God.
Her grandsons also clarified that "when she talked about 'prosperity,' she meant 'all is well with my whole family,'" closer to the meaning of the Hebrew "shalom" than the material prosperity we perhaps think of more quickly, and more superficially. They gave as an example this unpublished prayer of hers: "Generous God, you are the one I've depended on, and my life is well; I have prospered." Again, such insight gives us a much deeper and richer perspective on her prayers. While she certainly expresses gratitude to God as the source of her material provision and daily needs, her "prosperity" runs much deeper than that.
Her Views on African Indigenous Religion
One unexpected aspect that emerged from this research was her strong view on African Indigenous Religion. As her family recalled, she took a very firm stand against traditional religious practices and would not let her grandchildren go out to socialize or to attend cultural dances because she felt it was associated with "fetish." She had had traumatic experiences with traditional practices at various points in her life. First, as a teenager, she had seen a dead body put on a fetish altar with chickens pecking at it, so she never again ate chicken. And as we have seen, later in life she herself had some very distressing encounters with witchcraft accusations. Her family emphasized that her negative views of "fetish" were rooted in her own experiences as opposed to coming from external sources. They said that one reason for her deep appreciation for the CoP was because they agreed with her strict views on indigenous religious practices.
In some of her prayers, we can certainly see allusions to various aspects of indigenous religious practices, but it is always to come back and point to Jesus as the greater, stronger, source of power, provision, and joy: "Our ancestors didn't know of Onyankopɔn: the great God. They served lesser gods and spirits, and became tired. But as for us, we have seen holy men, and prophets. We have gone to tell the angels how Jehovah helped us come this far: with great gratitude we come before Jesus, the one who gives us everlasting life." [39] While it may be tempting to see in this rather negative-sounding view on Akan religious heritage an underlying "western" or "missionary" perspective, that did not seem to be the case. Again, her family emphasized that because she had found herself on the rather terrifying end of some of these practices, she wanted to protect herself and her family from possible harm but at the same time, she honored and esteemed her Akan heritage, with its religious cosmologies, through the very medium of her prayers.
A Woman of Wisdom and Strength
While being recognized as a "simple woman" in terms of her lifestyle, she was equally known as a woman of great wisdom and bravery, small but mighty in spirit. Her family nicknamed her "Afua Kuma Yaa Asantewaa" after the great Asante warrior queen (1840–1921), who led the war of the Golden Stool. Her grandsons said that they saw her as a warrior and a woman of wisdom—wisdom to settle cases. People came to her to make decisions, to receive family counselling, to influence court decisions, to receive prayer/healing, or to get advice or training for birth attendants. Her house was busy! They also said that if one of them misbehaved, she was quick to put them in line. Certainly the image of "warrior" is fitting when we consider her ordeals with the witchcraft accusations, or "fighting with Jesus" in prayer for her son Joseph's freedom. People also saw her as a woman of integrity and justice. The chief in her village asked her to sit with him to hear cases and to offer her insights, and the local Catholic priest directed all of his counselling cases to her. [40] As one grandson recalled, "She had 'deep wisdom,'" and liked to say, "Let your conscience be your judge and your heart reflect it."
Details of Her Death
Afua Kuma's daughter Elizabeth died in 1987 in a tragic car accident, and her family said that this was the beginning of the end for her. She had especially loved Elizabeth because of the CoP connection, and saw her daughter as someone important, with a beautiful home and significant opportunities. Her family felt she never recovered after the tragic accident that claimed her favorite daughter's life. During this same time, she had a small car accident herself. Though she was not seriously injured, she never recovered fully after this and was in and out of hospital. On a Thursday morning seven months after Elizabeth's death, Afua Kuma died and was buried in Obo-Kwahu.
As Kofi Opoku observed,
Here was a lady from the forest with such pearls of wisdom – where is this coming from? My goodness! This didn't come from the African theologians! This came from outside theological "respectability" – but surpasses it! So many ways of talking about God, about Jesus… we have a proverb [in Twi]: "Truth [or Wisdom or Knowledge] is like a baobab tree: one person's arms can't embrace it."… If we are to succeed in surrounding the baobab tree, we must hold hands – Afua Kuma offers us one hand to grasp, and her view of Jesus enables us to see Jesus in a new way. [41]
One observer repeatedly emphasized how deeply Afua Kuma loved Jesus. In his words, "I have never known anyone else, before or after, who loved Jesus in the profound and all-encompassing way that Afua Kuma loved Him." Her family readily assisted with this research, delighted for people in other parts of the world to come to know their mother and grandmother, and to derive as much joy and encouragement from her praises as they still do. However, they emphasized that her desire was never for her words to draw attention to herself but to point people to Jesus, in the hope that they might experience Him as she had experienced Him:
You are the Precious Kente cloth and the Colorful Dutch wax-prints. You brighten our celebrations. We love and admire Your beauty, and Your name we spread abroad… You are Lord of Travelers! Your gospel reaches earth's ends. You are a Very Great River, which no bar of sand can oppose. [42]
Sara J. Fretheim
---
Afua Kuma Primary Texts and Resources
Direct reading version (PDF): text
---
Note on the research:
This research was funded in part from a grant from the Nagel Institute for World Christianity, Calvin University, MI, USA, which was funded by the Templeton Religion Trust, Nassau, Bahamas. It formed part of a larger project entitled "Language, Literature, Prayer, and Music Repertoires as Sources of African Christian Spirituality and Values," led by Dr. Rose Mary Amenga-Etego at the University of Ghana (2018–2020). I am also grateful to Jon Kirby, S.V.D. for sharing some more of Afua Kuma's unpublished praises with me, which they are preparing for publication. Finally, I interviewed and stayed with Afua Kuma's son Emmanuel and his wife Jane in Asempaneye several times throughout this project, and their sons Tetteh and Ofori provided important information and translation, and also took me to visit a number of Afua Kuma's different homes and communities. Afua Kuma's final home was with Emmanuel, and she worked with Jane as a Traditional Birth Attendant. I remain grateful to each of them for their important contributions, without which this biographical information would not have been accessible.
Notes:
[1] Mercy Amba Oduyoye, "Jesus Christ," in the Cambridge Companion to Feminist Theology, ed. by Susan Frank Parsons (Cambridge: Cambridge University Press, 2006), 151–170: 153.
[2] Jesus of the Deep Forest: The Prayers and Praises of Afua Kuma, ed. and trans. by Jon Kirby, S.V.D. (Accra: Asempa Publishers, 1980). Work began audio recording her praises in 1976 with Fr. Kirby, Joseph Kwakye, Peter Kwasi Ameyaw, Vincent Adjepong, Michael Owusu Nimako and others on transcription and English translations. Booklet text and booklet cover available on PDF.
[3] "A type of drum used by peoples of southern Ghana." The Prayers and Praises of Afua Kuma, Volume II, translated and edited by Joseph Kwakye and Jon Kirby, S.V.D., (unpublished), 55.
[4] "Praise songs are sung by courtiers or those specially trained in the art to honor chiefs, heroes, and great men and women at durbars, festivals, solemn processions, and state events." The Prayers and Praises of Afua Kuma, Volume II, translated and edited by Joseph Kwakye and Jon Kirby, S.V.D., (unpublished), 55.
[5] "These are musical instruments that are used to announce something important or a person of importance." The Prayers and Praises of Afua Kuma, Volume II, translated and edited by Joseph Kwakye and Jon Kirby, S.V.D., (unpublished), 55.
[6] "Another type of Akan musical instrument." The Prayers and Praises of Afua Kuma, Volume II, translated and edited by Joseph Kwakye and Jon Kirby, S.V.D., (unpublished), 55.
[7] "Another type of Akan musical instrument." The Prayers and Praises of Afua Kuma, Volume II, translated and edited by Joseph Kwakye and Jon Kirby, S.V.D., (unpublished), 55.
[8] Prayers and Praises of Afua Kuma, Volume II, translated and edited by Joseph Kwakye and Jon Kirby, S.V.D. (unpublished).
[9] Interview with Archbishop Emeritus Peter Sarpong, Kumasi, June 2018.
[10] I borrow the term "writing theologians" from Oduyoye, "Jesus Christ," (151–170): 153.
[11] Kwame Bediako, "How Is It That We Hear in Our Own Languages the Wonders of God?: Christianity as Africa's Religion," in Bediako, Christianity in Africa: The Renewal of a Non-Western Religion (Maryknoll, NY: Orbis Books, 1995, reprinted 1997), 59–74: 73.
[12] Kwame Bediako, "Cry Jesus! Christian Theology and Presence in Modern Africa," in Jesus in Africa: The Christian Gospel in African History and Experience (Akropong: Regnum Africa, 2000), 3–19: 9. First published in Vox Evangelica, 23 (1993): 7–25. For further discussion, see Sara J. Fretheim, Kwame Bediako and African Christian Scholarship: Emerging Religious Discourse in Twentieth-Century Ghana, African Christian Studies Series 13, (Eugene, OR: Pickwick Publications, 2018).
[13] Akosua Anyidoho, "Techniques of Akan Praise Poetry in Christian Worship: Madam Afua Kuma," in Multiculturalism and Hybridity in African Literatures, ed. by Hal Wylie and Bernth Lindfors (Trenton, NJ: Africa World Press, 2000), 71–86: 74.
[14] Unpublished praises by Afua Kuma tentatively titled The Prayers and Praises of Afua Kuma, Volume II, translated and edited by Joseph Kwakye and Jon Kirby, S.V.D.
[15] Interview with Prof. Kofi Asare Opoku, February 2018.
[16] Her grandsons suggested that her first husband had been a WWII vet, a Ghana/Nigeria/East Africa commander in Burma. However, the dates for this do not work, as the Burma campaign was in 1944, significantly later than Afua Kuma's likely date of marriage, given Dora's birthdate of 1928. However, there were Ghanaian soldiers who were part of the Gold Coast Constabulary who, together with personnel from Southern Nigeria, fought in the East Africa Campaign in WWI (1914–18), which would plausibly fit with the dates and with some of the above details that the family recalled. Her children, beginning with the daughter from this first marriage, include: Dora Kye; Elizabeth Somua; Joseph Ofori; Emmanuel Brako; Beatrice Asantewah; Cece Jane; Monica Owusu.
[17] Afua Kuma, 43.
[18] Interview with Fr. Henry Duah, Divine Word Missionary, Kwahu Tafo, May 2018.
[19] Interview with Afua Kuma's family members, May 2018, Atuobikrom, Ghana.
[20] Anon., 'Style in Kwaebirentuw Ase Yesu,' unpublished paper, n.d., n.p.
[21] Anyidoho, "Techniques of Akan Praise Poetry in Christian Worship," 73.
[22] Interview with Archbishop Peter Sarpong, Kumasi, June 2018.
[23] Unpublished praises, 15.
[24] Anon., "Style in Kwaebirentuw Ase Yesu," unpublished paper, n.d., n.p.
[25] See Anyidoho, "Techniques of Akan Praise Poetry in Christian Worship," 73, and Anon., "Style in Kwaebirentuw Ase Yesu," unpublished paper, n.d., n.p. For further detailed discussion on the style of Afua Kuma's praises, Anyidoho and Anon. are excellent sources.
[26] Interview with Prof. Kofi Asare Opoku, February 2018.
[27] Anyidoho, "Techniques of Akan Praise Poetry in Christian Worship," 75.
[28] Anyidoho, "Techniques of Akan Praise Poetry in Christian Worship," 75.
[29] Interview with Archbishop Peter Sarpong, Kumasi, June 2018.
[30] Kofi Asare Opoku was formerly Associate Professor of Religion and Ethics at the Institute of African Studies at the University of Ghana, Legon; and is retired Professor of Religious Studies at Lafayette College in Pennsylvania.
[31] Interview with Prof. Kofi Asare Opuku, February 4, 2018.
[32] Prof. Opoku indicated that this was how he first became aware of her, and suggested that I look for articles and advertisements on her in the Christian Messenger (Presbyterian Church), Methodist Time; and the Catholic Voice. I was not successful in locating these archives, but if someone were able to locate some of these articles/advertisements, it might provide additional insight into how Afua Kuma was perceived, how widely she ministered in Ghana (both geographically and ecumenically), and the range of dates of her ministry.
[33] Afua Kuma, 14.
[34] It was not clear in the recounting whether the accusations of witchcraft came at separate times or during one period. [35] Afua Kuma, 32.
[36] Interview with the family, May 2018, Atuobikrom, Ghana.
[37] Afua Kuma, 18.
[38] A gong gong is an Akan instrument.
[39] Afua Kuma, 30.
[40] Interview with the family, May 2018.
[41] Interview with Prof. Kofi Asare Opoku, February 2018.
[42] Unpublished praises, 21.
References:
Afua Kuma. Kwaebirentuw ase Yesu: Afua Kuma ayeyi ne mpaebo; Jesus of the Deep Forest: The Prayers and Praises of Afua Kuma, edited and translated by Jon Kirby, S.V.D. Accra: Asempa Publishers, 1980.
_____, The Prayers and Praises of Afua Kuma, Volume II, translated and edited by Joseph Kwakye and Jon Kirby, S.V.D. (unpublished).
Anyidoho, Akosua. "Techniques of Akan Praise Poetry in Christian Worship: Madam Afua Kuma." In Multiculturalism and Hybridity in African Literatures, edited by Hal Wylie and Bernth Lindfors, 71-86. Trenton, NJ: Africa World Press, 2000.
Bediako, Kwame. "Cry Jesus! Christian Theology and Presence in Modern Africa." In Jesus in Africa: The Christian Gospel in African History and Experience, 3-19. Akropong: Regnum Africa, 2000.First published in Vox Evangelica, 23 (1993): 7–25.
_____, "How Is It That We Hear in Our Own Languages the Wonders of God?: Christianity as Africa's Religion." In Christianity in Africa: The Renewal of a Non-Western Religion, edited by Kwame Bediako, 59-74. Maryknoll, NY: Orbis Books, 1995 (reprinted 1997.
Anon. "Style in Kwaebirentuw Ase Yesu." (unpublished paper, n.d., n.p.)
Oduyoye, Mercy Amba. "Jesus Christ." In The Cambridge Companion to Feminist Theology, ed. by Susan Frank Parsons, 151-170. Cambridge: Cambridge University Press, 2006.
Selected Interviews:
Members of Afua Kuma's family, Atuobikrom, Ghana, May 2018. Fr. Henry Kwaku Duah, Divine Word Missionary, Kwahu Tafo, May 2018. Professor Kofi Asare Opoku, (by telephone), February 2018. Archbishop Emeritus Peter Kwasi Sarpong, Kumasi, June 2018.
---
Appendix: The following is a reflection on an encounter with Afua Kuma by Fr. Jon Kirby, SVD, Director, Office for the Missions Society for the Propagation of the Faith (San Diego, California, USA).
"Good to hear from you. The material you are asking about is a compilation of the prayers and praises of Afua Kuma which I translated in the late 70s and finally published with Asempa in Ghana in 1981 under the title: Jesus of the Deep Forest: The Prayers and Praises of Afua Kuma. It has been through many reprintings both in Twi and in English. I have given away all my copies but I will send you a scanned copy.
A good friend of mine who worked in Ghana who worked with me as our linguist at TICCS was a close friend of Afua. He got to know her well and accompanied her to church jamborees and big church revivals at which she was invariably the main attraction. I was first introduced to her when I paid him a visit in 1976. He took me to one of the wards of Holy Family Hospital in Nkawkaw, next to the church where he was pastor, and we found her there in the corner of an open ward of 30 beds praying for one of the patients. Everyone, literally everyone, including doctors, nurses and all the visitors who had come to see their relatives were gathered there around that bed. They were completely spellbound and couldn't believe what we were hearing. Neither could I.
In the typical courtly language used by the most proficient of linguists in the royal palaces of the Asante kingdom, and in the typical machine-gun like staccato rhythm and cadences, and using proverbial snippets from Asante myths and hero-epics, and couched in the imagery of all the medicinal flora and copious fauna of Ghana's lush forests, this little woman was totally wrapped up in her praising of Jesus.
I've never heard anything like it before or since. It was as if some saintly Asante ancestor had dropped from heaven and was sharing with us what the Asante saints were doing in the kingdom above. It was Asante Christianity through and through; and it was instantly recognizable to Bediako and all to Twi speakers.
What's more, it brought on an immediate feeling of emptiness, of loss, of having been robbed – that all the ways we (in my Twi-identity) have been praying up until now, all the fine English hymns from the "Westminister Hymnal" or "Catholic Hymnal" and all the prayers from so many European prayerbooks by which we have been tutored in holiness suddenly felt like ill-fitting garments, the second-hand cast-offs, the obroni-wawu (white man is dead) clothing that has come to replace the magnificent kente cloth of our heritage. Suddenly there is this wonderful discovery and absolute certainty that this is the way God wants us to praise Him.
My friend recorded dozens of sessions with Afua and I only translated some of them in that first book. We are now the process of doing another translation for the "global north" of the yet unpublished material with SPCK in London.
Here is a taster:
Let us run to Jesus, to be there at His side,
because no one is coming from the west
to fight and redeem us.
He is our commander—the general of the war.
We will stay with Him for He has a river[i].
He has a river that flows with milk—
a river of righteousness and great power.
The river surges with thunder;
it holds up a gun[ii] as it leads.
The priests and stars surround it.
Lightening blazes from its depths
brightly flashing and gleaming.
Fire shoots out from the front of the river;
the sun and the moon protect from behind.
The river flows from the rock of the saving mountain.
The river is flowing with the blood of Jesus.
If you drink from that river,
your life will never come to an end.
But one cannot go to drink of that water
only by one's own power.
You need God's permission for that!
First, you must go to the priests
who will wash you and anoint you[iii].
Only then will they let you drink.
If you go there without permission[iv],
the might of the river will turn your body to ash.
Why is it that the priests are not burnt
as they stand there before Him?
It is because the Lord has anointed them;
they are the servants of the River.
It is a royal river, and a highly honored one.
It is crystal clear as a mirror—
three times as big as the sea.
It does not flow over land or the earth.
If it were to flow on the land of this earth,
it would utterly fill the planet.
Then the earth would exist no more,
for the river would cover the earth.
The priests have made head-pads
to carry the river aloft.
The river is flowing all over the priests,
at times like a violent wind,
that churns and roars all around them.
But it does not blow over land.
When it blows over land, giant trees of the forest
are uprooted and hurled to the sea.
It blows high in the sky above all the nations,
because of its boundless power.
Sometimes it changes to fire
burning all around the priests.
But it does not burn on the land.
If it burns on the land,
all of the land will be burnt to ashes,
for it is a powerful fire.
If someone dare touch any one of the priests,
he has put his hand into fire.
Do no harm to the priests, for they are God's people.
They are preaching the word of God.
If one simply listens, and has faith,
life everlasting, eternal peace,
and all His blessings will be yours.
If you believe, shout a loud "Amen!"
Fr. Jon P. Kirby SVD
Director: Office for the Missions
Society for the Propagation of the Faith
Diocesan Pastoral Center
San Diego CA 92117
Source: Email from Fr. Jon Kirby to Dr. Dana Robert, dated January 18, 2019.
Notes to Appendix
[i] People would always establish a new village near a year around river or stream so as to guarantee the number one necessity—water.
[ii] A reference to the loud fire-belching, muzzle-loading "Dane guns" or flintlock rifles that are still in use among the Akan hunters.
[iii] Holy water or blessed water is often used by the Akan in the same way that they would use the medicine water of traditional practitioners—both for bathing and for drinking.
[iv] Strong medicines and amulets have the power both to heal and to harm the person using them—especially if they are stolen or not used with the special knowledge and consent of their owners.
---
Sara J. Fretheim, PhD, is an assistant lecturer and research assistant at the Institute for Missiology and Non-European Theologies at the University of Münster, Germany. She is the Assistant Editor for Mission Studies, and Web and Social Media officer for the African Association for the Study of Religions. She also sits on the steering committee for the African Religions Unit of the American Academy of Religion. She is also the author of Kwame Bediako and African Christian Scholarship: Emerging Religious Discourse in Twentieth-Century Ghana (Wipf and Stock, 2018).
---
Photo Gallery