Classic DACB Collection
All articles created or submitted in the first twenty years of the project, from 1995 to 2015.
Capitein, Jacobus (B)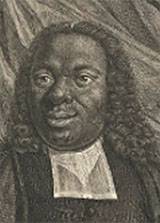 Jacobus Capitein was the first African ordained by the Netherlands Reformed Church. Born on the west coast of Africa, Capitein was enslaved at the age of eight and taken to the Netherlands where, after his basic education, he entered the University of Leiden to study theology. He graduated in 1742 with a controversial dissertation defending slavery as compatible with Christian freedom. The Netherlands Reformed Church ordained him the same year and appointed him chaplain and missionary to Elmina in the Gold Coast (present-day Ghana). His ministry in Elmina achieved an initial success but soon faced problems in interpersonal relationships. The African community in Elmina could not accept him fully, nor were the European traders ready to accept an African as their pastor. The support he was expecting from the church in the Netherlands also never came. He died in Elmina after barely five years of service.
David Nii Anum Kpobi
---
Bibliography
A. Eekhof, De Negerpredikant (1917); David N. A. Kpobi, Mission in Chains (1993); K. K. Prah, Jacobus Elisa Johannes Capitein (1989).
---
This article is reproduced, with permission, from Biographical Dictionary of Christian Missions, copyright © 1998, by Gerald H. Anderson, W. B. Eerdmans Publishing Company, Grand Rapids, Michigan. All rights reserved.
---
Photo Gallery