Charway, Florence Akyer Araba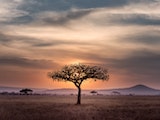 Madam Florence Akyere Araba Charway, the founder of the Divine Healing Church of Christ, was born on 14 September 1920, at Saltpond in the Central Region of Ghana. Her late parents, Mr. Jonathan Ampah Baden and Mrs. Joana Oyiwa, were Fantes who worked as a business man and petty trader, respectively. They had five children, of which Florence Charway was the first.
Even though female education was not encouraged in the early '20s, the parents of Florence Charway endeavoured to educate all their children. In 1926, Florence Charway started her elementary education at age six. She attended Wesley Methodist School at Saltpond and completed standard seven in 1938.
During her school days, Florence Charway was a member of the Methodist Church at Saltpond. She was very prayerful and enjoyed reading the Bible. Besides her desire of serving in the Methodist Church, she was expected to attend church services regularly. This helped her to be very active and punctual in the church.
Florence Charway received her calling into the ministry as a teenager. In 1938, she went to the chapel to worship as usual. Close to the middle of the service, while she was praying, she was caught up by the Holy Spirit and fell to the floor. She entered into ecstasy for a while. When she woke up, she began to pray more intensely than she used to pray. This was strange to the people of the Methodist Church, but Florence Charway started right away to intercede in prayer for them.
When she returned home, her actions continued to be strange. She could no longer talk freely with her siblings. She fasted for days because she was always praying for people who came her way. Pastor Samuel Obli Nmai, the senior pastor of the Divine Healing Church of Christ, described Florence Charway's behaviour during the time of her religious experience as "one being attacked by a high fever."[1]
Suddenly, she left home and entered a forest. Her parents and the community panicked. Where was Florence? Mr. Ampah Baden, her father, rushed to the King's palace on 27th Oct. 2013 to complain about his lost daughter. Immediately, the chief called all the youth in the town to search for her. After three days of search, the youth told the chief they noticed places where she ate oranges, mangoes, and other fruit, but they could not find her.
Florence spent one month in the forest, and then she came home by herself. Again, her prayer life intensified. When She prayed for the sick, they received their healing. She began to perform many apparent miracles among the people. She was known to be able to tell future events as well as people's secrets. Her behaviour was strange to everyone, including to the Methodist Church. As a result, they dismissed her from the church. This compelled her to relocate from the town at Saltpond, to Kumasi Ashanti New Town, around 1939.
When she arrived at Kumasi, she continued to pray for and heal people. Besides, the sick, people with other problems, such as marital issues and barrenness, reported their problems as solved by God's grace through Florence Charway. She started a prayer team in the house where she was living in Kumasi. The intensity of the miracles contributed to the growth of the prayer group. As it increased, Madam Charway decided in the early 1950s to make it a church at Kumasi Ashanti Newtown in the house of Ezekiel Badu, who accepted her for the gift of God upon her life.
The emphasis of the prayer ministry, which was turned into the church, was "healing." As a result, Madam Florence Charway named the church "Divine Healing Church of Christ." All the people now called her a prophetess. The church immediately became popular in Kumasi and beyond. Madam Florence Akyere Araba Charway got married in 1942 to Mr. David Keelson Anfu, a lecturer at Wesley College, a Teacher Training College at Kumasi. Mr. David Keelson Anfu hailed from Winneba. They had three children, all male. The first, Rev. Victor Ato Kwamina Keelson Anfu, the senior pastor of the Divine Healing Church London was born in 1945, the second son Nobleman Kwamina Keelson Anfu was born in 1949, in Kumasi. It took eleven years for her first child to be born hence the name Victor. The irony is that during this period many women who were barren conceived and gave birth to healthy children in her ministry but she remained childless. Her third child died after a short illness in his childhood.
In 1952, Madam Florence Charway married again, this time to Mr. Charway, whos was an officer with Kumasi City Council, Department of the Town and Country Planning. After their wedding ceremony in her church at Kumasi Ashanti Newtown, they moved to Labadi. Mr. and Mrs. Charway stayed in the king's palace at Labadi for few months in the '50s, then rented an apartment at the South Labadi Estate. Mr. and Mrs. Charway had five children: Emilia, Emmanuel, Michael, John and Florence. They educated all their children very well and had a good marriage and family. Mr. Charway had married Florence Charway because of her strong faith in the Lord, and he understood the nature of her calling and her ministry. Mr. Charway supported her, both spiritually and financially in her ministry. The time taken due to her role as the leader of the Divine Healing Church of Christ did not create any problem during their marriage. In 1976 Prophetess Mother Florence attended the World Pentecostal Conference in London, United Kingdom. By God's grace she planted a branch of the Divine Healing Church of Christ in West London and also campuses were established in Denver, Colorado, USA. In 1981, Reverend Mother Florence Charway passed away, leaving seven children behind. Mr. Charway also passed away in 1987 after a short illness.
A congregation of the Divine Healing Church of Christ was established in London, in 1970 when Madam Charway was delegated among some AIC ministers to attend the conference in London. The Pentecostal Association of Ghana (P.A.G.) appointed the delegates to attend the international conference in London. After the conference, Madam Charway met a woman who was a hole-in-heart patient. Her case was so serious that doctors could not do anything to save her life. Madam Charway prayed for her for a week. When she recovered, Madam Charway sent her for a test, by which the doctors confirmed her healing. Madam Charway spent six years in London ministering and healing people. This led to the establishment of the congregation in London. Meanwhile, her son Rev. Victor Amfo was residing in London, so his mother entrusted the church to his hands as pastor.
Enoch Tetteh
---
Notes:
Interview with Pastor Samuel Obli Nmai, Head Pastor of Divine Healing Church of Christ, by the writer at the Church premises, La, on 27 th October 2013.
---
This biography is reprinted with permission from: Enoch Tetteh, "Divine Healing Church of Christ" in The History of African Independent Churches - Book One, eds., Mary Bjork, Lynn Hansen and Thomas A. Oduro, (Accra: Type Company Limited, 2022), 68- 100. This biography has been edited for posting on the DACB website. All rights reserved.