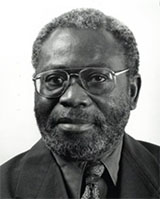 Birth and Upbringing
The life and story of the late John Samuel Pobee, a New Testament scholar, theologian, writer, mentor, educator, ecumenist and missiologist is unconventional in many respects. In a foreword to an 80-page funeral brochure, the deceased had given strict instructions regarding his funeral. Giving credit to God's grace and divine mercy that had kept him alive as a man who had lived with many physical ailments since childhood, he directed that at his funeral, there should be no "jingoism and haughtiness of the Pharisee in the biblical parable of the Pharisee and the Publican." Therefore, even though tributes were to be included in the funeral brochure, they were not to be read at any of the services. Furthermore, Pobee gave instructions for his mortal remains to be interred at Akusu, the royal mausoleum of his wife, Martha, near Kumasi. For a proud Fante with a matrilineal lineage to request that he be buried in his wife's cemetery is as unconventional as the man John Samuel Pobee.
Additionally, a paragraph introducing his biography begins as follows: "Writing a biography, especially stretching over eight decades may be compared to an exercise in sewing a lady's frock. It has to be long enough to contain a lot, and short enough to make it attractive." For those of us who had the pleasure of knowing him, that sentence is quintessentially Pobee. He deftly combined sobriety and seriousness with a witty sense of humor.
Pobee was born on Friday July 8, 1937. His father was a renowned schoolteacher named John Mends Samuel Pobee and his mother, Margaret Ama Atta Pobee, née Aggrey Fynn, was a descendent of the Reverend Philip Quaque, the first African Anglican priest. Pobee hailed from a family whose involvement in the Anglican Church and quest for educational achievements were non-negotiable.
During his early childhood, he was plagued with different ailments, one of which left him bedridden from 1942-45. In 1947, he caught the dreaded typhoid fever. As a result, his formal primary school education was shortened to three instead of seven years. These ailments endeared him even more to his six other siblings, and whenever he got slightly better, the parents offered home schooling. Thus, at the young age of twelve, he passed the Common Entrance examination and gained admission on scholarship to the famous Adisadel College, an Anglican Boys School in Cape Coast. Not unlike many boys his age, it was this boarding school that transformed him from a boy into a man. His nostalgic recollections of his education at Adisadel College are well chronicled in his history of the school, Adisadel on the Hill, The Story (1910-2010).
Academic Career: The University of Ghana and Beyond
After Adisadel, Pobee attended the University of Ghana from 1957 to 1961 where he read theology on a Commonwealth Scholarship. He was greatly influenced by his mentor, the Rev. Noel King, who also ensured his further studies in UK.
In 1961, he attended Selwyn College, University of Cambridge, England, on a scholarship from the University of Ghana as part of the African Faculty Development Program. He successfully acquired two degrees from the University of Cambridge – a Master of Arts, (M.A.) and a Master of Letters (M.Litt). His thesis was on Martyrdom in the Letters of St. Paul, written against the backdrop of Ghana's first President Kwame Nkrumah and his dictatorship.
He returned to Ghana after his studies at Cambridge, Pobee served the University of Ghana from October 1966 as a Lecturer in New Testament Studies. In 1972, he was promoted to Senior Lecturer, and in 1977, to Associate Professor and finally, in 1981, to full Professor.
In 1978 to 1980 and 1979 to 1983, he served as Head of Department for the Study of Religions, also assuming the positions of Dean of the Faculty of Arts, Dean of Examinations, and Dean of Admissions. From 1976-1980, he also served as Associate Director, Humanities Programme, Population Dynamics Programme; Chapel Warden of Commonwealth Hall, and Secretary to the Senior Common Room Committee (1969-74).
The University of Ghana in its tribute stated that, "Professor Pobee was a pioneer in the promotion of gender equality, religious tolerance and inclusion in the academy and beyond. He promoted higher education for women, insisting on fairness in the distribution of scholarships between Christians and Muslims." They also singled out his initiation of funding for the Legon Theological Series – established for the promotion of research and scholarship, and funded by the Association of Protestant Churches and Missions in Germany (EMW - Evangelisches Missionswerk).
In all these positions, he sought to make others excel and follow their dreams. Future bishops of the independent Anglican Church in Ghana such as Joseph Dadson, Theophilus Annobil, E. Okoh, Daniel Allotey, Abraham Ackah and others were encouraged and supported in their aspirations for further studies.
In no way a "denominational tribalist" Pobee also encouraged Joshua Kudadjie, a Methodist, to read for a degree in Theology at his own alma mater, Selwyn College, and return to the University of Ghana as lecturer. The Rev. Joshua Kudadjie went on to serve as Vice Principal of the Methodist University College of Ghana [MUCG] and coincidentally passed away the same day that Pobee did, January 22, 2020. During Pobee's days at Legon, he also encouraged and supported the further education of Elizabeth Amoah, who became the first woman to hold a doctorate in the study of religions, and the first woman faculty member in the Department for the Study of Religions.
One such beneficiary of Pobee's encouragement and support is Prof. Esther Acolatse, University of Toronto, Canada, who wrote in a tribute as follows:
I tell many in my theological guild that I do my feminism gently because it was male academics who made way for me, and Prof. Pobee was one of these wonderful mentors. He worked to find sizable money for me for graduate school and ensured that I was visible whenever possible to propel my career. Words cannot count the debt of gratitude I owe.
In addition to the countless men and women whose scholarship and academic career he bolstered, Pobee has to his name, 28 monographs, 24 edited symposia, 129 contributions to books and 119 articles in journals.
In 2000, the University of Ghana conferred on him the title Professor Emeritus, and in 2013, an honorary degree Doctor of Letters, honoris causa, in the category of "Distinguished Scholarship." Elected to the Ghana Academy of Arts and Sciences, March 27, 2013, Pobee's inaugural lecture was "Truth and Nation-State Building: A Theologian's Perspective." He also delivered the 50th series of the J. B. Danquah Memorial Lectures February 20-22, 2017 on "Peace and Security: An African Christian Theological Contribution."
Churchman
After the two degrees, Pobee also trained for priesthood of the Anglican tradition from 1963 to 1964 at Westcott House, University of Cambridge. But it was only on October 23, 1988 that he was ordained. In his own words he "had difficulty with the idea of canonical obedience to the diocesan bishop and his successors." Interestingly, he was ordained by the Rt. Rev. Peter Walker of Ely who had been his Principal at Westcott College, Cambridge, but with Letters Dimissory from the Rt. Rev. Joseph Kobina Dadson of the Diocese of Sunyani-Tamale, who had been his student at the University of Ghana, Legon.
After his time in Geneva, Pobee was proposed to be a candidate to become Bishop of Sekondi, and the process brought to the fore some of the worse aspects of church politics. He recounts it all in his autobiography, without bitterness or rancor but instead consider it a providential outcome that he was an "unconsecrated bishop."
Later on when he relocated to Ghana, he served as Canon of the Anglican Dioceses of Accra, Cape Coast, Sunyani-Tamale, Vicar-General (Deputy Bishop) Diocese of Accra, 205-2012. He was a consultant to three Lambeth Conferences—in 1978, 1988, and 1998. Pobee was a member of the Inter-Anglican Doctrinal and Theological Commission from 1981 to 1986, and also of the Anglican-Roman Catholic International Commission 1983-1994. At the local parish level, he served St. Anthony of Padua Parish, the Anglican Church of Abelenkpe, and was instrumental in the construction of the sanctuary and elevation of the church to a parish level.
Scholarly Legacy
With fellow Anglican clergyman, John Samuel Mbiti and Harry Sawyerr who were mates at Cambridge, they were some of the earliest to note that theology in Africa was in a state of "northern captivity." They restored the human person to the center of theological discourse, and not necessarily philosophy alone. Their theological discourse involved, oral, non-written, and non-propositional aspects of the language, liturgy, and faith-beliefs of the African people. In a sense, they brought theology out of the classroom to the people, integrating real life issues in a dialogue between culture and the Bible. Like Mbiti, who postured that Africans are "incurably religious," Pobee's theology also harnessed the pre-Christian traditional religiousness of Africa to translate into an authentic Africa Christian witness. By so doing, Pobee expanded the lens through which African religiosity is studied.
Pobee's scholarship was so wide and deep that in a festschrift in his honor, edited by Cephas Omenyo and Eric Anum, entitled, Trajectories of Religion in Africa: Essays in Honor of John S. Pobee, the authors conceded that they found it very difficult to categorize all the articles that had been written in Pobee's honor. Their summary article was captioned: All Things to All People, to encompass the breadth of Pobee's scholarship. The Canadian academic, Dr. Diane B. Stinton chose Pobee as one of four African theologians whose work she examined in her doctoral thesis for the University of Edinburgh, later published as Jesus of Africa: Voices of Contemporary African Christology.
Pobee was very active in and became the very first African president of the International Association of Mission Studies (1988 – 1992) which explains why his theological writings span ecumenism and missiology. Pobee's scholarship blossomed during the period when no one qualified theology with a geographical label, Pobee dared to write Towards An African Theology, 1979, which served as a precursor to several contextualized theologies all over the world. He was a pioneer in editing a festschrift to Prof. C. G. Baeta, published in 1971 under the title Religion in a Pluralistic Society. The contributors later became outstanding theologians in their own right. In fact, his selection of contributors reflected those who eventually defined the contours of theology in and from Africa during the last decades of the twentieth century.
An intellectual giant who embodied all the institutions he served and was associated with—Adisadel College, University of Ghana, the World Council of Churches, the International Association of Mission Studies and the Anglican Church of Ghana—he was a worthy ambassador who exuded the best of the DNA of these institutions. But even more importantly, he left his indelible mark on each of these august bodies.
Ecumenical Career
Introduced to the World Council of Churches by the then Rev. Fr. (later Archbishop) Desmond Tutu, who was, at the time, associate director for Africa at the Theological Education Fund based in the UK, Pobee was to be appointed from 1983 as associate director of the Programme of Theological Education in Geneva, and later as Coordinator of Theological Education. During his fifteen-year sojourn in Geneva, he also served at one time as academic dean at the Ecumenical Institute, Bossey. The WCC offers this tribute:
The encounter with Tutu led Pobee to become a member of the Commission for the Theological Education Fund which afforded him numerous opportunities to engage with prominent theologians and church leaders from a wide spectrum of denominations and continents. In his autobiography Sense of Grace and Mission Pobee acknowledges that these encounters helped him to learn that ecumenism entailed opening up to and engaging the other, different as they may be. He could never again be the narrow faithful Anglican and Ghanaian. He began the journey to becoming a world citizen and an ecumenical Christian.
Pobee continued to be an external examiner and visiting professor in many tertiary institutions in Africa, India, the Philippines, Indonesia, Australia, the Pacific, Latin America, West Indies, USA, United Kingdom, and the Netherlands.
Pobee also had a commitment for the inclusion of women in theological education, ministerial formation and church leadership, including ordained ministry. Pobee's habit of promoting women in theology is confirmed by Prof. Mercy Amba Oduyoye, former WCC deputy general secretary and a fellow Ghanaian who acknowledged the servant role ("backroom boy" in his own words) Pobee played in the inauguration of the Circle of Concerned African Women Theologians in 1989, in Accra, Ghana. In this context, Pobee himself said "a group of women led him to put 'women in theology' on the agenda." He also initiated and published some volumes on women in theology.
The current WCC deputy general secretary, an African woman, Dr Isabel Apawo Phiri also reflects: "What Pobee did through the WCC is unforgettable. He truly had the empowerment of young ecumenists from the global south at heart." Dr. Ofelia Ortega, pastor of the Presbyterian Reformed Church in Cuba and former President of the World Council of Churches (2006-2013), also pays tribute by singling out Pobee's encouragement of women in theology. She states:
I was working under his leadership in this programme as Executive Secretary for Latin America and the Caribbean for eight years. During these years being a woman theologian and coming from the global south (Cuba) I was surprised to see his continued work for women in Africa and in our regions. He proposed to dedicate a fundamental part of our funds to support women theologians to organize their programmes (as for instance the African Circle of Women) and to find resources for scholarships to train women theologians in Latin America and Caribbean regions. Many of our women leaders in our region received his help to finish their doctoral degrees.
The general secretary of the World Council of Churches, the Rev. Dr Olav Fykse Tveit commended Pobee's long and rich influence on young people who went on to form the heart of the ecumenical movement. "We are grateful for both his vast array of knowledge and, even more, for his dedication to sharing it with those who will carry on," said Tveit. "We pray for his family and loved ones, and we will embrace his legacy with respect and affection."
Hubert van Beek, the founding Secretary, Global Christian Forum, and former staff colleague of Pobee at WCC, recalls:
in his inimitable manner, he (Pobee) had enabled me to see the African side of any matter. I also remember him as one who would speak joyously and without inhibition of his faith in the corridors of the Ecumenical Centre. One area of my work in which John made significant contributions was the building and nurturing of relationships of African Instituted Churches with the World Council of Churches, and their involvement in the ecumenical movement.
The Rev. Prof J. Kwabena Asamoah-Gyadu, President of Trinity Theological Seminary expressed gratitude for Pobee's service on their Governing Council, his provision of books and other resources and a personal friendship that endured to his great advantage. It is to Pobee's credit that the Catholic authorities in Ghana, invited him to be the first Rector of the Cathloic University in Ghana, a position he graciously declined.
The years in Geneva when Pobee was with the World Council of Churches, John S. Mbiti at the Bossey Ecumenical Institute, and Dr. Mercy Oduyoye was Deputy General Secretary of the World Council of Church were remarkably robust. Their camaraderie and theological output propelled the African Christian présence onto a global platform.
Marriage and Family Life
Marriage came late in life for Pobee. As fate would have it, this strong Anglican theologian-priest ended up marrying Martha Ama Akyaa Nkrumah on July 26, 1994. The wedding at Akuafo Hall Chapel, University of Ghana, was officiated by the Roman Catholic Archbishop Peter Akwasi Sarpong of Kumasi and attended by several Anglican bishops. Remarkably they had eucharistic fellowship – all were invited to partake. Martha, a career diplomat was to serve in Moscow, Russia, Geneva, Switzerland, Tel Aviv, Israel, and Washington, DC, USA. She is currently Ghana's Permanent Representative at the United Nations in New York – the first Ghanaian woman diplomat to hold that position.
Joy, laughter, and an infectious engagement with life was Pobee's portion, and his wife, Martha, on whom he doted endlessly, completed him in all things. He was always unfailing in recounting his enormous pride in Martha and what she had brought to his already rich and colorful life!
Conclusion
John Samuel Pobee died on January 22, 2020. The last word belongs to another scholar who greatly benefited from his friendship and office, Prof. Akintunde E. Akinade, Ph.D., Professor of Theology, Edmund Walsh School of Foreign Service, Georgetown University in Qatar:
Rev. Canon Prof. John Samuel Pobee was confident, contextual, creative, and cosmopolitan. For many years, he was the big masquerade within the World Council of Churches in Geneva and the Ecumenical Institute at Bossey. These two institutions enabled him to actively sponsor and support scholars from the Global South. Just like a marvelous masquerade, he danced with pomp and panache. Under the aegis of the International Association for Mission Studies (IAMS), he facilitated my participation in my first international conference in Hawaii. He also provided a generous grant from the Fund for Theological Education in Geneva for my graduate studies at Union Theological Seminary in New York. As the President of IAMS, Prof. Pobee's light beamed radiantly on the Ecumenical Movement. He boldly advocated for a theology brewed in "an African pot" to borrow a phrase by Agbonkhianmeghe Orabator. He formulated theological paradigms that are deeply rooted in the African worldview and imagination. Prof. Pobee was an "organic intellectual" who recognized the imperative for robust theological synergies between Cambridge and the Akrofi-Christaller Institute in Akropong-Akuapem in Ghana. He tirelessly advocated for African agency in theological education and appropriation. His intellectual mind had no place for smallness. The quenchless light of his intellectual imagination propelled us to new heights in ecumenical theology and cross-cultural conversations. The use of the hermeneutics of suspicion enabled him to valorize the boundless affinities between theory and praxis in theological discourse. He was unequivocally committed to the Anglican Church. He could not resist the appeal of what James Baldwin has described as the "accumulated Rock of Ages." This transcendental gaze propelled him into new vistas and ventures in theological education. His theological odyssey was defined by a vigorous sense of grace and mission.
Of all the works written by Pobee, one which fills him with great pride is the history of his alma mater, Adisadel College. As he ended it, we too end with the Adisadel School Ode:
Others have labored and we share the glory Ours to do exploits and add to their gain Those who come after will take up our story May it be worthy of singing again.
Casely B. Essamuah
---
Sources:
Funeral Brochure. Celebration of Life of Rev. Canon Professor Emeritus John Samuel Pobee. Ghana, 2020.
Pobee, John S. Sense of Grace and Mission. Kaneshie-Accra, Ghana: Amanza Ltd, 2012.
---
This article, received in 2020, is a tribute compiled by the Reverend Dr. Casely B. Essamuah, Secretary, Global Christian Forum.