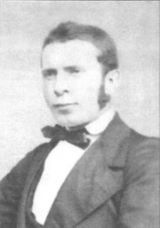 Fritz Ramseyer and Rosa Bontemps were Swiss missionaries in Ghana. Fritz and Rosa Ramseyer were by far the longest surviving married couple among the missionaries of the Basel Mission (BM) in Ghana in the century before 1914. They were married there in 1866. Their life was unusually turbulent and endangered by war on the colonial frontier. Between 1875 and 1896 they maintained a missionary presence on the southeastern border of Asante in the district of Kwahu, which until 1888 was formally outside the British protectorate. They were held as hostages by the kingdom of Asante from 1869 to 1874 and were thus, with two other hostages, the Europeans who lived longest in independent Asante before its colonial subjection in 1896. Invited by the British colonial authorities to start a mission in the Asante capital, Kumase, they were besieged there during the Yaa Asantewa revolt in 1900 and were forced to flee with the greater part of the garrison. They returned to Europe together in 1904, and Rosa died in Switzerland. Fritz was back in Ghana from 1906 to 1908. He returned to Switzerland in 1908, where he died.
The Ramseyers are major figures in the oral tradition in the areas where they worked. For many Ghanaians they are the honored founders of the church, with churches, schools, and a lay-training center named after them. For others they are symbols of the colonial role of missionaries; some Ghanaians even refer to them as spies of the British. From about 1888 Fritz Ramseyer operated a camera. His excellent photographs capture missionary life styles as well as the indigenous environment in Kwahu in the 1890s.
Paul Jenkins
---
Bibliography
Fritz Ramseyer, Achtzig Ansichten von der Goldküste nach Originalaufnahmen des Missionars Fritz Ramsar (1895) and Vier Jahre in Asante: Tagebücher der Missionare Ramseyer und Rühne aus der Zeit ihr Gefangenschaft, bearbeitet von H. Gundert (2d ed., 1875; this edition is to be preferred to the first German edition and to the English version prepared by Mrs. Weitbrecht, Four Years in Ashantee [1875]), Peter Haenger.
"Die Basler Mission im Spannungsbereich afrikanischer Integrationsversuche und europäische Kolonialpolitik (Kawhu/Ghana, 1875-1888)" (M.A. thesis, Univ. of Basel, 1989); Adam Jones, "Four Years in Asante One Source or Several?" History of Africa 18 (1991): 173-203.
M. A. Kwamena-Poh, The Reverend E A. Ramseyer and the Foundation of the Presbyterian Church in Kumase (1974).
Albums of Fritz Ramseyer's photographs are deposited in the Basel Mission archive and in Yale University.
---
This article is reproduced, with permission, from Biographical Dictionary of Christian Missions, copyright © 1998, by Gerald H. Anderson, W. B. Eerdmans Publishing Company, Grand Rapids, Michigan. All rights reserved.