Classic DACB Collection
All articles created or submitted in the first twenty years of the project, from 1995 to 2015.
Reindorf, Carl Christian (A)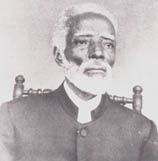 Ghanaian churchman. He was the son of a Dane resident at Accra and his wife Anowah Cudjoe, a Ga woman. Born on 31 May 1834, at Prampram, he was at first put under the care of a shrine belonging to the traditional religion of his mother's people, but fled and went to school in Accra at Christiansborg Castle which belonged to Denmark from the 17th century to 1850. Baptized in 1844, he received schooling from the Basle (Presbyterian) mission, and traded for a time in an interval in his schooling. The mission made him a catechist; he taught literacy in Ga and helped interpret the Bible. He worked in the Krobo district for the missionary Steinhauser, and became a full catechist in 1857. In 1860 he became an assistant teacher at the Akropong Seminary. He retired briefly to his farm, called Hebron, near Aburi in 1862, but resumed missionary work; two efforts to convert the people of Teshie were fruitless at that time. He taught at the new Basle mission school at Christiansborg, then under the British rule.
With British rule still only informal except in forts like Christiansborg, wars broke out in the coastal areas of the Gold Coast before 1874. In two such wars near Accra, the Ada-Awuna War of 1866 and the Ga-Akwamu War of 1869-70, Reindorf (not yet a full minister) served in the forces of the side of the supported, apparently as a noncombatant assistant surgeon. In 1869 - 70, the British at Accra backed the Gas and commended Reindorf's work.
On 13 October 1872 he was ordained a full minister. He worked at Mayera near Accra first starting a school there and about 1882 moved to Christiansborg where the castle was the seat of government. In 1893 he started a new mission in Accra proper, then separated from Christiansborg. He retired to his farm in 1893 but headed a nearby mission at Adenkrebi.
He published a work for which he is most famous, A History of the Gold Coast and Asante. This painstaking work, based on oral information among other sources, is still useful today. He finished it in 1889.
He was recalled to Christiansborg in 1907, and helped complete the new Ga Bible, published in 1912. He died in 1917. He had married Ayikai Mansah Djebi in 1856, and had eleven children including a famous medical doctor, Dr. Charles Reindorf, who died in 1968.
---
Sources Consulted Include:
Africa Year Book and Who's Who (London: Africa Journal, 1977).

Africa Today, first edition, (Denver, CO : Africa Today Associates, 1981).

Africa Who's Who, first edition, 1981.

Africa Who's Who, second edition, 1991 (published by Africa Books Ltd., U.K).

Ralph Ewechue (ed.), Makers of Modern Africa, 2nd edition (London: Africa Books, 1991).

Daily Times of Nigeria (Lagos).

Nigeria Year Book, 1974, 1975, 1976-1978, 1979, 1980 (Lagos : Nigerian Printing & Publishing Co.).

S. Decalo, Historical Dictionary of Togo, 3rd ed., (London : Scarecrow Press, 1996).

Ralph Uweche, Africa Who's Who, 1991 (Lagos, Nigeria: Africa Book Ltd.).

J. C. Choate, The Voice of Truth International, 1991, Vol. 21 (U.S.A.)

E. EL Hadj-Omar, Who's Who In Africa Dictionary.

In the Land of the Pharaohs- An introduction to a 1968 case study by Khalil Mahmud, 2nd ed., (London : Cass, 1968).

L. H. Ofosu-Appiah, Dictionary of African Biography, volume on Ghana & Ethiopia, volume on Sierra Leone & Zaire, (New York : Reference Publications, 1977-).

Cyril P. Foray, Historical Dictionary of Sierra Leone (London : Scarecrow Press, 1977).

Gailey H. A., A History of Sierra Leone.

I. Geiss, The Pan-African Movement (London : Methuen, 1974).

L. C. Gwan, Great Nigerians.

E. Kay (ed.), Dictionary of African Biography (London : Melrose Press, 1971-1972).

Pan-Vegio Patriot Macdonald- H. Edward Wilmot

R. K. Rasmussen, Historical Dictionary of Rhodesia Zimbabwe (London : Scarecrow Press, 1979).

E. Rosenthal, Encyclopaedia of South Africa, 7th ed., (Cape Town : Juta, 1978).

S. Ramgoolam, Seychelles Government Annual Reports.

S. Taylor (ed.), The New Africans (London : Paul Hamlyn, 1967).

V. Thompson and R. Adlof, Historical Dictionary of Congo (London : Scarecrow Press, 1996).

Times Newspapers Ltd; Obituaries from the Times (Volume 1, 1961-1970; Vol.2, 1971- 1975)

P. J. Vatikiotis, The History of Egypt, 3rd ed., (London : Weidenfeld and Nicolson, 1985, c1969).

H. Zell and H. Silver (eds.), A Reader's Guide to African Literature (London : Heinemann, 1972).

H. Zell, C. H. Bundy and V. Coulon (eds.), A New Reader's Guide to African Literature, rev. ed., (London : Heinemann, 1983).
Articles in Learned Journals
Journal of the Historical Society of Nigeria (Ibadan : Ibadan University Press): Vol. V Nos. 2 & 3, 1970, (Adeleye, R. A.).

Journal of the Historical Society of Nigeria (Ibadan : Ibadan University Press): Vol. VI Nos. 204, 1969, (Ekejiuba, F.).

Journal of the Historical Society of Nigeria, "A Biographical Sketch," (Omu Okwei), (Ibadan : Ibadan University Press): Vol. III No 4, 1967.

Journal of African History, (London : Cambridge University Press): Vol. V No 3, 194 (Hopkins A. G.).
---
Periodicals and Newspapers Consulted
Africa (Tunis : Ministère des Affaires Culturelles et de l'Information, 1971 ff).

Africa Diary (Delhi : Africa Publications (India), 1961 ff).

Africa Research Bulletin (Africa Research Ltd), (Oxford : Blackwell, 1964 ff).

Ambassador International (Vol 211; 1985).

Commonwealth Currents (1978).

Guardian (London, s.n.).

Independent (London, s.n.).

The Times (London).

West Africa (London : West Africa Publishing, 1917).
---