Classic DACB Collection
All articles created or submitted in the first twenty years of the project, from 1995 to 2015.
Reindorf, Carl Christian (B)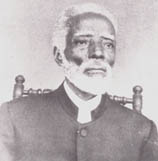 Carl Christian Reindorf (May 31, 1834 to July 1, 1917), an evangelical pastor, scholar, trader, physician, and historian, who worked with the Basel Mission, was the author of the historical classic A History of the Gold Coast and Asante. Completed in 1889 and published in 1895, it drew on oral tradition to record an epoch of the African past of which the outlines might otherwise have vanished beyond recall.
He was born at Pram Pram, east of Accra, in 1834, to Carl Hackenburg Reindorf, a Danish soldier, and Anowah Cudjoe, a Ga woman from the Asare district of Accra. In childhood he was adopted by a fetish shrine called Digbla, which placed him under its protection. He might not have become a Christian at all if he had not escaped from the fetish in 1840 and come to Accra. In Accra he was sent to school at Christiansborg Castle in 1842, and was baptized a Christian in 1844.
He left the Danish school at Christiansborg in ] 846 to attend the Basel Mission school under the Rev. Johannes Zimmerman (q.v.) [1825-76], but Zimmerman's way of teaching the Ga language displeased him, and he left school and started trading. He used to cross the Volta River to trade in Eweland, to the east. But his parents wanted him to finish school, so he was brought back to the Basel Mission where a high school had been established. After the bombardment of Christiansborg by the British naval vessel H. M. S. Scourge during the poll tax riots of 1854, the mission had moved to Accra, and then to Abokobi, 15 miles (24 km) from Accra, where a new mission house was built. Carl had to interrupt his education again, and worked as a catechist at Damfa (Danfa), in the same area, where he taught his pupils to read Ga books and interpreted the Bible to them. In 1856 he composed a hymn (No. 259). He worked under the German missionary August Steinhauser, who used to send him to Odumase in the Krobo district, about 50 miles (80 km) northeast of Accra, to see the chief, Odonkor Azzu. As a result of his visits, Azzu, who had already given one of his sons, Tei, to the Basel missionary Zimmerman to be educated, sent another three of his children to be trained by the mission. One of them later became Sir Emmanuel Mate Kole (q.v.). In 1857, during a stay in Odumase, he composed another Ga hymn (No. 343). He was appointed successor to Steinhauser at Abokobi, and during his period of service converted a fetish priest, Akoto Badu of Agbowo, to Christianity. He became a full catechist in 1857.
In 1858 he took part in the short local war between the Gas and the Krobos. After peace was made, he was transferred to Krobo in 1859 as a missionary, acting as assistant to Zimmerman. In 1860 he was transferred to Akuropon-Akuapem as an assistant teacher at the Theological Seminary there. He retired for a while in 1862 to his farm, called Hebron, near Aburi, a few miles away, and established a coffee plantation there. He was later asked to open a mission at Teshie, on the coast 10 mi (16 km) east of Accra, but found it difficult to make converts. He was transferred to Christiansborg, but again returned to Teshie to try to make converts but without success, even though he offered the children money to persuade them to attend school. He was therefore again transferred back to Christiansborg to teach in the new Basel Mission Middle School.
In 1866 he took part in the local war between the Adas (a Ga-Adangme group) and the Awunas (Ewes from the Volta Region), acting as assistant surgeon. After the war he was appointed head teacher of the Osu Middle School. In 1869 he was made assistant superintendent of the Christiansborg Church, and later became a presbyter (i.e. a priest who acts as overseer of the congregation).
In 1870 he took part in the Akwamu-Ga war (a local war in which the Gold Coast government supported the Gas), serving with a contingent from Christiansborg on the side of the Gas. After the government troops had defeated the Akwamus, he received a letter of encouragement from the Administrator, H. T. Ussher (in office from 1867-72, later governor from 1879-80), after he had welcomed a contingent from Lagos, in what is now Nigeria, with a song composed for the occasion. He acted as surgeon and treated several people for gunshot wounds. After the war he returned to the mission, and on October 13, 1872, was ordained as a full minister of the church and stationed at Mayera, near Accra.
He started a school at Mayera with 12 boys from Accra, and attracted boys in the town to the school by paying for their clothing, tuition fees, board, and lodging. He preached in the neighboring villages, and stirred up enthusiasm for Christianity, converting fetish priests and others. His travels enabled him to learn a good deal about medicinal herbs and he trained others to diagnose diseases, thus saving the lives of several European missionaries. He stayed in Mayera for ten years, and in about 1882 was transferred to Christiansborg, where he was based for another ten years. He started the Basel Mission in Accra in 1883. In 1893 he was obliged by failing health to retire to his village, Hebron, where, apart from farming, he did missionary work at Adenkrebi, nearby, where the Rev . Saeger put him in charge of a mission. In 1907, however, he again left Hebron to return to Christiansborg.
When work on the revision of the Ga Bible began, he decided to participate in it, and saw the revised version completed and published in 1912. But his great work, completed in 1889 and published in Basel in 1895, was his classic of historical scholarship, History of the Gold Coast and Asante. Although written by a man whose level of formal education was not high, it won him a permanent place in the annals of African history by preserving an oral tradition that would otherwise have disappeared. The work was written in English and Ga, and its preface shows that Reindorf was both a patriot and a nationalist, bent on leaving a memorial for posterity and on setting an example for others to follow. He died in 1917.
L. H. Ofosu-Appiah
---
Bibliography
H. W. Debrunner, A History of Christianity in Ghana, Accra, 1967.
R. W. July, The Origins of Modern African Thought, New York, 1967.
C. C. Reindorf, History of the Gold Coast and Asante, Basel, 1895, 2nd ed., with a biographical sketch by C. E. Reindorf, Basel, 1951, rev. ed., Accra, 1966.
Noel Smith, The Presbyterian Church of Ghana, 1835-1960, Accra, 1966.
---
This article was reprinted from The Encyclopaedia Africana Dictionary of African Biography (in 20 Volumes). Volume One Ethiopia-Ghana, ©1997 by L. H. Ofosu-Appiah, editor-in-chief, Reference Publications Inc., New York, NY. All rights reserved.