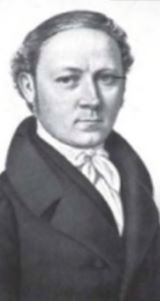 Andreas Riis was a Danish pioneer missionary in Ghana. By 1839 Riis and his wife, Margarethe (sometimes Anna) Wolters, were the only survivors of three parties of Basel Mission (BM) missionaries who had landed since 1828. Their survival is often credited to taking native remedies rather than the deadly cures for tropical diseases prescribed at the time by European doctors. In 1835 Riis transferred the center of BM operations from the coast to Akropong, an inland town on an escarpment in the traditional kingdom of Akwapim. On furlough in 1840, he urged continued investment in the Ghana mission and won approval for a plan to recruit Christian ex-slaves from the West Indies to found a black Christian community in Ghana; he began to implement this plan during a journey to Ghana via the West Indies in 1842-1843. (See also Johannes Zimmermann.) Earlier BM accounts tended to mythologize Riis for his persistence and bravery. Recent literature, however, has adopted a more nuanced view, acknowledging that in the 1840s his stubbornness was the center of much conflict between the missionaries and between them and the West Indian settlers. In 1845 he was recalled and asked to leave the BM. He went to Stavanger, Norway, where it is said he played a key role in cultivating Norwegian support for mission.
Paul Jenkins
---
Bibliography
M. A. Kwamena-Poh, Government and Politics in the Akwapim State, 1730-1850 (1973).
John Middleton, "150 Years of Christianity in a Ghanaian Town," Africa 53 (1983): 2-17 (on Akropong).
Jon Miller, The Social Control of Religious Zeal: A Study of Organizational Contradictions (1994).
Wilhelm Schlatter, Geschichte der Basler Mission, vol. 3 (1915).
---
This article is reproduced, with permission, from Biographical Dictionary of Christian Missions, copyright © 1998, by Gerald H. Anderson, W. B. Eerdmans Publishing Company, Grand Rapids, Michigan. All rights reserved.