Classic DACB Collection
All articles created or submitted in the first twenty years of the project, from 1995 to 2015.
Zimmermann, Johannes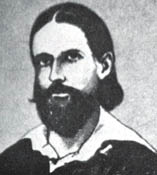 The Rev. Johannes Zimmermann (March 2, 1825 - December 13, 1876), of the Basel Mission, translated the entire Bible into the Ga language, wrote a Ga grammar book, and made Ga the literary language of the Ga-Adangme people of what is now southeastern Ghana.
He was born in 1825 at Gerlingen, near Stuttgart, in what is now the Federal Republic of Germany. While still a boy he had decided to become a missionary, but after leaving school he became a baker until he began his training with the Basel Mission in Basel, Switzerland, in 1844. After completing his training, he came to the Gold Coast in 1850 as a member of the Basel Mission there. In 1851 he married Catherine Mulgrave, a Jamaican of African descent, who was then teaching in the girls' school at Christiansborg. Africa thereafter became his home, and he even dreamed of establishing a colony of Germano-Africans in Abokobi, 15 mi (24 km) from Accra. But his dream did not become a reality, though there are many of his relatives or descendants living in Ghana today, since his brother Gistoph married an African, as also did his own children as well as those of his brother.
He was first stationed in Christiansborg where he taught at a boys' school as well as at small catechist seminary. In 1854, after the bombardment of Christiansborg by H. M. S. Scourge, following the riots against the British poll tax ordinance, Zimmermann was forced to move with his family, his students, and some members of the Christian community to Abokobi, where, with the assistance of another missionary, August Steinhauser, he set up a small Christian community. One of his great achievements there was the conversion to Christianity in 1857 of a local fetish priest, Paul Mohenu. In 1855 he and the Rev. C. W. Locher traveled as far as Odumase in the state of Krobo, 50 mi (80 km) northeast of Accra, where they were well received by the chief, Odonkor Azzu, who entrusted one of his sons, Tei, to them to be brought up as a Christian
In 1858 he was transferred to Christiansborg to take the place of another missionary who had died, and stayed there until 1859, when he was transferred to Odumase to open a new mission station there. As he was no stranger to the place, he did not experience many difficulties. He was accompanied by two of his former pupils, Carl Christian Reindorf (q.v.), and Christian Obobi, and worked in the Krobo area until 1872. Failing health made him leave for Europe to recuperate for a year. On his return he lived and worked at Abokobi until 1876, when he returned to Christiansborg. Shortly after this he fell ill again, and returned to Europe, where he died at the end of the same year, 1876. Catherine, his wife, returned to the Gold Coast and lived at Christiansborg until her death in 1891.
Zimmermann's greatest contribution to the Gold Coast was in the field of literature. In his teaching work at Christiansborg, both in the catechist seminary as well as in the boys' school, he emphasized the teaching of the vernacular. From the very beginning he started collecting Ga words and terms, later to be published in his dictionary.
Grace Bansa
---
Bibliography
H. E. Debrunner, A History of Christianity in Ghana, Accra, 1967.
E. M. L. Odjidja, (compiler), Mustard Seed: The Growth of the Church in Kroboland, Accra, 1973.
S. S. Odonkor, The Rise of the Krobos, Tema, 1971.
C. C. Reindorf, History of the Gold Coast and Asante, Basel, 1895, 2nd ed., Accra 1966.
Wilhelm Schlater, Geschichte der Basler Mission, 1815-1915, ("History of the Basel Mission, 1815-1915"), Basel, 1916.
Noel Smith, The Presbyterian Church of Ghana 1835-1960, Accra, 1966.
J. Zimmermann, The Four Gospels in the Ga Language, London, 1855.
An English-Accra or Ga Dictionary, Stuttgart, 1858.
A Grammatical Sketch of the Akra or Ga Language and Some Specimens of it from the Mount of the Natives, Stuttgart, 1858, revised edition published as A Grammatical Sketch of the Akra or Ga Language and a Vocabulary of the Same with an Appendix on the Adanme Dialect, 2 vols. Stuttgart, 1885.
The Acts of the Apostles (Ga translation), London, 1858.
The Epistle of St. Paul the Apostle to the Romans (Ga translation), London, 1859.
The New Testament (Ga translation), London, 1860, 2nd edition, London, 1872, new revised edition 1889, corrected reprint 1908, corrected reprint 1911, (with J. G. Chriataller and C. W. Locher).
English-Tschi-Akra Dictionary, Basel, 1894.
The Old Testament (Ga translation), London, rev. ed., London, 1907.
---
This article was reprinted from The Encyclopaedia Africana Dictionary of African Biography (in 20 Volumes). Volume One Ethiopia-Ghana, ©1997 by L. H. Ofosu-Appiah, editor-in-chief, Reference Publications Inc., New York, NY. All rights reserved.