Classic DACB Collection
All articles created or submitted in the first twenty years of the project, from 1995 to 2015.
Allgeyer, Emile-August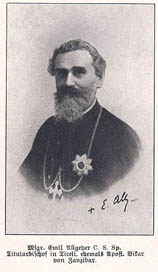 Emile-August Allgeyer was born at Rixheim, diocese of Strasburg, Alsace, on April 14, 1856. In 1885, he joined the Spiritans and he received his training for the priesthood. His first missionary commitment was in Trinidad. On February 17, 1897 he was appointed vicar apostolic of Zanzibar, where he worked for seventeen years, In 1902 he received the Consolata Missionaries in his vicariate. In 1913 he retired and returned to France. He died on April 9, 1924 at Chevilly, near Paris.
---
This article, received in 2005, was reprinted with permission from* Christianity among the Nomads: The Catholic Church in Northern Kenya*, by Paul Tablino, © copyright 2004 by St. Paul Communications / Daughters of St. Paul, Nairobi, Kenya.