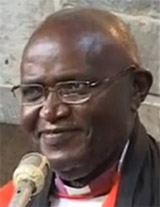 Gitari was the third African archbishop of Kenya and bishop of the diocese of Nairobi in the Anglican Church of Kenya.
David Mukuba Gitari was born on September 16, 1937. He attended the famous Kangaru High School in Embu before attending the University of Nairobi for a Bachelor of Arts degree. He married Grace Wanjiru on March 31, 1966 and God blessed them with three children.
He was ordained into the priesthood of the Anglican Church in 1972 by Bishop Obadiah Kariuki. On July 20, 1975, at the age of thirty-seven, Gitari was consecrated and enthroned as the first bishop of Mt. Kenya East diocese. In that position, Gitari founded St. Andrews College of Theology and Development at Kabare. He served there as bishop until 1990 when Mt. Kenya East diocese was split into Embu and Kirinyaga dioceses. He then moved to Kirinyaga, thereby becoming the first bishop of Kirinyaga.
During Gitari's tenure as bishop of Mount Kenya East (1975-90) and of Kirinyaga (1990-96) there was phenomenal church growth in these two dioceses. As evangelism was his first priority, he led many missions in African universities. These initiatives were creatively combined with development, theological education, liturgical renewal, and the encouragement of women's ordination. He served for many years as chairman of the provincial board of theological education in the Anglican Church of Kenya. He served four times as chair of the National Council of Churches of Kenya and acted as a mediator between the international evangelical and ecumenical movements. He also served as chairman of the board of St. Paul's United Theological College, Limuru. He was a member of the Anglican Roman Catholic International Commission (from 1983-1990).
Gitari's pastoral work, however, led him into political controversy. He preached and campaigned against land grabbing by powerful politicians, challenging economic injustice on a national as well as a local level. In particular, he preached against constitutional changes which introduced voting by queuing (in a specific place, publicly indicating your chosen candidate) instead of by secret ballot. In 1988, he took the lead in opposing the rigging of the general election during the infamous mlolongo (queuing) voting system. He publicly condemned political assassinations and any undemocratic political practices.
Gitari's deep concern for the Kenyan people was not without cost. On the night of April 21, 1989, at the height of his struggle for justice, a large and heavily armed gang of thugs numbering about 100 raided his house. They dug out the security bars and shouted that they had come to kill him. He and his family escaped to the roof and called for help from neighbors. Neighbors came to his rescue just in time and the thugs fled.
In 1997, Gitari was elected third archbishop of the Anglican Church of Kenya and enthroned on January 12. He remained in this position until his retirement in September 2002.
As archbishop, Gitari worked to restore peace and unity in the church and to resolve the many divisions and quarrels in various dioceses. Many dioceses had no bishops due to accusations of tribalism and nepotism during elections and appointments of bishops and clergy. Gitari also revived training institutions, especially the Anglican Theological Education by Extension (TEE) program, which was floundering in many dioceses. With the help of grants from Trinity Church, New York, he helped set up the Anglican website so that all dioceses could have access to Internet service, making communication and networking easier.
Gitari has written and edited many books and articles including, among others, In Season and Out of Season: Sermons to a Nation (1996) and Let the Bishop Speak (1988).
On July 14, 1998, Gitari received an honorary doctorate of divinity from the University of Kent. He retired on September 16, 2002 as archbishop of the Anglican Church of Kenya.
In his enthronement speech on September 22, 2002, Benjamin Nzimbi, fourth Kenyan African archbishop and bishop of All Saints diocese, paid tribute to his predecessor, Dr. David Gitari, for his bold leadership, vowing to follow in his footsteps. Archbishop Nzimbi also quoted a Kiswahili poem praising Dr. Gitari: "Gitari ni hodari. Gitari ni daktari. Gitari ni jemedari. Gitari ni hatari." (Gitari is bold. Gitari is a doctor. Gitari is an army commander. Gitari is dangerous.).
Gitari will be remembered for his bold messages from the pulpit. Along with other fellow clergymen such as Njoya, Okullu, and Muge, Gitari had the courage to criticize and hold the government accountable for its actions. Like Muge, Gitari believed in the power of the pulpit to transform and reform society. Through the power of the spoken word, Gitari scared politicians and quelled the storm of social lies proclaimed by those whose interest was to enrich themselves at the expense of the poor.
Although Gitari is retired from mainstream church administration work, his daily routine has not changed much. He believes that God's work never ceases and is still very involved in upholding and defending human rights (2005). He is a member of the Constitution of Kenya Review Commission (CKRC) and fully participates in the constitution review process as one of the representatives of Kenyan faith-based organizations. He also travels, preaches, and gives presentations, calling upon Christians to embrace a culture of peacemaking and conflict resolution.
Gitari died in Mater Hospital, in Nairobi, on September 30, 2013. His autobiography Troubled but not Destroyed was published posthumously in Nairobi.
Alfred S. Keyas
---
Sources:
"Retired Archbishop calls for Ministry of Peacemaking," Anglican Communion News Service, ACNS 3280, January 28, 2003. Web address: http://www.anglicancommunion.org/acns/articles/32/75/acns3280.html (accessed February 18, 2005).
David M. Gitari, In Season and Out of Season: Sermons to a Nation (Carlisle, U.K.: Regnum, c1996).
——–, Let the Bishop Speak (Nairobi, Kenya: Uzima, 1988).
——–, "Ten Great Years, 1975-1985," a speech presented to members of parish councils at St. Paul's Embu on Tuesday, January 21, 1986 (Kenya: Diocese of Mt. Kenya East, 1986).
"I Won't Keep off Politics, Says New ACK Head," in Daily Nation, Kenyan newspaper, dated Monday, September 23, 2002, news, p. 3.
"History of the Anglican Church of Kenya" at Our History (accessed July 7, 2021).
"Kenya: Former Archbishop's voice heard even after his death" on ACNS News Service, posted on October 22, 2014.
---
This story, submitted in 2005 and updated in 2021, was originally researched and written by Rev. Alfred Sheunda Keyas, a priest in the Anglican Church of Kenya (ACK), diocese of Mumias, serving as a missionary in Mwingi, Eastern Kenya Province, and DACB Project Luke fellow (2004-2005).