Kerich, Mzee Bernard Kipchillis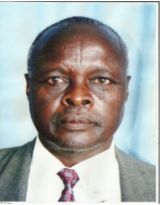 Mzee Bernard Kipchillis Kerich (1942-2018): A Beloved Christian Leader and Community Builder
Born on April 17, 1942, in the village of Kobin in the Kaptumo region of Talai, in the Baringo Central county in Kenya, Mzee Bernard Kipchillis Kerich led a life that left an indelible mark on the hearts of those around him. His faith, dedication, and service to God and the community were the hallmarks of his extraordinary journey. On April 18, 2018, he peacefully entered eternal rest after a courageous battle with grade 4 cancer, leaving behind a legacy that continues to inspire those who knew him.
Early Life and Family
Mzee Bernard was born to the late Chepkerich Yatich and Kimoi Chepkerich, into a loving and close-knit family. His upbringing in Kobin instilled in him strong values and cultural pride as a member of the Kalenjin community, and he was very close to his several siblings.[1] The roots of his faith in God were sowed early as his family became one of the first members of the Full Gospel Churches of Kenya (FGCK) in Baringo County, particularly in Talai location.
Mzee Bernard Kipchillis Kerich's ancestral lineage was rooted in the highly-regarded family of Kamarichoge (Kapyatich) from the Kapchebosio Targokot clan. This notable clan had its origins in the picturesque region of Sogon, a place of historical significance in Baringo County, Kenya. The family's strong sense of identity and heritage was symbolized by their animal emblem, the majestic Bangang (the hornbill).
The Kamarichoge family, with its rich history and cultural traditions, played an integral role in the community, upholding their customs and contributing to the welfare of their people. As a member of this distinguished family, Mzee Bernard carried the legacy of his ancestors with pride, cherishing their heritage and passing on their values to future generations.
The hornbill ( Bangang) holds special significance for the Kamarichoge family, representing strength, resilience, and unity. Just as the hornbill symbolizes harmony and cooperative living in the wild, the family strives to embrace these qualities, by fostering a sense of togetherness and mutual support among its members.
Throughout his life, Mzee Bernard exemplified the virtues associated with his ancestral lineage. His strong sense of cultural pride and commitment to the community mirrored the values cherished by the Kamarichoge family. As he lived a life devoted to faith, service, and leadership, Mzee Bernard carried the legacy of his family and impacted his community for good.
Mzee Bernard Kipchillis Kerich was a beloved father, grandfather, and great-grandfather, leaving behind a large and loving family who cherishes his memory dearly. His family includes nine children,[2] 33 grandchildren,[3] and four great-grandchildren[4], as well as a number of extended relations.[5] He shared a special bond with each member of his family, and his legacy lives on through them.
Mzee Bernard's loving and extended family reflects the warmth, love, and care he shared with everyone he knew. His impact on their lives, his dedication to faith, and his commitment to community service will remain in their hearts, creating a legacy that will be cherished for generations to come.
Education and Marriage
Mzee Bernard's pursuit of knowledge began at Tandui Primary School, where he shared the same school with his dear wife and the second Kenyan President, Hon. Daniel Toroitich arap Moi. His academic brilliance shone through in the Common Entrance Examination in 1961. However, financial constraints hindered his dream of attending Kituro Intermediate School, prompting him to dutifully care for his father's livestock.
On February 2, 1962, Mzee Bernard embraced a lifetime of love and commitment when he married his beloved Priscah Sote Kipchillis. Their wedding was held in 1990 at Talai Full Gospel Churches of Kenya (FGCK) by Bishop Dr. Daniel Chemon, a service which testified to their shared faith in God and their dedication to serving the community and the county.
Salvation and Christian Life:
In 1975, Mzee Bernard's life underwent a transformation under the influence of Rev. Daniel Chemon. Mzee Bernard's heart was touched by the gospel in a deeper way, leading him to actively commit himself to the Lord Jesus Christ in a more personal and active faith. Subsequently, in 1977, he was baptized by immersion, becoming an active and respected member of Talai FGCK. His wisdom and steadfast faith earned him the position of church elder, where he diligently mentored and guided fellow believers. He became one of the chief founders of several Full Gospel Church of Kenya (FGCK) branches.[7]
Community Contributions
Mzee Bernard's devotion to service extended beyond his church. He was actively involved in various community leadership roles, earning the respect and admiration of many. He served as the Chairman of Kaptumo Primary School from 1980 to 1992, being re-elected unopposed, and later held the position for a second term from 2005 to 2009. Additionally, he passionately led the Talai Farmers' Cooperative Society from 1995 until his untimely passing. His wise counsel as the Village Elder ensured the smooth functioning of the village council of elders. Notably, he played a pivotal role as the Chairman of the Kaptumo Water Project, ensuring the community's access to clean water—a vital resource. Prior to this, Mzee Bernard Kipchillis Kerich had an extraordinary experience that further exemplified his unwavering faith in God and his dedication to serving his community. In the midst of the prolonged drought of 1984, when the land was parched, and the crops withered, Mzee Bernard felt compelled to take action. Believing in the power of prayer and the intervention of a higher power, he decided to embark on a spiritual quest.
By night, he made his way to the Chebaryaya river, seeking solitude and divine communion. With a heart full of faith and a deep desire to bring relief to his people, he fervently prayed for God to send rain to end the drought and revive the land. In an apparently miraculous display of divine grace and mercy, rain began to fall gently upon the arid land. The return of the rains restored the land over time, and many believe that it was Mzee Bernard's faith that brought forth a bountiful harvest that season, and rekindled hope and joy among the people.
This apparently miraculous event became a testament to Mzee Bernard's deep faith. It further solidified his reputation as a beloved Christian leader and a source of inspiration for many. The memory of this incredible, apparently miraculous provision of rain encounter remained etched in the hearts of those who witnessed it.
Throughout his life, Mzee Bernard continued to be a beacon of hope, guiding his community through both joyful and challenging times. His faith and dedication to the welfare of others continue to inspire his community, reminding us of the transformative power of belief and the impact of one person's actions on an entire community.
Legacy and Core Values
Mzee Bernard was a man of integrity who exemplified the Kalenjin social norms, values, and morals. His genuine desire was to witness prosperity and success in the lives of those around him. Throughout his life, he detested sin and aimed to uphold the principles of honesty and humility. His love for capturing moments through pictures, records, and videos showcased his profound appreciation for the present and the past.
Health and Final Days
In the early 2000s, Mzee Bernard faced health challenges, including hypertension and diabetes. However, he faced each day with laudable determination. In April 2018, he was admitted to Mbagathi District Hospital in Nairobi for treatment, surrounded by his loved ones. On the evening of April 18, 2018, he peacefully passed away, leaving behind a legacy that continues to impact lives.
Tributes
Mzee Bernard's beloved wife, Priscah, cherishes their 56 years of marriage—a journey marked by love, understanding, and faith. He was a devoted husband and an exceptional provider who ensured the education of their children, grandchildren, and daughters-in-law. To his children, he was not only a father but also a hero, mentor, and spiritual guide, leaving an indelible imprint on their lives. The legacy of Mzee Bernard Kipchillis Kerich lives on through his children, grandchildren, and great-grandchildren. His faith in Jesus Christ and his commitment to serving God and the community continue to inspire generations to follow in his footsteps. As he rests in eternal peace, his memory remains etched in the hearts of those who knew and loved him dearly.
Jacob Kipchilis
---
Notes:
His siblings include:

Mzee Daudi Chepkerich
Tarkok Kiprop Chekuleta
Ziphorah Tarkok Kiptui
Kobilo Kipkemei
Mzee Chepkuto Kitilit Kipchare

The children's names are:

Rev Luka Kibet (Eldoret)
Eunice Chebii (Mochongoi)
Alice Jeptoo Kerich (Chembulet Uasingishu)
Jacob Kiplagat (Ravine/EDARP/PAC University)
Symon Kipsaita Kipyegon (AP SGP Nairobi)
Peninah Jerotich (Eldoret)
Benedine Lilian Jepkorir (Riwo)
Isaac Kipchilis
Dorcas Jeruto (Kabarnet)

The grandchildren's names are:

Joan Jepchumba Kibet (Nakuru RVST)
Stellah Jesang Kibet (Business lady Kabarnet)
Hillary Koskey (Eldoret)
Fred Yatich (Finland)
Kevin Koech Kipchillis (Kisii University)
Doris Jemutai Kaptum
Viola Jepkoech Kipchumba (Nairobi)
Mercy Jepchirchir Kipchumba (Nairobi)
Elphas Kiplimo Kipchumba
Vivian Jemutai Kipchumba
Cynthia Jebet Kipchumba
Faith Sergon Kiplagat (KCA University)
Mark Kerich Kiplagat (Kenyatta University)
John Mitei Kiplagat
Mercy Memoi Kiplagat
Meshack Keitany Kiplagat
Dennis Kiptallam Kipyeyon
Allan Kipsang Kipyegon
Felix Wendot Kipyeyon
Brian Kiptoo Kipyeyon
Dominic Kiprop Kipyeyon
Aspel Barkitol Kipyeyon
Brian Kemboi
Edward Kimolwon Yator
Boniface Amdany Yator
Winnie Jerop Yator
Abed Yatich Kipchillis
Sharon Jepkemboi Chebon
Winnie Jeptarus Chebon
Gloria Jepkemei Chebon
Ian Kiboino Chebon
Shirleen Jebet Kiprop
Fidel Kiptalam Kiprop

The great-grandchildren include:

Abigael Jepkorir Kiptoo
Lee Kipkurui Tomno
Ryian Kipchumba Kosgey
Wairimu Harrison

Mzee Bernard was a cherished cousin and uncle to various members of the family, including:

Kandie Chepkeitany (Arap Konde)
Kiplagat Kombo Jepkonga
Chepchieng Komen Kakileel
Barkitol Kombo Musa
Solomon Chebii Kemei
Joseph Kemei
David Kemei
Josephine Kemei
Stephen Kemei of Kipsaraman
Festus Chepkuto of Kapchepkulei
Charles Kiprop
Rosa Kiprop
Johnston Kiprop
Haron Kiprop
Michael Kiprop
Mary Kiprop
Samson Kiprop
Rusina Kiprop of Sacho
Jenifer Kiptui
Timon Kiptui
Kiptui Margaret Kiptui
Mary Kiptui
Leah Changwony
Joel Changwony
James Changwony
Martha Changwony
Esther Changwony
Samuel Changwony
Solomon
Richard Changwony
many more.

He planted FGCK congregations in:

Kobin Yatyanin
Kaptumo
Kesemanin
Talai
Tanyileel
Kapchepkulei
Senetwo
Sogon
Kabirmet
Kamotiony
Seretunin LCA
Other regions
---
Unpublished Sources Eyewitness accounts:
Luka Kipchillis eldest son of Mzee Benrard and a member of the Kamarichoge family.
Joel Changwony elder and a member of the Kamarichoge family.
Harun Komen the chairman of the Kamarichoge (Kapyatich) family.
Rev Samson Kandie the member and treasurer of the Kamarichoge family.
Simon Kipsaita Kipchillis son of Mzee Bernard and a member of the Kamarichoge family.
Mzee Richard Cherogony (Moitamet) the employer of Mzee Bernard Kerich.
Rev Dr Wilson Kiloo the pastor of Mzee Bernard Kerich.
Mrs Priscah Sote the beloved wife of Mzee Bernard Kerich.
Other oral and anecdotal accounts
Joan Jepchumba Kibet the grand child to Mzee Benrard Kerich
Moses Bargorett the assist chief to Mzee Bernard
Eliud Chesire and Thomas Lokubol the senior chiefs of Mzee Bernard.
Village elders (Joshua Koima, Willie Tallam, Arap Namba etc.)
---
About the Author:
This biography is written by Jacob Kipchillis, affiliated with Pan Africa Christian University (PAC University). He is also a member of Full Gospel Churches of Kenya (FGCK).