Classic DACB Collection
All articles created or submitted in the first twenty years of the project, from 1995 to 2015.
Muge, Kipsang Alexander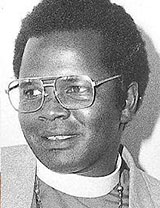 Alexander Kipsang Muge was the first bishop of the Anglican diocese of Eldoret in Kenya.
Alexander Kipsang Muge was born sometime in March 1948 to Anna Chepkoskei, known as "the woman of dusty roads." She fetched firewood from the hills, carrying a heavy burden on her back to feed her little ones. She was a good peasant, tilling the land and providing food for the elders and warriors of the land. Even though he was born into the Kamelilo clan, to astonishment of his parents and the village elders, Kipsang refused to attend traditional ceremonies and to succumb to normal initiation patterns of the clan. This behavior was a mystery because at that time neither he nor his parents were Christians.
According to his mother, as a child Kipsang loved the solitude of the forest and yearned to know the meaning of things around him. He was a very obedient and a fearless child whose deep love for truth was unquestionable. When his father, a businessman, discovered Kipsang's hidden qualities, he enrolled him in the Africa Inland Church Primary School at Tangaratwet where he received excellent marks in the standard four Common Entrance Examination in 1962. Later, Kipsang studied at the Anglican Mission School where he passed the Kenya Primary Education Examination.
Kipsang was converted and baptized on October 25, 1970 at St. Michael and All Angels Church in Ruiru after hearing a sermon based on the encounter of Jesus with Zacchaeus the tax collector. Kipsang, then a soldier, lived a sinful life and lacked true freedom and peace. Nevertheless, he encountered Christ in a very personal way. After his conversion, he was encouraged by born again Christians to pursue the path of faith to its ultimate end. Rev. John Kago baptized him and, from then on, Kipsang became totally committed to the revival movement. As a result, his values and lifestyle changed completely.
In 1973, three years after his conversion, he decided to resign from his work as a soldier and begin studies at St. Philip's Maseno Bible School. In 1975, he was ordained a deacon at St. Stephen's Church, Jogoo Road, in Nairobi. The following year, he was ordained a priest and made a curate there. Later, he served as a priest at St. Mark's Church, Westland, Nairobi, before going to London Bible School in Britain in 1979. While in London, his eloquence earned him many good friends and he became secretary to a Pan-African student body.
He graduated with a bachelor of arts in divinity from the London Bible School and returned to Kenya in June of 1982. He rejoined the diocese of Nairobi and on July 1st of that same year, he was appointed assistant provost of All Saints Cathedral. Muge served at All Saints for eleven months before being appointed bishop of the newly created diocese of Eldoret on June 5, 1983.
He started the diocese from nothing. At first, his study room doubled as his office. Later, after some renovations, the garage and a timber house served as an office. There were only two vehicles in the diocese: one for the mother's union and the other for the rural services in west Pokot. At the beginning, the diocese had only eighteen parishes and two missionary areas, with a total of twenty-three clergy. Because Mug's first priority was evangelism, his initiatives enabled the diocese to undergo tremendous spiritual growth. He personally participated in youth camps, evangelistic missions, rallies, and church activities. Because of his love and care for the youth, he was appointed provincial (national) chairman of the Kenya Anglican Youth Organization (KAYO), a position he held until his death. His evangelistic vision bore fruit and, at the time of his death, there were twenty-eight parishes, six missionary areas and thirty-six clergy. His diocesan staff also had grown from two (Muge and his secretary) to one hundred and forty. By then the diocese owned thirty-six motor vehicles and nine motorcycles.
As a bishop, Muge was a prophet who articulated his mission and vision for the people of Kenya. Muge, who had a spirit of discernment, was a very daring person. He devoted his life entirely to advocacy and the proclamation of social truth. He believed in the power of the pulpit to transform and reform the society. He advocated social truth and scared politicians whose interest was just to enrich themselves at the expense of the poor. Nicholas Otieno, in his book, Beyond the Silence of Death: Life and Theology of the Late Bishop Alexander Kipsang Muge, says that; "When Muge set out for a mission, however dangerous it was, no one, not even his family could stop him. He was a man of depth and total commitment to the cause of truth. He had faith beyond the fear of death" (p. 27). As a bishop, Muge refused to see himself through the lenses of ethnic affiliations characteristic of the politics of the day. Even when pressured by leaders from his community to make decisions along ethnic lines he denounced them, responding; "We have nothing in common with those who call themselves Nandi (his tribe) leaders. I am not a tribal leader. I am a spiritual leader with pastoral responsibilities over many tribes in my diocese." (Otieno, p. 41) When warned by politicians not to visit certain areas for security reasons, he defied the warnings, swearing to go and perform his work, saying;
My call to serve the Lord is such that personal security is secondary compared to the primary task of taking the Gospel of the Lord to the outmost parts of the diocese. If it is the will of the Lord that I be with him in heaven, then that is welcome, for death to a Christian is gateway to Heaven. (Otieno, p. 20)
Bishop Muge made a radical and uncompromising choice to defend the poor and oppressed children of God. He once said; "The source of the little man's right has been turned into a spring of injustice." (Otieno, p. 49) Having served in the armed forces before his calling to the ministry, he often conceptualized his vocation as a prophet and a shepherd in terms of being a watchman over the Lord's flock.
Muge held high the authority of Scripture and its traditional interpretation. On May 17, 1990, during a visit to the U.S.A., he openly condemned homosexuality, appealing to the authority of Scripture in its classic understanding which, he said, must not be compromised. Rev. T. Barnum quotes Muge:
We have it plain and clear that Scripture condemns all sorts of immorality. Ordaining practicing homosexuals and appointing them as rectors, and blessing homosexual unions are indeed signing the death certificates for our churches. Our historic and loving God does not appease people when they go wrong. He calls upon them to repent and be put right with God. We need to go to the foot of the Cross for the salvation of Christ… The discipline of the church of Christ throughout the world must be maintained. Sin should be rebuked by any and all means. (P. 2)
He also warned the church in Kenya against sinking into corruption instead of leading the nation. He maintained that the church, as the nation's conscience, must rid itself of anything that could rob it of its moral authority. Maintaining this moral authority, he said, meant that church leaders must examine themselves time and again. Addressing a 1985 National Council of Churches of Kenya (NCCK) seminar on the topic of "Effective Communication of the Gospel," Bishop Muge, quoted by Francis Ayieko in the Daily Nation Newspaper, said: "To the best of my knowledge, the church, as an institution, has nothing to lecture to our nation about because all the evils that eat our nation, such as tribalism, favoritism, nepotism and other isms, have found true shape in the NCCK." Anglican bishops Muge, Henry Okullu, and Rev. Timothy Njoya of the Presbyterian Church and others repeatedly linked moral rectitude within the church with the high moral ground from which the church judges the state.
Muge preached a holistic gospel, incorporating evangelism with development and educational activities intended to increase the community's capacity to plan and implement development projects. To achieve this, he initiated Christian Community Services (CCS) to oversee all development activities within the diocese. By the time of his tragic death, Eldoret diocese was the strongest diocese in Kenya in terms of development work and spiritual growth.
On August 14, 1990, Bishop Muge set off on a journey from which he would never return. He had been warned by Minister for Labor Mr. Peter Habenga Okondo not to set foot in Busia. However, Muge defied the ban and traveled to Busia. On the way back, he lost his life in a road accident near Kipkaren, Uasin Gishu district. Many say that this was not an accident at all but the direct result of his stand for the Gospel of Jesus Christ in his nation. He was forty-four at the time of his death.
Muge, who is survived by his wife, Mrs. Herma, and four children, Esther, Andrew, Elizabeth and Ammon, was admired and highly respected by many, not only for his God-given courage as he spoke for justice and reconciliation, defending the poor and the oppressed, but also for his unequalled humility. Muge will always be one of the most unforgettable personalities in the history of the church in Kenya.
Alfred Sheunda Keyas
---
Sources:
Barnum, Rev. T. "The Persecution of the Prophets," a talk by Rev. Barnum at the Great Lakes Conference, June 1998, in Kampala, Uganda, before fifty African bishops and their wives preceding the 1998 Lambeth Conference.
"If These Folks are so Unpopular, Why Ban Them?" in Daily Nation Newspaper, commentary, Nairobi, Sunday, August 13, 2000.
Otieno, Nicholas. Beyond the Silence of Death: Life and Theology of the Late Bishop Alexander Kipsang Muge. Nairobi: National Council of Churches of Kenya, c1993.
"When the Church Becomes a Den of Thieves" in Daily Nation Newspaper (Commentary section), Nairobi, Tuesday, December 2, 2003.
---
This story, submitted in 2005, was researched and written by Rev. Alfred Sheunda Keyas, a priest in the Anglican Church of Kenya (ACK), diocese of Mumias, serving as a missionary in Mwingi, Eastern Kenya Province, and DACB Project Luke fellow (2004-2005).