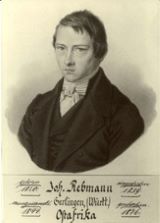 Johannes Rebmann was a missionary, explorer, and linguist in East Africa. A German Lutheran trained at Basel Mission seminary in Switzerland, Rebmann was accepted by the Church Missionary Society (CMS) for work in East Africa and received Anglican orders in 1845. He joined Johann Ludwig Krapf in Mombasa in 1846 and remained in East Africa continuously, apart from two short visits to Egypt, until 1875. During his first visit to Egypt he married a widowed teacher, Mrs. Tyler, who died in 1866. He made several journeys into the hinterland and in 1848 became the first European to sight Mount Kilimanjaro and report that it was snow-covered. He visited Chaga country around Kilimanjaro three times. In 1855, together with Johann Erhardt (another CMS missionary), he published a map based on local information that placed Mounts Kenya and Kilimanjaro approximately correctly and indicated the existence of a huge inland sea. This provided the stimulus for the journeys of the British explorers Speke and Burton, the discovery by Europeans of Lakes Victoria and Tanganyika, and of the kingdom of Buganda, where Christian missions had their first major success in East Africa.
After Krapf was invalided to Europe in 1855, Rebmann remained at Rabai just inland from the coastal plain with a tiny handful of converts. In 1864 he was joined by Ismael Semler (later ordained). Semler originally came from Mozambique, was freed from slavery by the British, and was raised in a CMS settlement in India, where Karl Wilhelm Isenberg worked for a time. In 1875 the CMS established a freed slave settlement near Mombasa, new missionaries arrived, and Rebmann, now blind and ill, returned to Germany where he joined Krapf at Korntal. The following year, just before he died, he married Mrs. Finkh (a widow), who survived him.
Rebmann's contributions to East African history were his geographical discoveries and his linguistic achievements: he compiled vocabularies in several languages and translated the Gospels of Luke and John into Swahili.
M. Louise Pirouet
---
Bibliography
The main sources for Rebmann's life are Eugene Stock, The History of the Church Missionary Society, vol. 2 (1899), pp. 124-138, and J. L. Krapf, Travels, Researches and Missionary Labours (1860). The Church Missionary Intelligencer also contains useful material.
---
This article is reproduced, with permission, from Biographical Dictionary of Christian Missions, copyright © 1998, by Gerald H. Anderson, W. B. Eerdmans Publishing Company, Grand Rapids, Michigan. All rights reserved.