Classic DACB Collection
All articles created or submitted in the first twenty years of the project, from 1995 to 2015.
Wakhu, James Curtis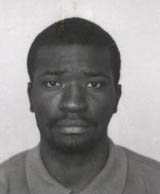 Introduction
James Curtis Wakhu has been described by relatives, friends, colleagues, teachers, church leaders, and fellow Christians as a radical disciple of Christ and a missionary with exceptional qualities. His heart was full of love for Christ and the unreached, especially Muslims. James Curtis Wakhu lived a short life but one that was full of quality service to God and humanity. There are many testimonies of his contribution to the wider church in Kenya. Although Wakhu's life was full of pain and physical challenges Christ's love compelled him to serve his generation in very unique ways. His deep comprehension of the cross of Christ allowed him to endure pain for the gospel with joy. Indeed, the saying that "it is not how long but how well," is true of missionary James Curtis Wakhu.
His Family/Educational Backgrounds and His Contribution to Kenya's Development
James Curtis Wahku, otherwise known by relatives and friends as Jimmy or JC was born on April 27, 1967. He was the fifth born child to Fanuel Makungu and Christine Aluso Wakhu of Elukari village, Khwisero Division, Butere/Mumias District in Western Kenya. He started his formal schooling in 1973 at St. George's Primary School, Nairobi. He sat for his Certificate of Primary Education (CPE) examinations in 1979 and passed with distinction. He scored three A's with 36 points – a rare achievement in those days. His excellent performance earned him a place at the highly regarded Lenana (High) School in Nairobi.[1]  His exceptional academic prowess did not stop at the primary school level but continued the rest of his academic life. No wonder, George Renner, one of Wakhu's professors at the Nairobi Evangelical Graduate School of Theology (NEGST) described him as a "brilliant and extremely inquisitive young man."[2]
Wakhu also excelled in sports. At Lenana, he distinguished himself as an excellent athlete beginning in Form One. At the end of his very first term at Lenana, and his school's first annual swimming gala, Wakhu became the junior breaststroke champion and earned his full house colors.[3] Over time at Lenana, Wakhu excelled in swimming, soccer, basketball and rugby. He represented the school at various levels of competition earning full swimming and rugby colors (an award for distinguished achievement).[4]  While Lenana School is good in many sports, it is best known for rugby. So, as a typical Lenana boy, rugby became Wakhu's number one sport. Towards the end of his time there, Wakhu was one of the best Lenana rugby players in his day.[5]
When on holiday, Wakhu played for Impala Rugby Football Club. Even at the club level, he distinguished himself by winning various awards including being declared the Most Valuable Player (MVP)in the 1985 Impala Floodlit Tournament.[6] In the final year of his schooling at Lenana, Wakhu was thrust into a number of leadership roles because of his natural abilities and the respect he commanded among his peers. In addition to being the Head of the School, he was also captain of the school's rugby team, which was the top ranked high school team in Kenya at the time. Like other Heads of School before him, Wakhu also served as the vice-chairman of the 6th Form society. James probably honed his leadership skills thanks to these various experiences. In the end, James passed his A-level examinations and began an undergraduate degree at the University of Nairobi in 1987.[7]
During his studies in philosophy and sociology at the University of Nairobi, James developed exceptional abilities for critical and analytical thinking. With time, he became preoccupied with questions relating to his existence and the purpose of his life. Whenever the opportunity presented itself James would engage in lively debate on this issue with like-minded people.[8]
Meanwhile Wakhu's interest in rugby grew at the University of Nairobi. He played for the university's rugby team, the Mean Machine, in various competitions. He was later invited to join the Kenyan national rugby team because of his outstanding performance. The highlight of his rugby career was when he played for Kenya during the 4th All Africa Games held in Kenya in 1987, earning a medal for his participation.[9] On October 22, 1990, Wakhu graduated with Second Class Honour (Upper Division) in his Bachelor of Arts degree in Philosophy and Sociology at the University of Nairobi.[10]
His Conversion and Contribution to the Mission of God
Wakhu's life changed dramatically in 1984. He describes the transformation:
I was born again in 1984 in my own room through personal conviction of my own

sinfulness and God's gracious kindness and patience with me. Knowing that sooner or later I was going to die, I found no rest or peace in my heart concerning the condition in which I was to meet him. Since I also did not know what the future held for me, whether joy or sorrow, I urgently sought to be reconciled to the one in whose hand my future lay and not wait until it was too late, or I was in unfortunate circumstances.[11]
Wakhu's conversion experience was the beginning of his rich relationship with Christ. His love for Christ grew to such an extent that he would not allow anything to stand between him and Christ. His long time friend and classmate, Robert Mbugua, confirms Wakhu's deep spirituality and love for God when he describes how Wakhu "gave up rugby as it was played on Sundays – the Lord's Day."[12]
After his conversion, Wakhu had a great passion to share Christ with his team mates on the Mean Machine. In contrast with many Christians in the university Christian Union (CU) who believed that "born again" people should avoid social contact with non-Christians and formed exclusively Christian groups, Wakhu determined to build strong relationships with the other rugby players as a means of introducing them to Christ. He was often criticized by some of the Christians because he took his meals with the Mean Machine players. He socialized and lived with the athletes at the university. For Wakhu, this was a vital aspect of his mission. He followed the example of Jesus by living an "incarnational" lifestyle.[13] George Renner saw his deep love when he referred to Wakhu as a "radical disciple" of Jesus Christ.[14] Wakhu further exhibited this love when he said:
As I continued to read the New Testament, it assured to me that the Apostles,

especially Peter and Paul did not have external riches but a knowledge of God as

a friend that set them free and filled them with unspeakable inner joy and

conviction. The cry of my heart to God became that he should take from me all

that he wanted to, if only he would give me what he gave them, the knowledge

and the joy, the opportunity and privilege of walking with him.[15]
Wakhu drew inspiration from the life of the Apostle Paul. His love for Christ and those outside the fold of Christianity, especially Muslims, grew tremendously. He was a man of prayer and deep spirituality. According to Peter Mweu, "James was a very rare man and far apart to get in history. My interactions with him showed that he was a man who was spiritually alive. James was a man I found very easy to respect."[16] Wakhu's bosom friend, Curtis Reed voices a similar sentiment when he says:
Early in the morning, when I used to live in NEGST as his neighbor, I used

to hear James from his room when praying. James would start the prayers in English language, and then he would switch to Kiswahili and later to Kiluyha. And these were very articulate, beautiful, poetic and a heartfelt prayers that I had initially thought it was the radio talking. It took me about two months to realize that it was James. He used to wake up the same time everyday and he would just pour out his heart to God. James prayed with great fluidity. His prayer life was simply uncommon at NEGST. He had another presence in the inside of him and that was what made it difficult for people to understand him. He had a hard time being understood by many.[17]
Wakhu clearly understood God's call over his life. He clearly communicated this understanding to anyone and was also willing to suffer for this conviction. Peter adds that, "James exuded clarity of thought and precision in speech. He was a man who could explain himself and the call of God over his life with the highest clarity possible."[18] Wakhu's fellow rugby players and friends also confirmed his great communication abilities even during his playing days.[19]
Wakhu worshipped at the Nairobi Pentecostal Church (NPC), Valley Road, Nairobi, Kenya. Pastor Esther White, the wife of the NPC Valley Road Senior Pastor, knew Wakhu for ten years and she praised his great leadership capacity. According to Pastor White, Wakhu was active in the various outreach ministries of the church especially in the areas of evangelism, hospital visitation, and prayers. She added that Wakhu was a man of prayer who listened to the voice of the Holy Spirit for direction.[20]
After his graduation from the University of Nairobi in 1990, Wakhu's love for Christ and for the unreached prompted him to take up a difficult missionary call to Muslims in the northeastern and coastal areas of Kenya. He joined the pioneer indigenous mission agency in Kenya known as Sheepfold Ministriesled by Reverend Francis Omondi. Wakhu served as the associate director and missionary in charge of the mission team for Sheepfold Ministries from 1990 -1997. Francis Omondi, described him as a good leader, a deeply spiritual person and one who was always willing to learn.[21] In Wakhu's own words, "As soon as I graduated from college, we left for Garissa and settled amongst a tribe called the Munyoyaya for about one and half years after which the groups became bigger, having about five missionaries. Later, I left for Lamu with the first group sent out from Garissa."[22] While in Lamu, Wakhu worked among the Bajuni people until 1997 when his health began to suffer.[23]
Wakhu came from a reputable family and he was raised by well grounded parents who wanted the best for him. Naturally, his family found it challenging to understand why a promising university graduate would opt for a ministry in the "bush" instead of taking up a job in the corporate world. So, his family was unhappy about his seven years of ministry in northeastern Kenya. Wakhu himself did not know how to help them see that what he was doing was more important than anything else.  
But Wakhu's comprehension of the cross of Christ kept him going. According to Curtis Reed, "James had a commitment to the cross of Christ and he really understood it probably more than anyone that I have ever met. He understood and believed that to be a follower of Christ you have to give your life. And in reality, James literally gave his life to the cause of Christ."[24]  Reed adds that, "James believed no one could have a Christian life without the cross."[25]
Wakhu ministered in places where there weren't any churches, hospitals, schools or  other missionaries. He went without the comfort of electricity, good water, telephone service, and the Internet. According to Edwin Obuya, "James' character can best be summed up by the choices he made in life after graduating from the University of Nairobi in 1990. He could well have chosen to join the corporate ranks or even continued with his ministry work in the comforts of the big city."[26] Instead, Wakhu chose to suffer for the cause of the gospel of Christ.
After much labor in the mission field Wakhu began to experience health problems. In 1997, he decided to return to Nairobi in order to get treatment. At this time, he felt the need to seek formal training for ministry and he matriculated as a Master of Divinity student at NEGST in September 1997. According George Renner, "having served in extremely difficult areas in Kenya's northeast to evangelize Muslims; James came to NEGST broken and burned out."[27] Wakhu's health continued to fail while he was at NEGST. He struggled with pain during his studies at NEGST and this made it difficult for him to study as he wished.[28] Several visits to physicians yielded no results as they were unable to diagnose what was really wrong with him. However, Wakhu endured these hardships while continuing to study.  But when the pain persisted he had to withdraw from his studies at NEGST only three weeks before graduation. In his letter of temporary withdrawal to the registrar of NEGST, Wakhu said:
I am a final year student here at NEGST undertaking a Master of Divinity degree. I have only eleven (credit) hours before I graduate. However, due to serious health problems, I am at the moment unable to continue with my studies. Having sought medical counsel, the doctors advised me to postpone studies for a season. I have already sent you the medical report. Kindly allow me to postpone the remaining hours of study to the next academic year.[29]
Although he was in severe pain, Wakhu was full of hope that he would return the following year to complete his studies. But sadly, on the evening of Saturday, July 8, 2000, the very day he would have graduated at the NEGST, James Curtis Wakhu was finally relieved of his pain when he was called to glory by his Lord. His body was laid to rest on July 22, 2000.
Wakhu never married. It is possible that this reflected a commitment to serve God without any "hindrances."  
Conclusion
In the words of George Renner,
There were hundreds of people who gathered at NPC Valley Road for a huge memorial service for James. It was a mixture of celebration and deep sadness. I spoke on behalf of the NEGST community. But the most powerful moment of the service was when an uncle of James spoke. He was the family's spokesman and his words shocked us all. He expressed that he was publicly repenting on behalf of the family. They had disowned James for being a fool as he went into missions and threw away all his enormous potential for a "successful" life. But the uncle told us that the family now realized the impact of his life. James' life was the most significant of any one among us.[30]
Wakhu enjoyed the grace of God but like any human being, he was not perfect. He was a very spiritually sensitive person; maybe too sensitive. That explains why some people found it hard to really understand him.[31] Perhaps that was the reason, according Esther White, that he experienced occasional depression.[32]
In conclusion, the words of Peter Mweu best describe Wakhu's life: "I think James was the kind of man that shoots up within a very short period of time and fades out the same way. But the shortness of time was not a limitation for him to make a mark. I can say without any reservations that James left a heritage in the Muslim evangelism and discipleship ministries of the Church."  For instance, Garissa, a predominantly Muslim community where people were once very hostile to the gospel, now has more than twenty churches, many schools, clinics, and missionaries. Sheepfold Ministries continues to be a major mission agency in northeastern Kenya. This legacy is a testimony to the sacrificial life and ministry lived by missionary James Curtis Wakhu. Although James Curtis Wakhu is dead, his life speaks forever (Hebrew 11:4)!
Babatomiwa Moses Owojaiye
---
Notes and Sources:
"A Brief History of the Life of the Late Missionary James Curtis Wakhu," a eulogy prepared and read by the family of James Cutis Wakhu at his burial on July 22, 2000, unpublished material.

Excerpt of an interview conducted by the author with Dr. George Renner on March 11, 2012 at Africa International University (formerly Nairobi Evangelical Graduate School of Theology –NEGST), Nairobi, Kenya. Dr. George Renner, an American missionary to Kenya, was one of James Curtis Wakhu's closest professors and mentor. Dr. Renner is currently the director of the Doctor of Ministry program at Africa International University.

"A Brief History of the Life of the Late Missionary James Curtis Wakhu."

Ibid.

Ibid.

Ibid.

Ibid.

Ibid.

Ibid.

Cited  with permission from James Curtis Wakhu's qualification certificates in his student file at the Office of the Registrar of Africa International University, Nairobi, Kenya.

James Curtis Wakhu, "Biographical Sketch/Testimony." Submitted as part of James Wakhu's application for admission to the Nairobi Evangelical Graduate School of Theology, June 10, 1997.  The biographical sketch was later reviewed and re-titled, "My Journey" by James Curtis Wakhu, unpublished material. 

Robert N. Mbugua, "Friend's Reference Form on James Wakhu." Submitted as part of James Wakhu's application for admission to the Nairobi Evangelical Graduate School of Theology, June 10, 1997. 

George Renner, interview.

George Renner, interview.

Ibid.

Except from the interview conducted on March 12, 2012 by the author with Peter Mweu. Peter Mweu was a Master's student at the Nairobi Evangelical Graduate School of Theology from 1999 to 2001. Peter Mweu is currently a Ph.D student in the Intercultural Studies program at Africa International University, Nairobi, Kenya. Just like Wakhu, Peter also has a heart for Muslims. Before returning to AIU for his graduate studies, Peter worked with Serve in Mission (SIM) Sudan from 2005 to 2011. Their shared interest in Muslims must have brought Peter and Wakhu together. 

Excerpt from an interview conducted with Curtis Reed by the author on March 19, 2012. Curtis Reed is an African-American missionary and youth pastor at Africa Inland Church (AIC) Jericho, Nairobi, Kenya. Reed also studied at the Nairobi Evangelical Graduate of Theology and was James Curtis Wakhu's best friend while at NEGST.

Peter Mweu, interview.

Austin Kosero (Kenya VII captain from 1992 to 1994) and Edwin Obuya (Mean Machine, 1988) in a collection of testimonies collected and read by Martin Ndada at the burial of James Curtis Wakhu on July 22, 2000.

Esther White, "Pastor's Reference Form on James Wakhu." Submitted as part of James Wakhu's application for admission to the Nairobi Evangelical Graduate School of Theology, June 6, 1997. 

Francis Omondi, "Employer's Reference Form on James Wakhu." Submitted as part of James Wakhu's application for admission to the Nairobi Evangelical Graduate School of Theology, June 10, 1997. 

James Curtis Wakhu, "Biographical Sketch/Testimony."

"A Brief History of the Life of the Late Missionary James Curtis Wakhu."

Curtis Reed, interview.

Curtis Reed, interview.

Edwin Obuya in Martin Ndada.

George Renner, interview.

Curtis Reed, interview.

James Wakhu, "Temporary Withdrawal from NEGST," a letter addressed to the Academic Principal of the Nairobi Evangelical Graduate School of Theology on June 12, 2000.

George Renner, interview.

From a source who requested anonymity.

Esther White, interview.
---
This article, submitted in April 2012, was researched and written by Babatomiwa Moses Owojaiye, a Pastor-teacher serving with the Evangelical Church Winning All (ECWA), Nigeria while a PhD student in World Christianity at Africa International University, Nairobi, Kenya.