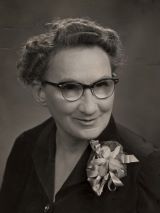 Florence Steidel was a missionary in Liberia. Born in Greenfield, Illinois, Steidel reported that in 1924, while she was praying, the Holy Spirit showed her in a vision a country with helpless people crying out in their suffering. Having previously studied at a Bible institute in Chicago and at Benton College of Law in St. Louis, she now prepared for medical service through nurse's training at Missouri Baptist Hospital, graduating in 1928. For instruction in theology and missions, she attended the (Southern Baptist) Woman's Missionary Union Training School in Louisville, Kentucky, graduating in 1931. She later left her Baptist affiliation, joined the Pentecostal movement, and went to Liberia in 1935 as an appointed Assemblies of God missionary.
Steidel is best known for founding New Hope Town, a leper colony. Beginning in 1947 with only a hundred dollars and the labor of lepers, she supervised medical and spiritual programs, construction of over seventy buildings, planting of rubber trees to help the community become self-sufficient, and the building of an eighteen-mile road to connect the community to the nearest government road. She also established a ministerial training school. In honor of her humanitarian contributions to Liberia, President William V. S. Tubman conferred on her the decoration of Knight Official of the Humane Order of African Redemption in 1957. She was the first woman missionary to receive this honor.
Gary B. McGee
---
Bibliography
(Christine Carmichael), New Hope Town (c. 1960).
Inez Spence, These Are My People: Florence Steidel, Heroes of the Conquest Series, no. 4 (n.d.).
The correspondence and papers of Florence Steidel are held in the editorial office files of the Division of Foreign Missions, Assemblies of God, Springfield, Mo.
---
This article is reproduced, with permission, from Biographical Dictionary of Christian Missions, copyright © 1998, by Gerald H. Anderson, W. B. Eerdmans Publishing Company, Grand Rapids, Michigan. All rights reserved.