Classic DACB Collection
All articles created or submitted in the first twenty years of the project, from 1995 to 2015.
Nenilava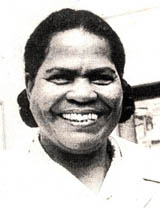 In the course of the last hundred-plus years, there have been four revival movements [1] of national significance in Madagascar. One of the fundamental characteristics of these movements is their roots in established churches. The first revival movement sprang out of the Lutheran Protestant Church. This movement was followed by revivals from the Protestant Reformed Church, the Anglican Church and the Catholic Church. These movements have become pillars of strength in the churches of Madagascar and have been legitimized by church authorities.
Germaine Volahavana, now known as Nenilava, gave birth to the Revival Movement of Ankaramalaza.
Volahavana is the name she was given at birth. Her father, Malady, was from the Antaimoro tribe and was of royal birth. Both king (ampanjaka) and healer/seer (ombiasa), he was well-known and well-respected in the region. Her mother's name was Vao. The family lived in Mandronda, in the canton of Lokomby, in the district of Manakara. Volahavana had several brothers and sisters, and was the third of the four girls.
Her entire childhood was spent in a pagan context, and she did not like what her father did as a healer. Sometimes she even denigrated him in the presence of his clients and told him that she didn't like these gods that always needed someone to interpret them to others, which made her father quite angry. She also used to ask, "Can God be seen?"
She wanted to come to know the almighty God, if he existed. She didn't feel like playing with the other children, and preferred being alone so that she could nurture this constant feeling.
When she was about ten years old, God began to reveal himself to Volahavana before she was even a Christian. In the beginning, it started with dreams: every night a tall man robed in white would take her to a large stone building. He would wash her feet and dry them with a towel, and then lay her on a bed and rock her to sleep. Then, at dawn, he would take her back home. In another dream, she would see herself being caught in a net and lifted up to heaven. These two dreams came to her regularly until she was twelve years old.
After that, the dreams stopped, and she constantly heard a voice calling her name towards the middle of the day. She would run home to see if her parents were calling her, but it just made them laugh; they thought she was crazy. She would go outside then and find refuge under a tree. She cleaned up the area around the tree and would spend her time there crying or thinking about this God that she didn't know yet. She often went there when her soul was troubled or hurt.
When she was fifteen years old [2] she received several marriage proposals, but since she had never thought about marriage, she turned them down. Her parents were confused by these refusals, and sent her to live with her sister in Manakara. She only spent one year there, preferring to return to the village in order to not be tempted by city life.
Malady could tell that his daughter's behavior was different from that of the other children, so he consulted his sikidy (oracle) and was overwhelmed by the answer. He discovered, in fact, that there was a greater spirit, a supreme God, living in his child. Volahavana was the queen, and he, her father, was the slave - which seemed completely illogical to him. He became convinced that the God of Volahavana was the supreme and just God, the God above all the other gods. From then on, Malady put his idols aside and told his family that they needed to obey the God of Volahavana. He also prophesied that he would die two years after the start of Volahavana's ministry - and that prophecy came true a few years later.
Her parents finally tired of her constantly turning down marriage proposals and pressured her into marrying Mosesy Tsirefo, a sixty-one year old catechist who was a widower and father of several children from his first wife. Volahavana had to take catechism classes in order to be baptized, which was a requirement for her Christian marriage. She learned the catechism lessons sufficiently well in two weeks, and was baptized in 1935 in Lokomby by Pastor Ramasivelo, taking Germaine as her baptismal name. After her marriage to Mosesy Tsirefo had been blessed by the church, they went to live in Ankaramalaza, [3] where her husband continued to teach her about the Christian religion. He was also helped in this by Pastor Rakotovao and Pastor Bernard Radafy.
God called Volahavana to serve him when she was twenty-one years old. One of Mosesy Tsirefo's daughters was sick, and possessed by an evil spirit. The Catechist Petera de Vohidrafy was present and was trying to exorcise her. Volahavana was busy lighting the fire for cooking, when a voice suddenly ordered her to get up and to do something for the child. When she hesitated, an invisible force shoved her and placed her in front of the girl. She put her arms around her and struggled with her for a long time in this manner. At length, the evil spirit that was in her said, "We are going to leave, because the One who is stronger than we are is coming." Then a miracle happened: the young girl was healed and came back to her senses.
That miracle happened on Wednesday, August 1, 1941. On that Wednesday night leading to Thursday, August 2, 1941, [4] Jesus told the three people who were present at the healing, Volahavana, Mosesy Tsirefo, and Petera de Vohidrafy: "Get up, preach the Good News to the whole world. Chase the demons out. Commit yourselves…and do not delay. The time has come for the Son of man to be glorified in the Matitanana and Ambohibe tribes. I have chosen you for this mission. I command you to carry it out."
The two catechists accepted readily, but Volahavana refused, saying that she was still young, that she did not know the Holy Scriptures and that she would not know how to preach. Nonetheless, Jesus persisted, telling her: "Get up and spread the Good News all around." She submitted, but made a deal with Jesus by asking Him to tell her ahead of time what she would have to say, and Jesus consented.
The Catechist Petera de Vohidravy had already begun his mission as an evangelist when Volahavana joined his work. Some from Petera's group were jealous and mockingly gave her the nickname Nenilava, which literally means "big mother." They did this to make fun of her height, because she was relatively tall for a Malagasy woman. Volahavana stood her ground and made no reply, but prayed: "Jesus, I'm ready to accept this 'Nenilava' nickname, but may your power be proclaimed throughout the world through it."
Her prayer was answered, because she came to be known by that name through her mission and the miracles that happened through it. In fact, many people only knew her by that name.
As for her training, Jesus did not forget his promise, and granted her the gift of tongues, also teaching her the Holy Scriptures. Nenilava spent three months learning to speak the languages that she would eventually use to learn the Holy Scriptures. She was taught by Jesus himself. First, he taught her the twelve principal languages of the world, then he used them to converse with her. From that time forward, she spoke all twelve of those languages fluently.
Nenilava only used the gift of tongues to speak with Jesus, and not as the basis for her teaching. In the beginning of her ministry, she often spoke with Jesus in tongues, but later, she asked him to not use that gift when she was with other people, so that people with ill intentions would not be able to imitate her or use her to their own ends.
To teach her, Jesus used a white writing board and wrote on it in white as well. He wrote from top to bottom, as with Chinese writing. The lessons were held in a calm place either at home or in the forest, and the writing board was hung on the wall or from branches. Sometimes Jesus used a large book with very fine pages on which he wrote in white writing. In order to read it, Nenilava would kneel all the way down to the ground. During the lessons, Jesus would whisper words in her ear. When Mosesy Tsirefo saw her kneeling like that at home, he thought she was in prayer.
In order to teach her the Holy Scriptures, Jesus took her up to heaven seven times in three days. First, Jesus told her that she was going to die on Friday at 11:00 AM. Right away, the faithful from all over the district were told about it, and all those who could come did so - even distant parishes sent representatives. Pastor Rajaona Salema was present as well. There was a constant succession of Bible readings and prayers.
Nenilava laid down on a bed draped in white to wait for the appointed time. Her body was covered with a white sheet except for her face, which was left uncovered. The ascension of her soul took place slowly. All those present were around her bed praying and singing continually for three days, awaiting her return. Her parents became discouraged and thought that she would not be returning, as it seemed to be taking a long time, but the Christians who were there fasted until she came back.
After three days, Nenilava came back on Sunday at 8:00 AM. Coming down from the bed, she preached the word of God from I Corinthians 15:55, "Where, O death, is your victory? Where, O death, is your sting?" Jesus had taught her the four gospels.
Jesus then told Nenilava that she would have to fight with the dragon in order to harden her, because her mission would be one in which there would be no rest. This fight to the death lasted for three days. Jesus was always at her side. On the third day of fighting she defeated the beast in the name of Jesus. Following that victory, she fasted for two and a half months, during which time she ate only small white balls that looked like the host from the Lord's Supper.
When her mission began, there were twenty-eight young people working with her in Ankaramalaza. She began her evangelization campaign in her own region, near Manakara and Vohipeno. Her husband worked with her until his death in 1949. After that, Nenilava was invited to come to various churches and began to leave her region, starting in Antsirabe - which is where the central headquarters of the Norwegian Lutheran Mission was located - and continuing in that vicinity. She then went up to Imerina, the capital of Antananarivo, and the surrounding area. From there, she responded to many invitations to visit other regions - Tamatave, Majunga, and even out to the Comoro Islands. In 1973, she also went abroad to follow up on invitations from several churches. She was accompanied by Mrs. Razanamiadana, a shepherdess-evangelist. During these visits, she was able to give her witness to the word of God to various audiences.
Accompanied by her collaborators and friends, Nenilava was accustomed to working with pastors and churches. Wherever she was, people came from all around to pray, to receive care or to be exorcised, and still others brought their sick. There were miracles: blind people recovered their sight, sick people were healed, and even personal or family problems were resolved. She kept the same practices wherever she went: prayer, preaching of the good news, exorcism (asa) and the laying on of hands accompanied by encouraging and comforting words (fampaherezana) drawn from Bible verses.
In 1973, when the King of Norway asked her to describe her work, she answered: "I preach the gospel, I heal the mentally ill, I educate young delinquents, raise up infants and the elderly." (free translation)
Through her ongoing ministry, the Toby Ankaramalaza (Revival center of Ankaramalaza) gradually became a place where people could come. Once people had been healed either physically or morally, most people settled there, because they didn't want to go back home. Little by little, the center built a school for children and a dispensary. Potable water in the form of drinking fountains along the road and electricity came later. Nenilava also built the cathedral she dreamed of building, based on a cathedral she had seen in Norway.
Gradually, annexes of the Toby Ankaramalaza were built here and there throughout Madagascar, such as the one in the Ambohibao area of the capital, built in the 1980s; and another in the French village of Pouru St. Rémy, located near Charleville-Mezières, which was built in the 1990s.
After 1975, her travels gradually wound down, and she lived most of the year in her home, which was built in the Revival Center of Ambohibao.
Thanks to Nenilava's ministry, many Malagasy, Europeans and Africans received Jesus, were delivered from the grasp of sin and enslavement to the Devil, and came to the knowledge of new life and the peace and light of the Holy Spirit. Nenilava never claimed to be a prophetess, but her deeds and her words of truth bore witness to her gift.
Nenilava had adopted children. These came to her from the children's biological parents out of thanksgiving for God's answers to their prayers. She not only took care of their spiritual education, but like all parents, she took care of their general education as well, so that they would be well-rounded in every aspect of their lives. Also, throughout the island, as well as elsewhere, she had spiritual children who were attached to her, and she loved them and prayed for them.
Nenilava's childhood wishes were granted: she was able to meet this Almighty God that she wanted to know, and to know his power through her mission. Her wish to go up to heaven was also realized.
She died in 1998 in her home in the Revival Center in Ambohibao-Antananarivo and her body was carried to the village where she was born. Mourners buried her within the walls of the Toby Ankaramalaza. Like a good, loving mother, she had set a good example and had left it to her children and to her co-workers to continue the work of evangelization and the works of good will that she had begun, in faith and in love for one another. [5]
Berthe Raminosa Rasoanalimanga
---
Notes:
The four great revival movements that occurred in Madagascar are the following: the revival movement in Soatanàna with Rainisoalambo (1894), the revival movement in Manolotrony with Ravelonjanahary (1927), the revival movement in Farihimena with Daniel Rakotozandriny (1939), and the revival center in Ankaramalaza with Nenilava (1941).

In former times, young Malagasy girls generally got married around age fifteen. Only boys were allowed to go to school. Girls helped their mothers at home while they waited to be married. A family was dishonored if a young girl of marriageable age stayed at home and continued living with her parents.

Ankaramalaza is a small town located about twenty kilometers north of Vohipeno. Before that, it was a pasture and a cultivated field that Mosesy Tsirefo had asked of Malady, Nenilava's father, so that he could grow coffee, bananas, oranges and rice there. Mosesy had then built a house there for himself and his family, and another one for his workers. After the death of his wife, he married Germaine Volahavana (Nenilava), who came and lived with him there. It was only after 1953 that the place began to be called a "revival center" because a lot of sick people had already been coming there.

Those two dates are remembered every year at the Toby Ankaramalaza, and the 2nd of August is reserved for the consecration of future shepherds. Every year there is a significant pilgrimage there. The Ankaramalaza annex centers (toby) are represented there every year, as well as the other centers of the revival movement.

I, [the author] am also grateful to God because although I had heard of Nenilava in my youth, it wasn't until many years later that I decided to meet her at the Toby Ambohibao in 1997. I was consecrated there as a "shepherdess" of the "Santatra" level, ("Santatra" means "first fruits"). Santatra is the name she had given to the first group, or level, of shepherds, right at the beginning of her ministry. While she was still living, she herself gave the names. After she died, starting in 1998, the office of the revival center in Ankaramalaza decided to give the subsequent groups the same names that she had given to the very first groups.
Bibliography:
Ankaramalaza-Germaine Volahavana Nenilava: histoires et témoignages (Stories and Witness Accounts), Antananarivo : Imprimerie luthérienne malgache, 2007.
Pasteur Zakaria Tsivoery, "Ankaramalaza" in Tantaran'ny Fifohazana eto Madagasikara : L'histoire des mouvements de réveil à Madagascar (The History of the Revival Movements in Madagascar, Antananarivo: Imprimerie luthérienne malgache, 2001.
Nenilava-Volahavana Germaine, Antananarivo: TPFLM, July 1986.
Soloarison Rameloarison, "Ny tantaran'ny fifohazana Ankaramalaza": l'histoire du mouvement de réveil à Ankaramalaza (The story of the revival movement in Ankaramalaza), Bachelor of Theology thesis paper.
Berger-évangéliste [Shepherd-evangelist] Razanamiadana, Rakitsoratra Notsongaina: Ny dia niarahako tamin'i Mama Volahavana Germaine Nenilava, fizarana voalohany (Notebook recounting the visits I made with mother Volahavana Germaine, first part), 2007.
Bruno Rabarihoela, "Mama Nenilava sy ny asa Faminaniana ary ny Fiainam-pirenena" (Mother Nenilava, the Mission of Prophecy and the Life of the Nation), 2007.
James Rabehatonina, Tantaran'ny Fifohazana eto Madagasikara (1894-1990) (History of the Revival Movements in Madagascar), Imarivolanitra: Trano Printy FJKM, 1991.
---
This article, received in 2008, was written and researched by Mrs. Berthe Raminosoa Rasoanalimanga, Director of the Centre National des Archives FJKM (National Center for Madagascar Church of Christ Archives): 1984-2007, recipient of the DACB Project Luke Scholarship for 2008-2009.
---
Photos: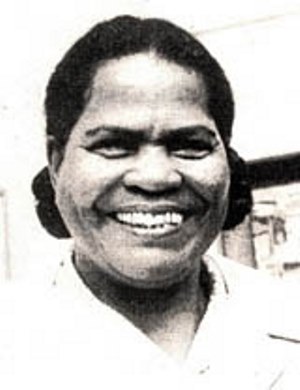 [1] Picture of Nenilava in the notebook of her visits abroad entitled Rakitsoratra Notsongaina: Ny dia niarahako tamin'i Mama Volahavana Germaine Nenilava, fizarana voalohany by Rasanamiadana.
[2] Nenilava in front of her house in Ankaramalaza. Photo from the book Tantaran'ny Fifohazana eto Madagasikara by Pastor Zakaria Tsivoery.
[3] Nenilava with her sister Mamavao and her family. Photo from the book Tantaran'ny Fifohazana eto Madagasikara by Pastor Zakaria Tsivoery.
[4] Nenilava surrounded by her family. Photo from the book Tantaran'ny Fifohazana eto Madagasikara by Pastor Zakaria Tsivoery.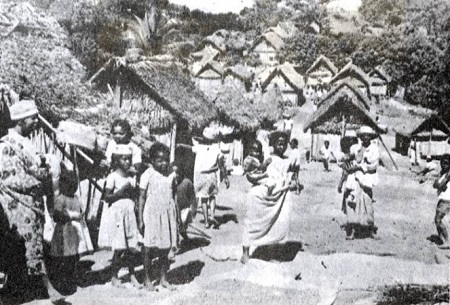 [5] The village of Ankaramalaza. Photo from the book Tantaran'ny Fifohazana eto Madagasikara by Pastor Zakaria Tsivoery.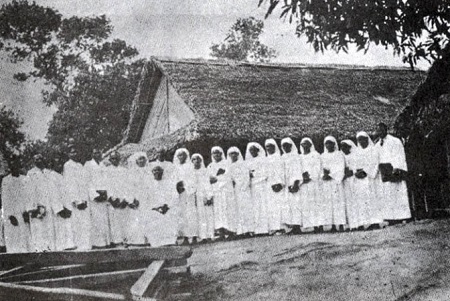 [6] Group of shepherds and shepherdesses consecrated in 1970 in Ankaramalaza. Photo from the book Tantaran'ny Fifohazana eto Madagasikara by Pastor Zakaria Tsivoery.