Classic DACB Collection
All articles created or submitted in the first twenty years of the project, from 1995 to 2015.
Ramanandraibe, Joseph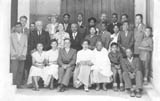 Joseph Ramanandraibe came from a family that was originally from the village of Manohisoa-Anjeva, which is located about thirty kilometers east of Antananarivo. He was born in that village on May 2, 1900. His father, Rakotomanga, had a wood and carting business and his mother's name was Razafindrahanta. His first name, Joseph, was given to him at the last minute when his birth was registered with the municipality. [1]
He studied in the Protestant secondary school of Ambohijatovo Avaratra in Antananarivo. As his parents could not afford to pay room and board for him there, they rented a room for him in Antananarivo. Every weekend he would go back to Manohisoa on foot to get the food he needed for the week ahead, and then return to Antananarivo after attending church in his parish in Manohisoa. He was also baptized and admitted to the Lord's Table in that church.
Like all parents at that time, Ramanandraibe's father wanted his son to become a civil servant when his studies were finished. However, Ramanandraibe soon decided that he wanted to go into business and commerce. He began by selling watercress, cabbages, and other vegetables that he would buy near his village. He would take them to the port of Toamasina because Manohisoa was near the Anjeva train station, which was a stop on the railway line that went to the east coast. He would then return with salt and other products that he would resell in Antananarivo, making this trip two or three times a week.
Around 1918 he began his own business in Toamasina with a small sum of money that he had borrowed from Pastor Daniel Ratefy's grandfather.
In spite of the difficulties he encountered following the famous cyclone of 1929 that destroyed the city, the Ramanandraibe Company prospered and specialized in the harvesting of certain products, in the tobacco trade, and in the importation of a variety of merchandise. Ramanandraibe then invested part of his fortune in real estate in Antananarivo and in Toamasina. He later became a wealthy and renowned owner of rice-processing factories, and after World War II his business (which was called Etablissements Ramanandraibe [the Ramanandraibe Companies]) was headquartered in Tsaralalàna, which was in the center of town. His multiple companies became well-known because they exported a particular Malagasy high-end rice variety called vary lava (long-grain rice). His remarkable capacity for adaptation in business, his enterprising spirit, and his good management all helped him to overcome various obstacles.
From 1950 to 1970 Ramanandraibe was the treasurer of the Antananarivo Chamber of Commerce. On November 30, 1936, he married Félicie Razafitsara, who was Catholic. The marriage ceremony was held in his house in Anjeva, and the service was led by Pastor Henri Peyrot. Ramanandraibe had been a student in the Protestant mission schools, and he had a deep faith. He also saw to the religious instruction of his own children, and all the members of his family were members of the French-speaking parish of Andohalo in Antananarivo, where his children attended Sunday school, and where they were confirmed.
As a Malagasy man who was attached to the land of his ancestors, he returned to the parish of his native village of Manohisoa at least once a month to pray, and that is also where he built his first house. He gave consistent support to his home parish and to the three rural neighboring parishes of Falihary, Anjeva, and Imerikasinina - that were all four under the care of Pastor Ramangahaly. When the latter or the student pastors from the Seminary of Ambatomanga could not make it to a church, Ramanandraibe was always available to fill in for them, and especially to preach, so that the Sunday worship services could go on as usual. He also represented his parish in meetings of the "Committee of the Isan'Efabolana" [3] (abbreviated as I4B) that served to group the delegates of parishes that were in the same district.
Ramanandraibe spent a lot of time with the pastors and the protestant missionaries of the various denominations (LMS, FFMA, MPF). His steadfast support of the activities of the Church led him to accept the responsibilities of being the treasurer of the Isan'Enimbolana [4] (abbreviated as I6B), following an election that took place on July 12, 1946. Until that time, this work had largely been done by missionaries, but he took it over from 1946 to 1958. The committee had chosen well, because he was renowned for his rigorous accountability in business matters. The accounting records for that period of time have been preserved by the Ramanandraibe family.
As an institution, the Esan'Enimbolana is more than one hundred years old. During the period of time in which it developed, Malagasy parishes gradually took over the management of their common affairs, and through it, made their financial contribution to the expansion of Christianity in Madagascar.
Needless to say, significant logistical support was needed throughout the year. As treasurer of the Isan'Enimbolana, Ramanandraibe was always on the lookout for contributions, especially those related to the support of evangelists that were working all over the country. He often needed to make a significant personal contribution to close the budget gaps.
His house in Tsaralalana had a large living room and several guest rooms, so he was able to host missionaries who came to meetings related to the Isan'Enimbolana. For example, Pastor Mondain, who worked in Diego Suarez, was a guest, as were pastors who came through Antananarivo. Even student pastors from the various regions of Madagascar who were heading to the seminary in Ambatomanga (only a few kilometers from Manahisoa) found that they were always warmly welcomed there.
Ramanandraibe was also interested in helping to develop a local newspaper that would have Protestant leanings, as there was already a lot of competition among local newspapers at that time. He joined a group of people who were founding a weekly magazine of the Federation of Protestant Churches of Madagascar that was called Fanasina ("Salt"), and became the main promoter.
It is also important to mention that Ramanandraibe was very politically engaged, even though he didn't adhere to any particular political party. During the elections for the Madagascar deputation that was to be part of the French Constituting Assembly of 1945, he was on Pastor Ravelojaona's campaign committee. Ravelojaona was a prominent figure in Malagasy nationalism and in the intelligentsia of that time, and was a close friend of Ramanandraibe throughout the Esan'Enimbolana period.
In order to understand Ramanandraibe's personality, it is helpful to know that among the books that he kept on his nightstand (and that have been kept by his children), are the works of Pastor Charles Wagner [5], such as "One Man," a book that has the following epigraph: "There is something greater than a great man, and that is a Man," and "Miracles of the Will."
Ramanandraibe died at age seventy-three on January 11, 1973. He will long be remembered in the history of the Malagasy Protestant Church, and particularly remembered in the Evangelization Department of the FJKM, as he played an important role in his Manohisoa parish and in ensuring the smooth operation of the Isan'Enimbolana. Following a funeral service in the international parish of Andohalo that was attended by many prominent individuals, and which concluded in a tearful homily given by Pastor Lucien Peyrot, he was interred in the family burial plot in Manohisoa.
Berthe Raminosoa Rasoanalimanga
---
Notes:
When he was being registered with the municipality, the civil servant insisted that he be given a French name. At that time, people would simply use the names [of the Feast Days of Saints] that were on the calendar.

Green vegetables like watercress and Chinese cabbage varieties came under the general French designation of "brèdes."

The Isan'Efabolana, in abridged form being the "I4B," was a decision-making body within the MPF (French Protestant Mission), in which each parish from the same MPF district was represented by delegates that met every four months (hence the name). This committee was responsible for the internal organization of, and the decision-making related to, the abovementioned parishes.

The Isan'Enimbolana, in abridged form being the "I6B" (which met every six months), was created in 1868 shortly after the period of religious persecution that had lasted for about thirty years. It was a well-organized Protestant institution that had as its' mission the evangelization of the other parts of the island that had not yet heard the Good News. The Protestant missions in existence at that time were members (LMS, MPF, FFMA), as was the Palace Church, which had been founded by Queen Ranavalona II.
Every six months, the Isan'Enimbolana committee met in Antananarivo, and the evangelists came to report on their work. Special worship services were also held during the session for young people, and for women. Renowned pastors gave the sermons, and the meetings served as a recurring time of renewal for Christian communities that were growing. It was also a time when churches could make their needs known: needs related to evangelism, for example (Bibles or portions of the Bible, tracts, reading textbooks), or to the management of human resources (evangelists, pastors, teachers, whether active or retired), and even to infrastructure in unreached areas (that often suffered from the destructive cyclones that periodically swept Madagascar). Offerings were also taken, and sometimes golden earrings, necklaces, or bracelets were found in the offering plate. Today the Isan'Enimbolana has become the Evangelization Department (AFF) of the Church of Jesus Christ in Madagascar (FJKM).
Charles Wagner (1852-1916) was born in 1852 in Vibersviller, in the Lorraine region of France, into a family of Lutheran pastors. He was a French liberal pastor who decided early on to create his own parish, and he began by using one of the rooms in his apartment for a meeting place. He had been a poet from youth, and he was a captivating speaker. His literary career began in 1890, and he wrote many books, including "Be a Man," in 1897.
---
Bibliography
Protestant review Ny Gazety Fanavaozana - No. 10, October 1958, pp 295-31.
Andrianony, Ny Diarin'ny Fahazatotaonan'ny Isan'enimbolan' Imerina: 1868-1858 [The agenda for the centenary celebration of the Isan'Enimbolana of the Imerina] (Antananarivo: Imprimerie protestante - Imarivolanitra, 1958).
Archives of the Ramanandraibe family.
Hermann Ravelomanana, Ny lalana nombako [The Path that I took] (Antananarivo: Imprimerie FJKM, 1991).
Oral sources:
Madeleine Ramaholimiaso Ramanandraibe, eldest daughter, accounting expert in Antananarivo, Madagascar; interview by author.
Marcel Ramanandraibe, youngest son, Chocolaterie Robert S.A. Antananarivo, Madagascar; interview by author.
---
Photo Credit:
Taken during the 20th Wedding Anniversary of Joseph Ramanandraibe and Félicie Razafitsara, in 1956. Ramanandraibe is seated on the bench, in the middle, with his wife to his left. All around the couple are their children and their friends: Pastor Henri Peyrot and his wife, Pastor Lucien Peyrot and his wife, Pastor Jacques Vernier and his wife, as well as their parish pastor, Pastor Ramangalahy, who is seated on the ground in front.
This biography, which was received in 2009, was written and researched by Berthe Raminosoa Rasoanalimanga, the former directress of the National Center for KJKM Archives (1984-2007), and Project Luke Fellow for 2008-2009.