Classic DACB Collection
All articles created or submitted in the first twenty years of the project, from 1995 to 2015.
Kachinga, Godfrey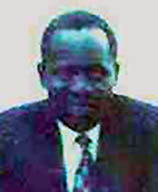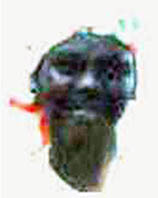 Godfrey D. Kachinga was born at Chiyenda Usiku Village in Balaka, Malawi. There were three children in his family. He and his brother, Edson, were twins and they had a sister. The family attended the Church of Christ. They were very poor and his parents could not afford to keep him in school so he left school after standard six (eighth grade).
Godfrey enjoyed playing football. On two occasions he walked to Zimbabwe where he found work. He gave up this work when God called him to the ministry. His wife was Mrs. Sperina Kachinga. His mother died in 1979 and his father died in 1982. He testifies as to how he found the Lord:
Missionary Rev. James Graham came to preach in our village in 1965. The Lord spoke to me and I gave my heart to Him to cleanse me from my sins. Having been saved I experienced his grace in my heart. I also gave my heart completely to the Lord so that the Holy Spirit should be my guide. I continued to pray hard and have been growing spiritually until the present (2005). I learned of the Church of the Nazarene through Missionary Graham and in 1968 felt that the Lord was calling me, so I went to the Nazarene Bible College where I began learning theology and graduated in 1970.
The Kachingas were sent to pastor at Monkey Bay, then transferred to Mangochi in 1973. From 1974 to 1978 they served at Lilongwe. After that they were sent to begin a new church at Ponera. In 1980 they moved to Blantyre where Kachinga taught in the Bangwe Nazarene Bible School for six years.
Kachinga was then appointed as a full-time evangelist. In 1987 alone he preached about every day for forty-five weeks and saw over twelve thousand people kneel in prayer to repent and accept Christ in the services.[1] In 1990 he was elected as a member of the District Advisory board of the Malawi South District. In 1991 he and his wife went again to pastor the Mangochi Church. In 2002 they transferred to Mulanje where they were still serving in 2005.
The Kachingas were blessed with fourteen children. Times of deep sorrow in their lives were when four of their children died at various times while they were doing the work of the Lord. In 2005 they still had ten children (four sons and six daughters) and had taken six orphans into their family.
A challenge they faced in 2005 is that there were many Muslims in the area where the church is located. A problem is that although their congregation is self-supporting, it is not always able to pay the pastor's salary. Godfrey Kachinga was always thankful that their church members at times brought special gifts for him and his family.[2]
He was called to his eternal Home in 2010.[3]
Paul S. Dayhoff
---
Notes:
World Mission, (Kansas City, MO: Nazarene Publishing House, October 1989,10.

Rev. Godfrey Kachinga, report in a letter written on 29 December 2004.

Rev. Chinsinsi Phiri, e-mail of July 26, 2012.
---
This article is reproduced, with permission, from Standing Stones of Africa: Pillars of the Faith in the Church of the Nazarene, first edition, copyright © 2006, by Paul S. Dayhoff. All rights reserved.