Classic DACB Collection
All articles created or submitted in the first twenty years of the project, from 1995 to 2015.
Munyewe, Mathias J. (B)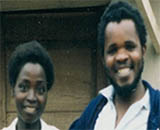 Mathias J. Munyewe was born on September 25, 1955 in the Muslim village of Mowere in the Machinga district of Malawi. He died of tuberculosis in 1991. His life was short but his impact was long-lasting.
Munyewe was from the Mushirima clan, one of the greatest of the ten Lomwe clans. He had three brothers (Saidi, Lazarus and Joseph) and two sisters (Mary and Magalenna). Later in life when his sisters became widows he helped them by providing for their four children. His grandfather, who came from Mozambique in the 1920s, was one of the most powerful Muslim teachers in the country and he had chosen Mathias to one day replace him. In a letter dated December 8, 1987, Munyewe said "As a young baby my grandfather whispered 'Anekhale Olalyeya'—he will be a teacher."
In 1965, a Christian friend invited ten-year-old Mathias to a Christian service. There God captured his heart and he became a follower of Jesus. He offered himself to God for work in ministry in 1968 at the age of thirteen after reading a challenging testimony printed in Osterhus Publishing material.
In 1973 it was through a Lutheran pastor that he was able to go to Bible school in Lusaka, Zambia where the principal allowed him to work three hours a day cleaning, sweeping and binding books in order to pay for his studies. He was the only one out of the thirty students who had to work and study as well. That same principal was able to arrange a scholarship for him to go for diploma studies in South Africa from 1974 to1977. This required that he work for the Lutheran church for a two-year period between 1977 and 1979.
Two young itinerant Church of Christ evangelists came into his home area of Mowere in 1973 while he was still at school. As a result, twenty-five Muslims secretly came to Christ. As the evangelists did not see enough converts to consider their work a success they left, but the numbers kept increasing because the new Christians naturally shared their faith with others. Munyewe's parents, Joseph and Ellena, came from a Muslim background but attended Church of Central Africa Presbyterian (CCAP) churches. They practiced a very nominal form of faith and were prone to drunkenness. They both came to personal faith in Christ and his father became the first elder of this initial group of Christians who formed the first church at Mbere in 1973.
After his graduation Munyewe faced a major decision: He could either return to Malawi to pastor an urban church and be paid on a regular basis or he could also answer the call from Christians in his home area to provide leadership to the growing churches there. This position would not provide regular pay. In 1979 he chose in faith to follow his heart's desire—that people in his home area, especially Muslims, hear about Jesus. The fourteen existing churches in 1983 were brought together to form what would become the Evangelical Baptist Church of Malawi.
Munyewe was a consummate people person who drew others to him. His wide smile and infectious laugh transcended culture. It was easy for him to make friends whether he was in rural Malawi or in urban Canada. He was a quick thinker. When he and I went on local visits together, I walked fast (because I am tall) so it was sometimes hard for him, as a shorter man, to keep up with me. At that time there were no available church vehicles —no car, motorcycle or bicycle. One day he was tired and was able to borrow a bicycle so he could ride parallel to me as we went to a nearby village.
Munyewe had many gifts. As a writer, he composed insightful articles on such topics as ministry to the Yao Muslim tribe, a teacher helping to equip emerging church leaders, an evangelist presenting the ministry situation in Malawi, and a networker connecting with other Christian groups within the country. He was very supportive towards his family, his wife Verecy, his sons, Henery and Josaya, and daughter Ellana, as well as other family members such as his parents who lived nearby. He worked very hard work maintaining his house while keeping up with the increasing demands of the expanding ministry. This meant constant travel and frequent late nights catching up on correspondence with the growing number of overseas contacts.
Munyewe traveled beyond the African continent. I met him abroad on two occasions, in Amsterdam in 1986 and in Canada in 1989. He was invited to attend the 1986 Billy Graham sponsored Conference for Itinerant Evangelists in Amsterdam. He came to Canada in 1989 with the assistance of Emmanuel International. While in Canada I was able to arrange for him to meet church supporters in Nova Scotia and for him to appear on the nationally televised Christian program 100 Huntly Street.
Munyewe was a man of compassion whose heart would break when he saw the needs of others. In a letter to me dated September 7, 1983 he wrote: "One man came from Mozambique. He was almost naked. My heart was filled with much sorrow. I took the shirt you gave me and my trousers and gave them to him.This love touched his heart and led him to faith.We have a need to minister in word and love."
Munyewe was a man of patience, passion, perseverance, and prayer. These were the crucial qualities of spiritual leadership that the leader of a fast growing denomination needed in order to face critical challenges. In a letter dated April 1, 1985 he wrote on the topic of prayer: "Terry, looking back to where we started the church, I marvel to see many things accomplished. We are a faith ministry and have everything in our church because of our knees—praying."
Munyewe was the only leader who had received any leadership training in the beginning. The Muslim community and members of the Ethiopian church supported the practice of polygamy. This influenced some key EBCM leaders to take extra wives. As a result, they were released from membership. The severe on-going lack of financial resources to support EBCM leaders meant that there were interested trained pastors from elsewhere who did not join, and some existing pastors went elsewhere.
Munyewe was the early driving force in the growth of the EBCM. But like a candle burning at both ends, his life was consumed far too soon. He succombed to misdiagnosed tuberculosis on August 8, 1991. He is buried at Issa.
Terry Orchard
---
Sources
Rev. Munyewe to author. Feb 15, 1982. Personal correspondence of the author.
Rev. Munyewe to author. December 8th, 1987. Personal correspondence of the author.
---
This article, received in 2013, is an excerpt from the book A Fire in the Flames (www.afireintheflames.com, used with permission) by Rev.Terry Orchard who comes from historic Lunenburg N.S. Canada. Rev. Orchard came to personal faith in Christ through a Jesus Movement Street ministry. He received a Bachelor of Arts from Acadia University and a Masters of Divinity from Acadia Divinity College. A personal friend of Munyewe with whom he ministered in 1983, 1984, 1986, and 1989, Rev. Orchard co-founded Baptist ministries in Malawi and Mozambique with Munyewe. He also founded Britannia Baptist Church and Mission to Moms, a ministry to single refugee moms. A father of three sons, Rev. Orchard continues today as a bi-vocational pastor. He and his wife Aldenia and son Joshua live in Ottawa, Canada.