Classic DACB Collection
All articles created or submitted in the first twenty years of the project, from 1995 to 2015.
Phiri, Samson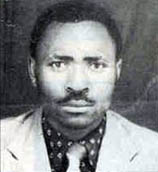 Mr. Samson Phiri was a businessman and outstanding church layman in Lilongwe, the capital city of Malawi. He was lay pastor of the city church and served on the Malawi Central District Advisory Board as well as on the Bible College Board of Trustees for many years. He worked with the Bible College Pincipal, Rev. Gideon Tredoux[1] In 1987 he testified:
Praise the Lord for saving my soul. I was a lost, condemned sinner. On 12 August 1978 I heard someone preaching near the bus depot and went to listen out of curiosity. The Lord spoke to my heart. I saw myself before God as a lost sinner and asked the Lord to forgive me and come into my life. Through the grace of the Lord I gave up all the bad things that I was doing.

Later in a revival service the Lord spoke to me about sanctification. There I committed my all to Him and asked Him to cleanse me. He really did a great work in my life. The Lord has kept me from sin. I have no appetite to go back to my former life. I can also testify that the Lord called me to serve Him and I have made myself availabele"[2]
In 1989 Samson Phiri was pastoring the Lumbadzi Church and later he continued to be actively involved in the work of the church on the district. He passed away in about 1995. In 2005 he was well remembered on the Malawi Central District.
Paul S. Dayhoff
---
Notes:
Dr. Paul S. Dayhoff, compiler, "Africa's Nazarene Laymen", in Trans African(Florida, Gauteng, South Africa: Africa Nazarene Publications, May-June 1988,)6.

Dr. Enoch Litswele, E-mail message, January 31, 2005.
---
This article is reproduced, with permission, from Standing Stones of Africa: Pillars of the Faith in the Church of the Nazarene, unpublished, copyright pending, 2004, by Paul S. Dayhoff. All rights reserved.