Jele, Wyson Moses Kauzobafa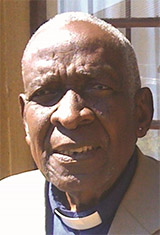 Wyson Moses Kauzobafa Jele was born on December 15, 1929 in Etchiyeni village in Mphongo area, T/A M'mbelwa, Mzimba District. Jele's father was Moses Sunduzwayo Jele. His mother, Nelly Mafunase Mzoma Nhlane, was a granddaughter of Mayayi Chiputula Nhlane, the first Ngoni chief to meet the Livingstonia Mission in 1877. When Wyson was born, his parents were both church elders of the Loudon-Chasefu Presbytery. Nelly Nhlane's Christian life can be traced to the time her grandfather Chiputula Nhlane invited the Livingstonia Mission to the area in 1877. This formed a good background for Jele's Christian life. He was baptized as an infant by the Rev. Andrew Mkochi and was confirmed to church membership by the Rev. Lameck Ngozi Mvula in September 1948. To maintain his culture, Jele married Hlupekile Nhlane, his cousin, the daughter of his mother's brother, in 1952, the same month he started working.
Early Years: Education, Conversion and Calling
In 1939, Jele started his elementary school at Mphongo Village School which is still known by the same name today. This school is west of Mzimba Boma. After finishing elementary school, he went to do his standard one at Mzimba Full Primary School from 1942 to 1947. Thereafter, in 1947 Jele was transferred to the Loudon-Chasefu mission station which was part of the Synod of Livingstonia in the Church of Central Africa Presbyterian. There he continued his primary education until his standard six examinations in 1950. After passing his standard six government examinations that same year, Jele went to the Roman Catholic secondary school in Zomba. However, he failed to complete his senior secondary school and only went as far as Form II because of ill health. However, he immediately found a job as a veterinary clerk in Mzimba with the Nyasaland government beginning on August 1, 1952. This tells us that he was a civil servant. By then he was a Christian in name only. He only accepted Jesus Christ as his personal savior much later, on March 3, 1959.
His conversion came between January and March 1959 during the period of political struggle led by Dr. Hastings Kamuzu Banda, who later became the first president of Malawi. Jele described his thoughts and feelings on his conversion as follows:
"On 3rd March 1959 in Zomba I first made my public confession that Jesus is my personal savior. At one time people thought I was insane and they took me to the hospital after a demonstration during the political unrest. This conversion led me to my call into holy ministry. This call was very dramatic because I didn't think of becoming a minister but it was what I professed in Jesus that made me to change my mind and think of joining the holy ministry because I heard a small voice calling me for this ministry. My call was also more like Paul's vision (Acts 9:1-7) and after sometime, I started preaching evangelistic messages. In short, I would say that when God called me from government service to holy ministry, it was very frightening but God has not let me down. The fears Satan was putting before me have been proved groundless and futile. God is faithful; he has never let me suffer."
It was his dramatic call as witnessed above that made him apply to study for holy ministry. We also see that what happened after his conversion made him dedicate his life to work for the Lord. His motto was "with Jesus I will go anywhere He sends me." This motto is significant for modern church ministers who have different motives apart from serving the people they are called to serve. The motive should not be centered on self-service but on serving God and His people.
His Theological Education
Jele went to theological college at the time when Blantyre and Livingstonia Synods were joining together to train ministers. Jele thus began his theological studies at Nkhoma Theological College in 1963, soon after the constitution of this ecumenical college, which had joined all CCAP Synods together. This shows that Jele was among the first pioneer students of this ecumenical college. The duration for the course was three years with a one-year probation. Thus, Jele graduated in 1965, receiving a certificate in theology. After completing his studies at Nkhoma Theological College, he was allocated to the Elangeni congregation in Loudon-Chasefu Presbytery in 1966. After serving there for a year, he was ordained in January 1967 at Mabili congregation.
Jele won a scholarship with the Emmanuel Bible School of Theology in Birkenhead, near Liverpool, in Cheshire. In 1967, he left Malawi for Great Britain to pursue a diploma in theology at Emmanuel Bible College for two years. While he studied at this college, Jele's wife, Sylvia Nhlane, was also doing her studies in English grammar and Biblical instruction at Emmanuel Bible School. It was also during this period that the International Free Protestant Episcopal University, London, honored Jele with the degree of Doctor of Theology, certificate no.1617, in June 1968. Further, details on this award are precisely stated in Jele's statements. He explains:
"This award was a proposal by the London theologians to award me with an honorary degree of Doctor of Theology. The suggestions came from doctors who had heard me preaching in some of their churches where I used to preach during holidays. This award had nothing to do with the college where I was doing studies. However, upon completion from Emmanuel Bible College I received the diploma in theology and missionary certificate.
What is interesting in his statement is that the people who awarded him a doctoral degree inquired of his former theological training. Thus, it appears that no one in Great Britain anticipated that an African pastor could have acquired such skill in preaching. It was his zeal in preaching that led to the award of his honorary doctorate degree. Therefore, he is called Rev. Dr. Wyson Moses Kauzobafa Jele.
Upon graduating from Emmanuel Bible College in 1969, he returned home that year in August. In 1970, he was elected moderator of Loudon-Chasefu Presbytery. Then in 1976 Jele and Rev. Ndolo were appointed to revise the Ndondomeko ya Visopo (Order of Service) for use in congregations in the Synod of Livingstonia. Then, from August 1977 to September 1980, he served as head of station at Lwasozi congregation in Loudon Mission. In 1979/1980, Jele was elected moderator for the Synod of Livingstonia. After retiring from this position, he was also appointed as the first full-time evangelism secretary in 1980.
Apart from serving in CCAP Synod of Livingstonia, Jele also served as national chairperson of New Life For All in Malawi, as an executive board member of the Evangelical Fellowship of Malawi (EFM), which was a member body of the Evangelical Fellowship of Africa and Madagascar, led by Dr Byang Kato. This EFM was affiliated with the World Evangelical Fellowship (WEF). Furthermore, Jele attended several world conferences, such as the Evangelism Tour and conferences in Birmingham, England in 1974; the Pan Africa Leadership Conference in 1976 in Nairobi, Kenya; the Extensive Evangelism Conference "Love Africa" in Blantyre, Malawi in 1978; the general assemblies of the Church of Scotland and Northern Ireland in 1979; the Extensive Evangelism Course and Conference in Singapore in 1981; and the World Evangelism Conference in Amsterdam, Netherlands in 1983.
Jele also served in Zambia for a maximum period of seven years from November 1981 to November 1988. After returning to Malawi, he was allocated to Mzuzu congregation. By then almost all the congregations in Mzuzu were under Mzuzu congregation. After serving for some time in Mzuzu, Jele asked the synod to send him to a nearby congregation because he was about to retire, so the Synod of Livingstonia sent him to Kamilaza in 1989. He served there until 1994 when he officially retired. After retirement, he worked with the Evangelical Association of Malawi (EAM) as an executive board member. As per Synod of Livingstonia policy, after retirement a church minister is free to work with it on a contractual basis. Thus, after seeing the gifts and potential Jele had, the synod, through Milala Presbytery, asked Jele to help by serving at Katolonji, one of the congregations in Milala Presbytery. Finally, Jele ended his full-time ministry in 2005 and died on June 24, 2015.
Kelly Bwalya
---
Source
Bwalya, Kelly. The Life of Wyson Moses Kauzobafa Jele Missionary to Zambia. Mzuzu: Mzuni Press, 2014.
---
Download the full book The Life of Wyson Moses Kauzobafa Jele Missionary to Zambia. and book cover, made available, with permission, by Mzuni Press.
---
This article, received in 2016, was excerpted from The Life of Wyson Moses Kauzobafa Jele Missionary to Zambia written by the Rev. Kelly Bwalya, Church of Central Africa Presbyterian, Synod of Zambia.