Classic DACB Collection
All articles created or submitted in the first twenty years of the project, from 1995 to 2015.
Chissale, Bernardo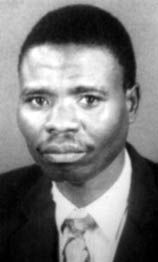 Bernardo and Magdelena Chissale (b.1967) resided in northwestern Mozambique. Bernado's father, Bvuende, was headman over twenty-four villages. When Bernardo was four his father was killed in a road accident which was apparently planned by those jealous of his leadership position. This made it very difficult for the family and his mother had to make beer to provide money for the children to attend school. Bernardo finally reached class seven in 1979 when he had to drop out to go to work for financial support. In 1983 he began working for an agricultural company. He was a drinker and, as a member of Gule Wamkulu (Nyau), he participated in evil practices.
In 1983 he married Magdalena who was from a Nazarene family. She was sixteen at that time and dropped out of school. They had two girls, Jacenta in 1984 and Sandra in 1985.
In 1985 they heard that terrorist soldiers were approaching their village and they fled for their lives towards the mountains. He and his wife became separated from his mother and sisters. The soldiers found his mother and sisters. The captain wanted to shoot them but a soldier pleaded for their lives. They were spared but all of their possessions were taken. Three days later these same soldiers attacked the area of the Manjanja village and burned 726 houses leaving the people homeless and without food or clothing. The fleeing party all stayed hidden in the bush for two weeks. Then government representatives told them to flee to Malawi. Bernardo tells about it:
Our group took six days to reach Malawi. We had only roots and fruit from the bush. Some of our group were caught by the soldiers, some were separated from their children, some were killed and others were taken to the rebel camp at Matenje. By the grace of God we were kept alive and reached Malawi on January 12, 1987. None of my family were hurt. The Malawi government and the Nazarene Church of Malawi welcomed us although, at that time, I was not a pure believer.
In Malawi the family found a place to stay at the refugee camp at Dedza. Having been born and raised in a Nazarene family back home, naturally they helped to start a congregation in the camp. In 1990 Magdalena was a leader in helping to carry on the work of the church, especially after their pastor, Rev. Bonga Laitane, returned that year to minister to his people back in Mozambique.
When Nazarene ministers Rev. Matthew Sabwela and Rev. Thomas Phiri visited there were over fifty thousand refugees in the camp. Children suffered from malnutrition. The only schooling was through refugee teachers. There was no primary health care and only a small government hospital. Many suffered from malaria, cholera, and dysentery. There were at least two funerals a day in that part of the camp. The rainy season, when conditions would be considerably worse, had not yet started. Food assistance came through United Nations relief agencies. The rations consisted of two buckets of maize meal and a small amount of beans and oil each month for Magdalena and her family. She spoke with great gratitude about the clothes that were sent from concerned Nazarenes.[1]
Bernardo tells of finding the Lord: "I received Jesus and was cleansed in 1987 at the Fozi Nazarene Church in Lilongwe, Malawi. The pastor was Rev. Samson Phiri and he preached from Genesis 32:22-30 (how Jacob wrestled with the angel). I heard as if Jesus was calling me from my sinful deeds. I surrendered myself to God. Then I started being a witness to God and was a keen Christian." After six to seven months in probationer's class he was baptized at Dedza by Rev. Bonga Laitane. Bernardo was the church secretary but he began praying about being a pastor. He and Magdalena took Bible lessons. In 1992 his prayer was answered and they enrolled in the Nazarene Theological College of Central Africa graduating in 1996.[2] They then returned to Mozambique and began serving at Vila Ulongwe on the Angonia District in the Vila and Calomwe churches. He is the Nazarene Youth International leader on the district.
On August 15, 1998 their fourteen-year-old daughter Sandra and ten-year-old son Kashitigo were both tragically drowned in the Zambezi River.[3] It was a very difficult time for the family.[4]
From February 2000 Bernardo was chairman of the Jesus Film Project on the Macanga District. The aim was to plant new churches. There were two others in the team, Mr. Danger Kazulira and Mr. William Jambulani Phiri. As transport was a problem they carried the equipment on their heads over long distances. Bernardo reported that already in February three new churches had been planted.[5] Bernardo and Magdalena pastored at Angonia on the Macanaga District.
Pastor Bernado Chisale became ill and died suddenly on February 24, 2002.[6]
Paul S. Dayhoff
---
Notes:
Robert Remington, "Mozambique Refugees of Malawi" World Mission, (Kansas City, MO: Nazarene Publishing House, February 1991), 14-15.

Enoch & Ruth Litswele, letter, Honeydew, 20 January 1996.

Trans African, (Florida, Gauteng, South Africa: Africa Nazarene Publications, No. 2, 1998), 20.

Rev. Bernardo and Mrs Magdalena Chisale, written report, January 2000.

Rev. Bernardo Chissale, letter, 22 February 2000.

Joanie Doerr, Out of Africa, Weekly E-mail news from Africa Region, Church of the Nazarene, (February 27, 2002}, 3.
---
This article is reproduced, with permission, from Standing Stones of Africa: Pillars of the Faith in the Church of the Nazarene, unpublished, copyright pending, 2004, by Paul S. Dayhoff. All rights reserved.