Classic DACB Collection
All articles created or submitted in the first twenty years of the project, from 1995 to 2015.
Guiva, Esther Danisane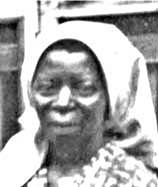 Pastor Esther Danisane Guiva is from Macatecane. Her father died and three years later, when she was ten, her family gave her over to the demons. They dedicated her as the "wife" of their ancestral spirits to be the family mediator. This was to protect the family against illness and to provide support through her practice as a traditional doctor and diviner. The family treated her with great respect and knelt before her to confer with the spirits. She was demon-possessed.
When Danisane was seventeen she began secretly following her brothers and sisters to church services. However, her mother refused permission for her to go to church. One of her sisters had married a worker in the church and she urged Danisane to give up the spirits and repent. One Sunday she attended the service and did repent. She brought items of demonic worship to be burned and took the name Esther. Her mother was greatly upset as she was sure that this would bring calamity, sickness and death to the family.
Some months later during the great holiness revivals of 1927-28 in Gazaland, this moving of the Spirit came to her church. Rev. Charles Jenkins witnessed what happened.
During a prayer session she suddenly threw up her arms and fell over as though dead. After several hours she sat up as if in a trance. The praying Christians commanded the demon to come out of her. A deep masculine voice came from her, speaking in Zulu (not her home language) and asked for water. It gave its name and identified a place in Zululand (Natal) as its home. It claimed it was seeking a place of abode and that the girl possessed something that belonged to it. When asked if it knew Jesus, it replied, "I hate Him! I hate Him!" Esther's face contorted with malevolence. Commanded again to leave, it said it would go into the wall and return later. Esther began to writhe, twist and froth at the mouth. Then with a sudden jerk she fell limp and exhausted to the floor, but she was conscious.
Tearfully she confessed that she had withheld a special cloth. Her mother had kept it to keep evil and danger away. It represented Danisane and was used by the traditional doctor when he would come to cleanse the homestead. Esther fetched it from home and it was burned. She continued for some time to have sick spells and the demons troubled her. Finally she fasted for three days and prayed for complete victory. A special prayer meeting was called. As the Christians prayed through the night, it was early morning when victory came for Esther. She began praising God, saying, "He has come! The Holy Spirit has come in cleansing power!" She was never troubled again.
Miss Esther Guiva took training as a nurse at the Methodist hospital, Inhambane, and as a Christian worker. In 1954 she and Vasta Manhique were the first women students to enroll in the Bible School at Tavane. She served as a nurse and as matron to the schoolgirls at the Tavane Mission. Through the years her testimony continued to ring bright and clear. Her ministry has been a great help and blessing to many.[1]
Paul S. Dayhoff
---
Notes
Lorraine Schultz, Because Somebody Prayed: Miracles in Nazarene Mission (Kansas City, Missouri: Nazarene Publishing House, 1994), 62-66.
---
This article is reproduced, with permission, from Living Stones In Africa: Pioneers of the Church of the Nazarene, revised edition, copyright © 1999, by Paul S. Dayhoff. All rights reserved.