Classic DACB Collection
All articles created or submitted in the first twenty years of the project, from 1995 to 2015.
Machava, Simão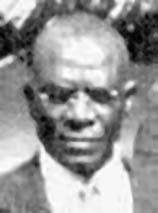 Simão Machava was the child of Thanda Machava of Vulale. Simão was born when Chief Ngungunyane was captured during the war of Maguigwane. As a boy he learned to write his name at Macupulane Roman Catholic School, Manjacaze District. He became such a drunkard that his mother, Mrs. Debora N'wamuHlanga, feared greatly that he would soon die.
Arriving on the mines in Johannesburg in 1918, he attended a night school with Christians of the Compounds Mission (merged with the Church of the Nazarene in 1922). He first heard the gospel there but he seemed unconcerned about the Christian message.
Machava became very sick and went to hospital in 1919. A friend, Mr. Filemon Khongolo, brought a catechism booklet and placed it under his pillow and the Christian men all prayed for him. Machava became unconscious and it was announced that he had died. His body was placed in the morgue.
A man appeared in a dream and beckoned to him, "Let us go and preach God's word in the compounds." The man was dressed in gleaming white and many people were following him. Machava rose from the cement slab to follow him and bumped into the door. A male nurse heard the bang in the morgue and found him. He laid him back down thinking that his body had just fallen. His dream continued and the man in white conducted him to a great hall full of people that were very black. He placed a chair among them, seated Machava on it and then disappeared. It was soon discovered that Machava was very much alive and he recovered.
When they heard that he had died the non-Christian men, with whom he roomed, took his money (amounting to ten pounds) and all of his belongings. They never returned them to him. Machava was still not a Christian but in 1922 he repented.
That same year he returned to his home in Macupulane. His wife was Lea. He met the Church of the Nazarene, confessed a call to preach and in 1923 enrolled in the Bible College at Pigg's Peak, eswatini. From Johannesburg the railway only went as far as Barberton, and from there it was at least a two day journey by foot, including a hard climb over the mountains, to Pigg's Peak.
While there in 1924 he was baptized with the Holy Spirit, "I felt I was indeed a child of God."[1] At Bible College the other students called him "Crow's meat," meaning that, just as crow's meat is inedible, he was abhorrent to the devil. He was a tall person and was also tall spiritually.[2]
Simão Machava had a great struggle about where he should serve in the ministry. His missionary, Rev. Isaac Lehman, had asked him to work in Johannesburg. As he prayed about this Machava only found peace when he told the Lord that he was willing to go anywhere he was sent. Arriving back in Johannesburg he found that God had spoken to someone else about working there and Machave was sent home to Mozambique. Missionary Eva Rixse helped him with higher training (4a class). He then went to be trained as a teacher at Alvor School, Manhiça.
Back at Tavane Mission in 1933, he served as pastor, teacher in the Bible College and zone leader. He was ordained in 1947 by General Superintendent Hardy Powers. That year he went to the Nazarene Bible College in eswatini do do further studies. His aged mother died a Christian; his sister, Eunice, married a pastor and her son Simeão Mathe has pastored the Tavane Church, the largest on the District, for more than twenty years.[3]
A lifelong missionary colleague, Rev. "Gaza" (Gazaland) Charles Jenkins, said he never heard an unkind word from him, and his life and deeds always backed up his preaching. After a prolonged illness with liver cancer, Jesus called him home. Rev. Machava called the church to his bedside to say good-bye, and though he could scarcely speak, he wanted them to sing praises to the Lord and he preached to them. Hearts were touched. Some wept by his bedside; others ran home to fix up their lives.[4]
Paul S. Dayhoff
---
Notes:
Simão Machava, handwritten autobiographical sketch (sent by Lorraine Schultz, June 1992).

Rev. "Gaza" Jenkins, "Rev. Simon Machava," Mutwalisi (The Herald), Shangaan/Tsonga magazine of the Church of the Nazarene in Mozambique and South Africa, (Florida, Transvaal, South Africa: Nazarene Publishing House, November-December 1960), 5; João Z. Muchavi, "Rev. Muchava," Mutwalisi (May-June 1961), 11.

Oscar & Marjorie Stockwell, The Tribe of God: A Collection of Stories from African Christians, (Kansas City, MO: Nazarene Publishing House, 1989), 68; Vicente Mbanze, letter (13 April 1995).

C. S. Jenkins, "Rev. Simon Machava," Mutwalisi (November-December 1960), 5; Mutwalisi (January-February 1961), 3; Mutwalisi (July-August 1961), 3-4.
---
This article is reproduced, with permission, from Living Stones In Africa: Pioneers of the Church of the Nazarene, revised edition, copyright © 1999, by Paul S. Dayhoff. All rights reserved.