Classic DACB Collection
All articles created or submitted in the first twenty years of the project, from 1995 to 2015.
Macie, Salomão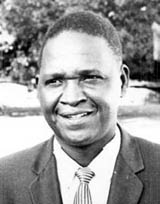 Rev. Salomão Macie was born into a non-Christian home but from childhood he saw that the hand of God was protecting him. When he was twelve years old he went to the river one afternoon to wash and was caught by a crocodile. At that time he did not know how to defend himself, but God saved him from the mouth of the crocodile.
Pastor David Khukhu invited him to attend church at Banze. He resisted it at first but, as the pastor persevered, Salomão began to realize that he should go to church. This did not change his life, but during this time God did speak to him from time to time. His parents were not happy that he began going to church and listening to the pastor. Another pastor, Yohani Mungoi, prayed often for Macie until he left Macie and went to Heaven in 1936. After that Salomão went to Maputo to work. When he returned home Pastor André Simbini was the minister and was a great help to him.
Macie says he the Lord as a lad of sixteen: "On March 7, 1938, I repented of my sins. It was a truly great day for me." When he went back to Maputo to work, God helped him through the ministry of Mr. Jossias Ukweyo. In 1940 Salomão went to work on the South African mines, where he remained for one and half years.
In 1942 Macie had a difficult experience with his guardian from childhood, Silvano Bandze. Bandze asked Macie to accompany him to Bovola, near Maracuene. Macie declined, incurring Bandze's disapproval. Bandze eventually went to Johannesburg by himself while Macie stayed home with his mother and little brother. Soon after that, Macie became engaged and returned to the mines. In 1944 he married his wife, Rosalina, a marriage full of the blessings of God.
In 1954 Macie felt God call him to work for Him. He recalls that, "It was very hard for me to think of being a worker. I was glad to just be a Christian. By 1957 God showed me that He was really calling me. Still hesitating I went back to Johannesburg until, during that same year, I promised the Lord I would do His will and I returned home." He was chosen to be assistant pastor and at the end of a year, when Pastor André Simbini went to Bible College, Macie was left in charge of the church. After a year Simbini returned and Macie made plans to return to Johannesburg to earn money.
Suddenly many troubles came upon him. There was much sickness in the family and numbers of his livestock died. He remembers one day when a pig, a goat and his donkey died. That afternoon his baby died. Nevertheless, suffering from shortage of money, he left for Johannesburg in January 1959. He knew that God did not want him to continue such work. Fortunately, at the mine in Johannesburg he was granted a pension of 240 pounds with which to retire from such work and have a time to rest. As he returned home on March 26, he did not forgets God's call to full-time ministry. So, upon getting home, he declared that he wished to go to Bible College. His wife and relatives disagreed with his decision, but for him there was no other way.
In April Rev. João Muchave visited and took his application, and in August 1959 Macie arrived at the Bible College. He saw that God was leading him. There was a great difference in his life from the days when he did not want to work for the Lord. He continued to be happy in the work of the Lord. Rosalina also attended for a one-year course. During his fourth year Macie pastored the large Tavane Church. He graduated in 1963 and was ordained by General Superintendent Hugh Benner in 1967. Later he became pastor of the largest Nazarene congregation in Mozambique, the Maputo Central Church. During his ministry this congergation grew to an attendance of eight hundred.[1] Rosalina was a great asset to him in all of his work. Together they served the church for twenty-five years.
In 1978 Rev. Salomão Macie was elected the Superintendent of the Maputo District and served in this capacity until his retirement in 1987. He supervised the food distribution programs for the Church and nationwide with the government. He was President of the Christian Council of Churches in Mozambique.
Paul and Margaret Dayhoff remember that he preached very effectively one year in the 1970s for the Camp Meeting at Arthurseat, Eastern Transvaal (Limpopo Province). They met in a very large tent. Whenever he got the crowd to laughing during his messages he would keep repeating to their continued amusement, "Mi nga hleki, Manazarene" (Don't laugh , Nazarenes).
From May 12-18, 1986, while famine and civil war still raged, all the Christians of Maputo gathered each evening to pray for their land. It was a time of humbling themselves before God according to II Chronicles 6:28-30, "When famine or plague comes to the land…or when enemies besiege them in any of their cities, whatever disaster or disease may come, and when a prayer or plea is made by any of your people Israel…then hear from heaven, your dwelling place. Forgive…"
On 23 May 1986 at the District Assembly, Superintendent Macie reported that the district membership was 2,467. That represented an increase of l,013 over the previous year. He said, "This shows the wonderful way that people are returning to God. The hand of God has indeed blessed His work and we His children are joyful." He continued however, "We have not grown in numbers of churches or branches….Some churches have been scattered because of all of the troubles."[2]
The final answer to their prayers came in 1992 when the civil war ended. Retiring in 1987 the Macies resided in Maputo.[3]
Rev. Salomão Macie passed away to his eternal Home on 21 February 2009. Here is the tribute in his obituary at the funeral:
"Son, we're going to heaven." This is what was said by him whom we, without doubt, consider a hero of the faith, Rev. Salomão Macie, when his eldest son helped him to the car to take him to the hospital when he was critically ill.

With this expression, we are without doubt that our Muf. (Rev.) Macie was not afraid of death. Even in his debilitated condition caused by his illness, he always believed that he was not going to die but that he was just on the journey to his heavenly home.

Muf. Salomão Macie began his pastoral career in Gaza and given his gift for ministering the Word of God, was soon called to minister in the former Lourenço Marques, now Maputo, first as pastor of Maputo Central Church and later as district superintendent of the Maputo District, a role in which he served until his retirement. Due to his gift of preaching the Word of God, and his charisma and prestige that he gained through his ministry, Macie was never able to savor the rest normally given to the retired. According to his sons and his many admirers, Macie worked more during his time of retirement than he did during his active ministry. For example, on the last Sunday of his life here on the earth, he was preaching in a new church plant at Khongolote where many fount the Lord as Savior.

"I only take orders from He who called me." Concerned with the state of his health and feeling badly about the exertion caused by his preaching, his children decided to call a family meeting with their father to try to persuade him to no longer accept invitation to celebrate weddings, preach at revivals, or give lectures at seminars. They saw that after each one of these events, the state of his health would deteriorate further and he would grow weaker. They appealed to him to try to rest and save his health and cease his preaching because, as they said, because he was retired no one would blame him if he refused. Without beating about the bush, our hero of the Faith replied to his children, "My children, I understand what you are saying, but you must understand that I am only fulfilling my calling. You were not the ones who called me. The One who called me, on the day that He thinks I have come to the end of my work, will call an end to my activities. So, you can relax in the fact that He who called me will decide when I have finished my mission."

Really, Muf. Macie closed his career in Khongoloti, preaching and leading souls to Christ. Men of this kind of faith are rare. Thanks be to God for having given us the opportunity to live with such a man of God here in our blessed Mozambique.[4]
Paul S. Dayhoff
---
Bibliography
1.Rev. Douglas Alexander, verbal report, (August 1993). Vicente J. Mbanze, letter with corrections, (28 June 2000).
2."Reports from the Churches," Mutwalisi, (The Herald), Shangaan/Tsonga magazine of the Church of the Nazarene in Mozambique and South Africa, (Florida, Transvaal, South Africa: Nazarene Publishing House, July 1986),4-5.
3.Salomão Macie, his autobiographical sketch, translated by Lorraine Schultz. Cook, Franklin R. & Steve Weber. The Greening: The Story of Nazarene Compassionate Ministries. (Kansas City, MO: Nazarene Publishing House, 1986),26.
4.Obituary at the funeral of Rev. Salomão Macie, translated from Portuguese and sent by Dr Dave Restrick.
---
This article is reproduced, with permission, from Africa Nazarene Mosaic: Inspiring Accounts of Living Faith, first edition, (Florida, Gauteng, South Africa: Africa Nazarene Publications, 2002), copyright © 2001, by Paul S. Dayhoff. All rights reserved.