Classic DACB Collection
All articles created or submitted in the first twenty years of the project, from 1995 to 2015.
Mahlayeye, Jona Macharema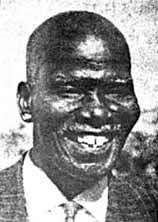 As a young person working on the gold mines near Benoni, Jona Macharema Mahlayeye was a notorious fighter and was called Mabaswikulu (The great hitter). His father, Mashakatsi, was the famous elephant hunter of Chief Ngungunyane back in the days when spears and pitfalls were used to hunt elephants.
Mahlayeye found the Lord at an open air meeting in a mine compound. One day a Xhosa fighter challenged him and struck him. Without anger and with tears in his eyes, Mahlayeye merely said, "God bless you, my brother." The man walked away baffled. His colleagues told him he had struck a man of God. For fear of offending his ancestral spirits, he came to Mahlayeye and asked forgiveness and began attending the Christian services.
Back home at Chipezini, Mahlayeye had a church started by 1917. Protestant churches, bells and preaching were forbidden and he was threatened for not obeying the law. However, he continued and even started other branch churches. A Catholic priest surprised a group in their reed church one day. The church along with all the Bibles and hymnals was burnt. While kicking around in the ashes the next morning, a spark flew into the padre's eye which was permanently damaged. Mahlayeye was eventually arrested and, as a prisoner, worked on roads and in the chief's maize fields. He witnessed to the inmates and had them singing gospel songs as they worked. Numbers of them found Christ before he was finally released.[1]
In 1923 Mahlayeye joined the first Bible College class of the International Holiness Mission at Rehoboth near Johannesburg. While there, he came to the place of total commitment to Christ one night and found the experience of entire sanctification. His infectious laugh and abounding good humour made him a favourite with all. He was a person of strong character and was a born leader.[2]
Mahlayeye was obliged to do a period of forced labour and was sent to work at Xinavane, a sugar plantation in Magudu District. He had refused to join a questionable organization that might have given him influence with the authorities to be exempted. He gained permission to hold meetings after work hours and would strike on a piece of iron to call the men together. The Lord began to work and many found salvation and were filled with the Holy Spirit.[3]
In 1929 he was ordained as a minister. In 1931 when the missionaries, Rev. Henry and Mrs. Lucy Best, left for Tete in the far northwest, he was placed in charge of the Chaimite Mission. He later became superintendent of the International Holiness Mission in Gazaland.
In 1930 Mahlayeye wrote from Chipezini that his old non-Christian aunt came forward to pray in one of the services as he preached. It was a day of great rejoicing. The next day she returned and brought all of her articles of clothing that were connected with ancestral worship, and they were burned. A few days later she stood to her feet and said, "Now pray for me that I might be sanctified."
Mahlayeye once had a narrow escape in Johannesburg when he was knocked down by a car travelling at excessive speed. He suffered shock and bruises but no bones were broken and there were no serious aftereffects.[4]
Rev. Luti Mulate characterized Mahlayeye as being a very humble man and one who hated evil and stood for the truth. He was an example to all in the church and also to those outside. He was a powerful preacher and was gifted in teaching and correcting those who were in error. He was cooperative with his leaders.
As he felt called by God, he considered the difficulties and persecutions in his work as just part of preaching the Gospel. He laughed with everyone and enjoyed the joke even when it was on him. He was a great man of God.
He and his people merged with the Church of the Nazarene in 1952. He was the leader at Chipizini at that time. When his wife Mrs. Elina Mahlayeye (?-1956) died Mahlayeye paid tribute to her saying that they had lived happily together. Pastor Mateus Sitoye said of her that since 1918 she had never had a fault in the church. Mahlayeye later married a Christian widow, Mrs. Nwamahanave Bila. She was compassionate and took good care of her husband.
Pastor Sitoye said of Rev. Mahlayeye that even in his long and severe terminal illness of seventeen months he took care to be a good example. He did not want to cause the fellowship "to be sick." He had always taught, "Should a brother cause his brother to be spiritually sick? Always desire good for the fellowship." He went home peacefully.[5]
Paul S. Dayhoff
---
Notes:
R. Jones, "Life Story of Jona Mahlayeye" (handwritten MSS, Manzini Nazarene Archives).

H. K. Bedwell, Black Gold: The Story of the International Holiness Mission in South Africa, (Cape Town: Cape Times Limited, 1936), 45-47.

Mrs. D. B., Reginald and Harold Jones, David Jones: Ambassador to the Africans, (Kansas City, MO: Beacon Hill Press of Kansas City, 1955), 62, 94, 97; Vicente Mbanze, letter (13 April 1995).

Africa Calling (London, England, and South Africa: International Holiness Mission, April 1930), 24; Africa Calling (April-June 1948), 15.

Rev. Lot S. Mulate, "We Are Bereaved," Mutwalisi (The Herald). Shangaan/Tsonga magazine of the Church of the Nazarene in Mozambique and South Africa. (Florida, Transvaal, South Africa: Nazarene Publishing House, January-March l957), 6; Pastor Mateus Sitoye, Mutwalisi (July-September 1973), 18; Rev. Luti Samuel Mulate, "International Holiness Mission, 1917-1952," Mutwalisi (July-September 1973), l9.
---
This article is reproduced, with permission, from Living Stones In Africa: Pioneers of the Church of the Nazarene, revised edition, copyright © 1999, by Paul S. Dayhoff. All rights reserved.