Classic DACB Collection
All articles created or submitted in the first twenty years of the project, from 1995 to 2015.
Mainga, Noé Josias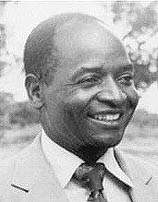 Noé Josias Mainga loved his father, Pastor Josias Mainga, although he died when Noé was still young. He used to play church as a boy. He fetched water in a barrel pulled by a donkey. The well from which he drew the water was twelve metres deep. He also herded the family goats, sheep and cattle. Once he fell off a donkey and was kicked on the chin leaving a permanent scar. He loved little birds, particularly goldfinches.
He told how as boys they would dig for masengani (naked-soled gerbil) in the veld. This was a type of rat that the boys enjoyed eating. One of his little friends was named Bayekani. Now the boys' parents did not like them to dig for these rats. They especially warned the boys never to put their hands down one of the holes because there were often deadly snakes in them. Bayekani paid no attention to this warning and when they hunted rats he would always stick his hand down the holes.
One day when he did this he felt something that he thought was a rat. He grabbed it and pulled it out. It was a large mfezi (cobra). It bit his finger and although he tried to shake it off it just held on for a good while. His finger bled profusely and swelled up immediately. He went home and was taken to hospital for treatment. They were able to save his life but his finger was badly hurt and remained scarred. Later as a preacher Mainga used this to illustrate the sin of disobedience to God.[1]
In 1944 Noé gave his life to Christ in a service under a Mbimbi tree at Njatigue. Then in 1948 while in Bible College at Siteki, eswatini, during a visit of Rev. David Matthews (famous from the Welsh revival) he was sanctified. He explained, "My heart was full of perfect love and I only wanted the whole will of God." Many years later he continued to testify that he still rejoiced in experiencing that same Spirit.
He had started his education at the government school in Manjacaze. Then, since his father had died, the authorities threatened to arrest him if he returned to the Nazarenes at home. However, arrangements were made for him to stay with Nazarenes in Maputo so that he could continue his schooling and learn Portuguese. From there he went on to Siteki, eswatini. In 1950 he pastored at Nhacutse and started a school that the authorities closed in 1952 as being illegal. He needed to marry but, as he had never gone to South Africa to work on the mines, he had no money for lovola.
His aunt, Lea Mainga, and others helped him and he married Miss Maria Enoque Mambo. Rev. Simão Machava performed the ceremony. Maria Mainga (?-1957) contracted typhoid fever. Her husband took her to hospital at Manjacaze but they were not able to help her. She was taken to Mausse but after a while it became evident that she did not have much longer to live. She was taken home to Njatibye on February 13 and she died an hour after arrival. About two hundred people attended her funeral. She was a fine Christian and helped in all of the church work wherever she was.[2]
In 1957 Mainga began teaching at Machulane (Tavane) Bible College. Then in 1958 he married Miss Rosita Zimila and they had five children. Dr. Samuel Young ordained him that same year.[3] In 1959 he took the fourth year superior course at Bible College. He became Principal of the Bible College in place of Miss Lorraine Schultz in 1975 when the revolution took place. At that time Mainga insisted on accompanying the missionaries, Lorraine Schultz and Miss Pat Buffett, as far as Maputo (two hundred miles to the south) when they were forced to leave.[4] In 1976 the ordained ministers in Mozambique elected him to be their chairman and spokesman in negotiations with the new Government. After independence and the implementation of the policy of nationalisation, many people saw the hospital and the mission in general as a source of things that they could use in their homes. Medicines, beds, blankets, small tables, water jars and many smaller items were removed from the hospital. Noé Mainga reported the looting to the district administrator who sent troops to the hospital to prevent further looting and subsequent searches resulted in some of the stolen items being returned to the hospital.[5] It was a dark time for all concerned. The Church of the Nazarene lost all the influence that it had once had in the hospital and even praying with the patients was prohibited.
Rev. Mainga became very ill with liver cancer in June of that year and suffered a great deal of pain. Late on the night of June 25, 1976, while everyone was asleep, he left his house at Njatigue and, in the dark, ran down the path leading to the Sulwe valley. On the way he apparently stumbled and fell into a deep concrete well filled with drinking water and was drowned still wearing his pajamas. Later that night the family, not finding him in his bed, began a frantic search and found his footmarks ending at the well. At daybreak his body surfaced in the water. Water was not found in his lungs.
On the morning before his death, two of his colleagues, Professor Vicente Mbanze and Rev. João Mondlane, visited Mainga. They noted a very strange depression and absent-mindedness about him caused by the intense pain he was suffering. Two weeks previously the same two colleagues visited him on a Wednesday and they sobbed as they prayed. He was to leave for hospital the following morning. Mbanze said, "He prayed for the two of us that we should carry on with the work of the Bible College at Tavane. In fact he saw death before him. We did not understand at the time why he prayed like that."[6]
Here are some of the tributes given by his colleagues at the large memorial service at Njatigue led by the District Superintendent, Rev. Benjamin Langa: "He was a real friend and brother. I became a person because of him" (Rev. Elias Mucasse). "He was one in a thousand and had a heart large enough to include everyone. His work as a man of God among all of us will continue to be seen and it will grow" (Pastor Ana Mathusse).
"I knew him as a son for a long time throughout his life, through great growth on the districts. Many repented and were made new through him. He taught me many things that amazed me that came from the leading of God. He called me to visit him recently and his last words were, 'I am glad; I am at peace. I did what I was able to do while I still had health. I expect to die from this sickness'" (Rev. João Muchava).[7]
Paul S. Dayhoff
---
Notes:
Rev. Noé Mainga, "Sin," Mutwalisi (The Herald), Shangaan/Tsonga magazine of the Church of the Nazarene in Mozambique and South Africa, (Florida, Transvaal, South Africa: Nazarene Publishing House, January-March 1971), 13.

Betty Emslie, With Both Hands: The Story of Mary Cooper of Gazaland (Kansas City, MO: Nazarene Publishing House, 1970), 77-78; Rev. João Muchave, Umphaphamisi (The Herald), Swazi-Zulu magazine of the Church of the Nazarene for eswatini and South Africa, (Florida, Transvaal, South Africa: Nazarene Publishing House, 1958), 3.

Noé Mainga, autobiographical report translated from Portuguese by Lorraine Schultz (29 May 1965).

L. Schultz, circular letter (12 November 1975).

Benjamin Langa, The Church of the Nazarene in Mozambique: A Brief History, translated by David W. Restrick (1998), 6.

Vicente Mbanze, letter (13 April 1995).

Neemias Andre Chaia, report of the funeral of Noé J. Mainga at Njatigue, in Shangaan.
---
This article is reproduced, with permission, from Living Stones In Africa: Pioneers of the Church of the Nazarene, revised edition, copyright © 1999, by Paul S. Dayhoff. All rights reserved.