Classic DACB Collection
All articles created or submitted in the first twenty years of the project, from 1995 to 2015.
Mandlate, Simeão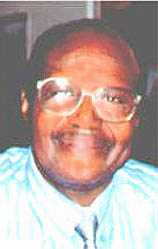 Rev. Simeao Mandlate is the son of the pioneer, Rev. Isaka Mandlate. He was born near the village of Xipaja, Gaza Province, one of nine children and the last of the boys born into the family. Because he was the youngest boy, he was given the responsibility for herding the cattle. This prevented him from going to school until he was seventeen years old. He was extremely curious and learned to read and write at home from his older brothers, using the Bible as his textbook. His first recollection of having a teacher was when he attended the Mintlawa classes (general education classes held by the church leaders in local congregations from time to time) at the church where his father served as pastor.
It was there that he found the Lord at the age of twelve and shortly afterwards he felt a divine call to the ministry. Finally freed from his responsibility of herding the cattle, his father took him to enroll in the Tavane Bible College in 1958. The director, Miss Lorraine Schultz, had doubts about admitting him because he had had no formal schooling. He was admitted on a trial basis, studying in the Bible School mornings and in the primary school in the afternoons. He did so well on the trial exams in the primary school that he was placed in the third class (equivalent to sixth grade). He was a bright and diligent student and graduated from the Bible School with distinction in 1961. He was entirely sanctified during the great revival there in June 1958.
He served for four years as a Mintlawa teacher and six years as pastor of the church in the village of Xikelene in the Mavengane District. During that time he also taught himself to speak English.[1] Simeão completed high school through home study. He and Violeta married in 1963 and he was ordained in 1967 by General Superintendent Hugh C. Benner.
Mandlate's unique talents, engaging personality and, particularly, his commitment to God and the church brought him to the superintendency of the Maputo District in 1971. He was a polished preacher and an adept administrator. The critical days of the revolution of independence followed very soon after that.[2]
Rev. Oscar "Ntshava (Mountain)"[3] and Mrs Marjorie Stockwell describe it. Schools, dispensaries, doctors, lawyers, funeral directors and all transportation facilities were nationalized. Soldiers were at the doors demanding instant compliance. Seven mission vehicles were seized or had to be abandoned. Fields were left unattended and unproductive. Pastors and congregations were lost. Daily bread became a critical concern. Survival depended on fellowship and sharing. "We are fetching fire from one another," as one person expressed it. According to an ancient proverb they would even share the head of a grasshopper.
During 1975 to 1982 government policy was "the exclusive propagation of Marxism, an all-out war on the church, and the destruction of its institutions." No religious services were allowed in homes and they could not be held on Sundays as it was made a regular working day. At the Infulene Church outside Maputo the members were not permitted to participate in Sunday services as all of the Christians were required to work picking up refuse in their neighbourhood areas. After the work was completed, they were to report to the secretary of the zgrupo dinamizador. They were then obliged to attend a meetinng of the residents of the area to receive political indoctrination. If the church members did not attend, they ran the risk of having the church's doors completely closed to services. It was much the same at Central Church. They were to work at previously designated places whre cultural events such as dances were to be presented. In some places the dances were organized to take place in the church buildings themselves. In many instances meetings were scheduled all day long on Sundays. However, according to Rev. Elias Mucasse, church members often gathered at the church for prayer late at night, in spite of it being occupied by the government all during the day.[4]
Church members could invite relatives to the church but no one else.[5] No one under the age of twenty-one could be legally baptized. It was illegal for any young person under eighteen years of age to enter a church building. No parent was allowed to teach his child about God or to pray with him. Nazarene young people met for worship out in the bush. Secret signs with sticks showed the way to the meeting places. Drought, economic chaos and military pressure added to the hardship.[6] The churches were deserted and the Maputo District almost ceased to exist as such.
In spite of all of this Rev. Simeão Mandlate, district superintendent of the Maputo District, was approached about accepting a position as a government representative with the United Nations. His reply was, "I already have a contract with God. I cannot accept any other contract.."[7]
When the new government failed to alleviate the terrible suffering from the famine and the war, these pressures against the church relaxed. God began working and people turned to the church. Urban churches and rural churches, where they were still functioning, were full and overflowing. After 1982 Maputo became the fastest growing district in Africa.[8]
During that year João, the twelve-year-old son of the Mandlates died.[9] In 1983 they pastored the Central Church in Maputo, the Capitol. He cared for this along with the work of starting Bible College extension classes in the city. During the eight years he pastored this church it grew phenomenally. The largest church building in Maputo City was constructed.
Mr Ngwenya, a young unmarried man, was a criminal and a thief but he had attended church sometimes. One day during the mid-eighties he boarded a bus intent on stealing. He slipped his hand into a lady's handbag. She had just come from the market and had purchased some live crabs. They grabbed the man's hand. He could not cry out from the pain for fear of being caught. The man prayed that if God would save him from this painful predicament he would repent. A short while after that he did indeed repent at Maputo Central Church. For a while he was enrolled in the Bible College classes.[10]
In 1991 Rev. Mandlate went to Siteki Bible College in eswatini to study for the Bachelor of Theology degree. At the Africa Regional Conference in 1991 he was one of five to receive an award as "Outstanding Educator".[11] Then he became the Principal of the newly established Maputo Bible College, Seminario Nazareno de Mozambique. In 2001 he went to Africa Nazarene University in Nairobi, Kenya to do a master's degree in theology.
In 2002, the Mandlates returned from Kenya and Rev. Mandlate served as Professor of New Testament at Seminário Nazareno. In 2005 the Mandlates were asked to go to Angola to be involved in extension theological education in that country for one year. Upon completion of the year in Angola, the Mandlates returned to their responsibilities at the seminary in Maputo. For several years, Rev. Mandlate suffered from diabetes and high blood pressure. On August 8, 2010, Rev. Mandlate suffered a stroke and passed away two days later.
Paul S. Dayhoff
---
Notes:
1.Restrick, Doctroral Dissertation, 2001,154.
2.Frank Howie, "Mandlate - a Testimonial", World Mission, (Kansas City, MO: Nazarene Publishing House,February 1989),5. Theodore P. Esselstyn, Cut From the African Rock: A Portrait of the Church of the Nazarene in Africa,(Kansas City, MO: Nazarene Publishing House, 1975),39,63.
3.Soon after arriving in Africa Rev. Oscar Stockwell preached on Caleb asking God, "Give me this mountain." The message was much appreciated and he received the name, "Mountain".
4.Restrick, Doctoral Dissertation, (2001),287.
5 Terry Read, "Mozambique Miracle", World Mission, (May 1994),7. (Quoted from Simeon Mandlate.)
6.World Mission, (April 1977; November 1978).
7.Restrick, Doctoral Dissertation, 2001, p. 308.
8.Trans African, (Florida, Gauteng, South Africa: Africa Nazarene Publications, (August 1988),2-3.
9.Mutwalisi, (The Herald), Shangaan/Tsonga magazine of the Church of the Nazarene in Mozambique and South Africa, (Florida, Transvaal, South Africa: Nazarene Publishing House,August 1982),5.
10.Tape recording of interview with Belarmino Mandlate at NTC, Johannesburg, (July 9, 1992).
11.O. & M. Stockwell, circular letters: (September 16, 1975, January 1977, April 25, 1977). Vicente Mbanze, letter, (13 April 1995). Trans African, (November-December 1991),10.
---
This article is reproduced, with permission, from Living Stones In Africa: Pioneers of the Church of the Nazarene, revised edition, copyright © 1999, by Paul S. Dayhoff. All rights reserved.