Classic DACB Collection
All articles created or submitted in the first twenty years of the project, from 1995 to 2015.
Mathusse, Ana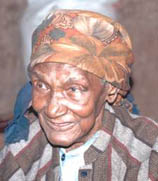 One evening in 1924 the three Mboweni sisters arrived at Njatigue having heard about the Nazarene Mission there. They announced that they had come for spiritual food and had come to stay. There was no place for them and they were told to go back to the Tavane Methodist Mission. The next morning they went the twenty miles back home and returned that night with letters of commendation from their Methodist missionary, Rev. Harkness. A place was found for Misses Estele, Ana and Amélia Mboweni.
Estele and Ana had been ostracized from their family because they refused to let their younger sister, Amélia, be dedicated to the demons. This was at their home in Mabunganine, where their local Methodist Church had to be closed in 1921 as the law forbade Protestant activities in the Chibuto District. The three sisters, with nowhere to live, were forced to travel for two days to find refuge at the Tavane Mission.[1]
During the great revival of 1925, they truly repented and found salvation from their sins. Ana Mboweni testified about it in 1929.[2] Two of the sisters remembered that they had stolen peanuts; so they borrowed some and took them back to Tavane to make restitution. Missionary Harkness, however, freely forgave them.
During the 1927-28 revivals the three girls sought to be sanctified and stayed in their hut for two days praying. On the third morning they raised a great cloud of dust as they joyfully ran around the mission shouting, "He has come, the Holy Spirit has come!" They continued living radiant and victorious lives and all married ministers. Estele married Pastor Samuel Mondlane.
Ana Mboweni knew how to pray. She married Rev. Zacharia Mathusse, a head minister from the mines in Joni (Johannesburg). She felt strongly that God called her to be a preacher and, although this was contrary to tradition, she was well accepted and became the first Nazarene woman evangelist in Mozambique. She was also the first woman to be elected to the executive committee of the Northern District Church.[3]
Traditionally people considered twins to be a curse and a great calamity but Ana and Zacharia Mathusse rejoiced when their twins were born.[4] After twenty-five years of marriage her husband contracted tuberculosis and died at home. Ana refused the traditional ceremonial cleansing, and the family was afraid to come near her and her young twin daughters, Marta and Ada, but they agreed to let them go to live at the mission.
In 1941 Ana was with a group that went to visit a leper colony about fifty miles away, on an island in the middle of Lake Chidengele. Their boat capsized in a storm on their return that evening and all were saved but one. In 1998 Missionary Douglas Perkins visited this leper colony which was now located at the side of the lake. When he asked if anyone remembered that visit back in 1941, a man whose fingers had worn down to stubs and whose nose was worn away came forward with a tattered old Bible. It had been given to him on that visit 57 years previously. This was verified by a name, signature and old yellowed picture in it.[5]
Ana Mathusse developed a serious heart condition and soon afterwards, in 1945, was badly injured when the bus in which she was travelling to eswatini overturned. She was reported to have died but was only unconscious; however she lost an arm. Her eldest twin daughter, Marta, died of tuberculosis. Her family and neighbors taunted her, saying that all of these accidents came from the anger of the ancestral spirits. She struggled much in prayer over this but God helped her to overcome it. She had schoolgirls help her carry water and grind maize for her.
The Lord has greatly used her through the years in revivals and women's meetings.[6] Old Mother Ana Mathusse still lived at Tavane Mission in 1995, a glowing, Spirit-filled lady. In 1997 she was hospitalized in eswatini with a broken leg. During a visit later that year to Matsapha, eswatini, Rev. Paul Dayhoff went to take her photograph. Immediately upon hearing his name Ana began telling of the visit of his father, Rev. Irvin E. Dayhoff, to the Manjacaze area in the 1920s and how she remembered his preaching.
In 1998 Ana Mathusse was the last surviving Nazarene that came from the Methodist Mission in Gazaland. She passed away to her reward during Easter week in 2000.
Paul S. Dayhoff
---
Notes:
Vicente Mbanze, letter (13 April 1995).

V. Mbanze, "Buku ya nkhuvo wa 50 wa malembe ya Kereke ya Munazarene ka Gaza ni Tete" (50th Anniversary of the Church of the Nazarene in Gazaland and Tete), (Tavane Mission, 1972), 29; Ana Mboweni, letter to Mutwalisi (Manjacaze, 11 April 1929).

C. S. Jenkins, "Those Women…", The Other Sheep (Kansas City, Missouri: Nazarene Publishing House, February 1954), 5-6.

Amy N. Hinshaw, Native Torch Bearers, (Kansas City, MO: Nazarene Publishing House, 1934), 129-132.

Doug and Elaine Perkins, e-mail message (13 February 1999).

Oscar and Marjorie Stockwell, The Tribe of God: A Collection of Stories from African Christians, (Kansas City, MO: Nazarene Publishing House, 1989), 59.
---
This article is reproduced, with permission, from Living Stones In Africa: Pioneers of the Church of the Nazarene, revised edition, copyright © 1999, by Paul S. Dayhoff. All rights reserved.