Classic DACB Collection
All articles created or submitted in the first twenty years of the project, from 1995 to 2015.
Mungoi, Filimone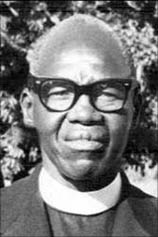 Filimone Chipenwani Mungoi, who worked in the Bileni Macie region, served the Lord with his whole heart and was a real minister. He was not deterred by the talk of the nonChristians and he treated everyone impartially in the Lord's work. In 1959 he became the leader of the new Maqueze Zone. He was ordained in 1963 by Dr. G. B. Williamson.
In August 1964 Miss Mary Cooper took him to Incaia to work there as a pastor. When he arrived, the small hut where he was to live was in ruins. He spent the week fixing it. He cleared a place around it with his hoe and spread his tarpaulin on the ground for the people to sit. On Sunday he went out and, finding the people working in their fields, he invited them to come and pray with him. They all left their hoes and came to his home. He sang all by himself and had prayer with them. On Monday he began his week's work hoeing a field behind the hut. Then trouble came.
A girl slipped unseen into his hut. She opened his box and searched through all of his things looking for money. He had twenty-two pounds in his trousers, but in her hurry she failed to search the pockets and did not find the money. Then she found a pan of cooked rice, uncovered it and started to take some. As she scooped it up in her hand some of it fell and scattered on the floor. The pastor was startled by the noise in the hut. Seeing him, the girl ran away with the pan of rice. Mungoi shouted for help and chased her. A man helped him but they failed to catch her.
After a while they saw her returning. After questioning her they called her parents who asked what penalty he required. "No," he said, "I forgive her." This surprised them greatly because to forgive a thief was unknown to them. The following Sunday many of the nonChristians came to church for the first time. Later the girl's mother told him, "That first Sunday when you came to invite us, I said I would never go visit that crazy man who lived by himself without a wife." Eventually the girl's mother repented and brought the cloths of twenty-two ancestral spirits (demons) which they burned.[1]
Mr. Simone Mbalate, who worked with him as a helper, said that they went about the work of the Lord peacefully. One day, they were engaged in mintlawa (a caravan or church oriented scout-like programme) meetings at Olombe Centre. Mungoi entered the service and sang with the congregation quite normally. But, before he preached that day, just as the prayer ended with an "Amen" from the congregation, he fell dead from his chair behind the pulpit. He had not been sick but died happily and peacefully on October 26, 1972, in the midst of his work. He was a man of Jesus Christ.[2]
His funeral was attended by 380 mourners from the Bukwini-Incaia areas, including Rev. Benjamin Langa, Rev. Lote Mulate, Rev. Simeão Mandlate, Rev. Salomão Macie, Rev. S. Manhique, Rev. Noé Cossa, missionary Frank Howie, and ministers of the Assemblies of God and Full Gospel Churches. Pastor André Matshambane testified to the Christian life of Mungoi, his self-denial, faith, and willingness to go wherever the church sent him. Everyone wept on hearing this.[3]
Paul S. Dayhoff
---
Notes:
Vicente Mbanze, "Rev. Filimon Mungoi's Introduction to the Incaia Church in 1964," Mutwalisi (The Herald), Shangaan/Tsonga magazine of the Church of the Nazarene in Mozambique and South Africa, (Florida, Transvaal, South Africa: Nazarene Publishing House, January-March 1974), 6-7.

Simone Mbalate, "A Tribute to Rev. Mungoi," Mutwalisi, (July-September 1974), 14. Professor Vicente Mbanze, letter, April 29, 1997.

Azarias Cossa, "Condolences to Mrs. Filimon Mungoi, 28 January 1973," Mutwalisi, (October-December 1973), 7.
---
This article is reproduced, with permission, from Africa Nazarene Mosaic: Inspiring Accounts of Living Faith, first edition, (Florida, Gauteng, South Africa: Africa Nazarene Publications, 2002), copyright © 2001, by Paul S. Dayhoff. All rights reserved.