Classic DACB Collection
All articles created or submitted in the first twenty years of the project, from 1995 to 2015.
Linyime, Eustace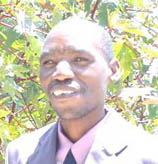 Eustace Linyime, one of the Lozi people, was born in the village of Muchimbami, in the Singalamwe area in the Caprivi, Namibia. "Muchimbami" means "to live in the water or the river." His father was Kaonde Linyime and his mother Simbuu Namucana. Eustace's life at home in Muchimbami village was full of darkness as his parents were not Christians. His father died in 1984 while Eustace was sitting for his final exams in school.
After finishing two years of military duty, Eustace tried on many occasions to find a job but there were none. Eventually he went to visit his elder brother who was working on a dairy farm. There he met missionary Mike Shalley and his family. They had come to the farm to show the Jesus Film. Eustace told about it:
Following the film, Rev. Shalley gave an invitation for prayer. I heard someone calling with a low voice and I went forward for prayer. Rev. Shalley prayed with me and gave me a Bible and a Basic Bible Study lesson paper to complete. There were eight lessons. However, there was a war raging in my life. I was serving God but at the same time I was part of Satan's activities. Rev. Shalley encouraged me to study the lessons and it took me a year to complete them. I understood that everything would be possible if I surrendered my life to God. I prayed and surrendered my life to Him. Since that time I have been free.
Linyime married Lillian and in 2003 they had a daughter. He received pastoral training through the Namibia District education programme and, in 2001, he became the first Nazarene pastor in the Caprivi region of Namibia. He planted a church in Singalamwe. The church was organized on March 9, 2003 and by October they had forty-five members. He also started a preaching point in another town and was training a leader to be pastor there when this preaching point developed into a church. Linyime reported:
Life is very difficult and there is much poverty amongst our people. There is a lack of food, clothes, and medical help. All of our members are unemployed. I have no secular employment but God has called me to serve and honor Him. We are committed to work for Him. We believe all His promises are true. My prayer is: "Our Father, we thank you for what you have done in our lives. May your name be glorified forever and forever."[1]
When Linyime passed away, missionary Mike Shalley reported:
Eustace Linyime was our leading worker throughout the Caprivi region. He was not only the pastor of the Singalamwe church but served as the Caprivi Jesus film team leader, the Lozi translation committee chairman and translator, compassionate ministry coordinator, church planter and evangelist. He was to be one of the ordinands in January 2005. Linyime was making plans to start the church in Katima and was in the process of moving there from his village in Kongola, 100 kilometers away because he believed in winning the lost.[2]
Paul S. Dayhoff
---
Notes:
Report by Eustace Linyime sent by Rev. Mike Shalley, August 2004.

K. Lauf, Out of Africa, Weekly E-mail news from Africa Region, Church of the Nazarene, (Florida, S.Africa, November 30, 2004).
---
This article is reproduced, with permission, from Standing Stones of Africa: Pillars of the Faith in the Church of the Nazarene, unpublished, copyright pending, 2004, by Paul S. Dayhoff. All rights reserved.