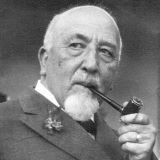 Hermann Heinrich Vedder was a German missionary in South-West Africa (Namibia). Born in Westerenger, northwestern Germany, Vedder was imbued by the spirit of the Ravensberg revival movement, which shaped the faith of the rural community where he grew up. In 1895 he joined the Rhenish Mission, which provided for his education. Having a gift for languages, he initially offered to go to China, but due to a "lack of musicality" he was appointed to South-West Africa in 1903. There, ironically, he became an expert in the language of the Ku bushmen which is rich in pitch variation. He rewrote a Nama grammar and investigated the cultural heritage of the Dama people. His scholarly activity also embraced the history of the peoples of early southwest Africa. His main missionary work was education. Under his leadership a school for evangelists was opened in Gaub in 1911. This later grew into a teachers college in Okahandja, and he became its director in 1922. Generations of teachers were trained there and imbued with Vedder's spirit. However, he neglected to train local pastors, even after he was appointed superintendent of the mission in 1937. Having grown up in German conservatism and being strongly influenced by Gustav Warneck's mission theology, he felt the time was not yet ripe for indigenous clergy. Neither did he promote independence for the local church. After World War II, at the invitation of Prime Minister Malan, he agreed to take a seat in the South African senate (1950). For this he was criticized by the native population, especially the Herero. In recognition of his ethnological, linguistic, and historical work, he received honorary doctorates from the Universities of Tübingen and Stellenbosch. He died in Okahandja.
Theo Sundermeier
---
Bibliography
H. Vedder, Die Bergdama, 2 vols. (1923) and Das alte Südwestafrika (1943). J. Baumann, Mission und Ökumene in Süd-West-Afrika, Dargestellt am Lebensweg von Hermann Heinrich Vedder (1969); Theo Sundermeier, "Hermann Heinrich Vedder, 1876-1972," In die Welt fitr die Welt 12 (1976): 156-169.
---
This article is reproduced, with permission, from Biographical Dictionary of Christian Missions, copyright © 1998, by Gerald H. Anderson, W. B. Eerdmans Publishing Company, Grand Rapids, Michigan. All rights reserved.