Classic DACB Collection
All articles created or submitted in the first twenty years of the project, from 1995 to 2015.
Abiodun Emmanuel, Christiana (A)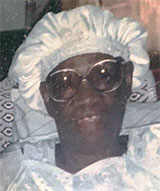 Christiana Abiodun Emmanuel (née Akinsowon) was born on December 25, 1907 in Abeokuta, Nigeria. Her father was a native of Abeokuta while her mother hailed from Port Novo in Cotonou (now the Benin Republic). Therefore, she was a Yoruba by birth.
Abiodun had only one daughter who is now in charge of the society's churches in the United States.
She was called "Her Eminence Captain Dr. Christiana Abiodun Emmanuel," the title "Captain" indicating her spiritual leadership. She was also awarded an honorary doctorate degree by an overseas university for her spiritual growth.
Abiodun was seventeen and a half years old when the Cherubim and Seraphim Society was founded. She was originally a practicing Methodist. Nevertheless, on June 18, 1925, she went to witness the annual Catholic celebration of Corpus Christi. At that time, she was living with her aunt, Mrs. Comfort Hunnu-Moiett, wife of late elder W. Hunnu.
At the Corpus Christi celebration, Abiodun went into a trance when she tried to catch a glimpse of the chalice carried by the Catholic archbishop. She was immediately rushed home and remained in a trance for twenty-one days. During this time she had her celestial training to prepare her for her sublime duties. The angel known as Holy Michael was Abiodun's friend and played a great role when she was in a trance by ensuring that she was divinely trained and tutored in church matters.
Her state for these twenty-one days was strange to her guardians who did not know how to help her. At last, in her trance, Abiodun was divinely directed to have her guardian send for Moses Orimolade Tunolase who was already in Lagos evangelizing and praying for people under affliction or in a predicament. Even though Orimolade immediately responded to the call, the circumstances under which he came were miraculous. It was raining heavily. Abiodun sent word three times encouraging Orimolade to come in spite of the rain and telling him: "Saint Moses Orimolade Tunolase should not be mindful of the heavy downpour of rain that can only beat the flesh and not the soul." As a result Orimolade came in the rain from home to Saba Court, miraculously without being drenched.
This singular event termed the "Celestial Vision" was pivotal in founding the Cherubim and Seraphim Society, an Independent African Church, and in establishing the association between Abiodun and Orimolade. After this experience of the trance which brought them together, they decided to work as a team in their ministry with Abiodun acting as visionary and Orimolade as leader while both played the role of healer, prayer warrior, and preacher. They performed their divine roles together to the best of their abilities through intense evangelization, and by giving spiritual joy and assistance to many afflicted homes. Abiodun also took the message of the gospel to areas outside Lagos.
They both got along well. The name of the organization was found over a period of time after two meaningful events. Abiodun called on the seraphim while saying grace on September 9, 1925. The following year, in March, a foundation member had a dream after which it was decided to add the name cherubim because cherubim and seraphim are twins in heaven. So the organization was named the Cherubim and Seraphim Society. Abiodun and Orimolade both worked enthusiastically and relentlessly together from 1925 to early 1929 when some unscrupulous members, for their own selfish ends, set the leaders against each other.
The conflict came to a head when Abiodun was forcibly pulled off the vehicle that normally carried both leaders during a celebration. In spite of counsel and entreaties from several well-meaning people in an attempt to repair the breach, the two leaders split in early 1929. When they parted, the courts ruled that Abiodun's group would retain the name Cherubim and Seraphim Society while Orimolade's followers searched for another name. They eventually became the Ita Balogun Praying Band of Cherubim and Seraphim.
Since 1929, the Cherubim and Seraphim Society has known no schisms. A very gifted minister of God with high principles and strong self discipline, Abiodun tried to make the Cherubim and Seraphim a strong and worthy organization. God granted her a rare privilege by releasing the Holy Ark of Covenant to her through a divine revelation in 1929. The Holy Ark of Covenant is a key element in the Cherubim and Seraphim Society's worship service.
The society is headquartered in Lagos, in Holy Mary Cathedral Church, built in 1951. The society's motto is "If God be for us, who can be against us?" (Romans 8:31) and the emblem is the Ark of Covenant with the cross of Christ and the Holy Bible. The society has six districts with 136 branches all over Nigeria and has spread to other African countries as well, including Benin Republic, Senegal, Ghana, Niger Republic, Sierra Leone, and Cameroun, among others. It has branches as far away as the U.S.A. and Britain.
Ebeye Boniface
---
Sources:
Interview with Apostle Samuel Oseh, founder of the church at Mbiri, St. John Church, Mbiri (address: C/o Mbiri Postal Agency / Ika North East LGA. / Delta State, Nigeria).
Interview with Pastor David Oseh, officiating pastor at Mbiri (address: C/o St. John Church, Mbiri / Ika North East LGA. / Delta State, Nigeria).
Year 2003 Church Member's Daily Bible Reading Guide. Theme: "In Reality of Spiritual Upliftment." Published by Cherubim and Seraphim Society (General Headquarters 88/89 Okesuna Street, Lagos - Nigeria / P. O. Box 10694 / Marina, Lagos).
---
This story, received in 2004, was researched and written by Ebeye Boniface, a student in the Department of Religious Studies, University of Port Harcourt, under the supervision of Dr. Protus O. Kemdirim, DACB liaison coordinator at the University of Port Harcourt and DACB regional coordinator for Nigeria.
---
External link
Encyclopaedia Britannica (complete article): Aladura
---
Photo Gallery