Classic DACB Collection
All articles created or submitted in the first twenty years of the project, from 1995 to 2015.
Adebajo, Christopher James Adebayo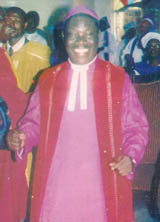 Christopher James Adebayo Adebajo, known as Gboran, was the founder and first primate of the Prayerful Apostolic Church (Gboran), Nigeria. Called by God to the prophetic ministry at the age of eighteen, he initially resisted the call of God, like the prophet Jeremiah. However, also like Jeremiah, when God assured him of His constant presence and help, Adebajo accepted the call and, by God's grace, grew to be strong in the Lord. The name Gboran, by which both he and the church he founded were known, was given to him as the result of a miraculous healing. One day in 1951 Adebajo was in Sapon Market Square, Abeokuta, when he encountered a woman named Madam Simbi, who was deaf and mute. He said in Yoruba, "Loruko Jesu, Gboran," which means "In the name of Jesus, hear." Madam Simbi was miraculously healed, and the name Gboran, the instruction to hear, was given to Adebajo.
Adebajo was born Wednesday, March 14, 1928 at Oke Ilu Quarters, Idode, Ilugun Alaro, Ijebu Northeast Local Government Area, in Ogun State, Nigeria. His parents were Prince Moses Adetola Adebajo and Chief (Mrs.) Susannah Odumusi Adebajo (née Ogunyale). Adebajo's paternal great-grandfather was Ogunmolu, the first settler in Oke Ilu, and his paternal grandfather was the baale (paramount ruler) of Idode. His father was a farmer who, in 1896, was one of the first seven converts to the Anglican Church in Idobe and later became a founding member of St. John's Anglican Church in Idode. Adebajo's father was eventually trained as a local preacher by missionaries. In 1940 he migrated to Ibadan, where he died in 1952.
On his mother's side, Adebajo's great-grandfather was Ogundata, one of the first settlers in the Aledo Quarter of Idode. His maternal grandfather was Ogunyale, who left Aledo Quarters to become the first settler in the Oke-Olele (later changed to Oke-Lero) Quarter of Idode. His maternal grandmother was Princess Fenoiki, the first child born to King Sikuloye, who held the throne of Owu-Ikija, Ijebu, Ogun State, Nigeria. Adebajo's mother would later become the Iya Ijo (woman leader) of the Aladura Apostolic Church (Gboran), Oke-Ife Quarter, Idode, Nigeria.
Before Adebajo was born, an angel gave a revelation to his parents and at least two other witnesses about Adebajo's future life and ministry. The angel also named the child Adebayo, which was his only given name. It was reported that angels served as midwives to his mother, Princess Susannah Adebajo, during his birth. Adebajo was his mother's only surviving male child.
Adebajo grew to become strong in the Spirit and in wisdom. He was baptized in the Anglican Church by Rev. D. A. Olaitan of Emmanuel Anglican Church, Isonyin via Ijebu Ode, on November 2, 1938, at the St. John's Anglican Church, Idode. His baptismal certificate, no. 244, was dated January 16, 1939, and his sponsors were Madam M. Mamowora, Mr. G. Oluyedi, and Mr. Osikoya.
Adebajo was educated at St. John's Anglican School, Idode from 1938 to 1941; the Baptist School in Ijebu Ife from 1942 to 1943; the Ebenezer African Church School, Ekotedo, Ibadan; and the Igbagbo Aladura School, Oke-bola, Ibadan. While he was at Igbagbo Aladura School, only a few weeks before his final Standard Six Examination in 1946, Adebajo was called to a prophetic ministry at the age of eighteen.
In early 1946 Adebajo became a member of the Aladura Apostolic Church (AAC), Oke-Bola, Ibadan, under the leadership of Pastor J. Ade-Aina and the church revivalist Prophet Michael Ajagungbala. He was attracted to the church because of its spiritual state, inspiring programs, and Christian discipline. When Adebajo joined the church it was observing forty days of prayer and fasting as directed by the Lord through Emmanuel Olatunde, a founder of the church. One of the things that the church was praying for was that God would raise great revivalists with ministries of signs and wonders. Adebajo took part in the last thirty days of prayer, as they had already fasted for ten days when he joined.
During this time of prayer and fasting, under the ministry of Prophet Ajagungbala, young Adebajo received the baptism of the Holy Spirit and had a series of spiritual experiences pointing to his call to the prophetic ministry. His initial response to the call was negative, as he was preparing for his final Standard Six Certificate Examination. Also, like the biblical Jeremiah, he reasoned that he was too young for the ministry. However there were a series of prophecies and visions in the church which convinced him of the call. In July 1946 when the call came again, he complained to the Lord that he could not do the work alone. So God gave him three assistants and told Adebajo that the four would symbolize the cardinal directions–north, south, east, and west–and also told him, "You, Christopher, shall go before to open the door for others to follow you soon."
On the evening of October 9, 1946, during a revival service led by Prophet Ajagungbala, Adebajo received the final call to the prophetic ministry through Madam Comfort Ibiyemi while she was filled with the Holy Spirit. When Adebajo finally submitted to the will of God, he was immediately caught up by the Holy Spirit for three days and three nights in a series of victorious spiritual battles. On October 12, 1946, at about 6:00 in the evening at Aladura Apostolic Church, his call as an anointed prophet of God was confirmed by the Holy Spirit through Miss Kehinde Onajide, Madam Comfort Ibiyemi, and all the members of the church. The following day, while still filled with the Holy Spirit, he performed the first miracle of his ministry by bringing down heavenly light from the throne of God.
Adebajo's parents heard the news of his call and commission to the ministry with mixed feelings. Due to the nature of his conception and birth, his father aspired for him to become one of the first African Anglican Bishops from Ijebu Province. His father also wanted him to pursue education at Ibadan Grammar School, St. Andrew's College, Oyo, and Fourah Bay College in Sierra Leone. So Adebajo's father was very disappointed and showed disapproval to his call for three years. It was only when his father witnessed a series of popular revival meetings conducted by Adebajo at Abeokuta in 1951 that he accepted his son's calling.
Adebajo married Clementine Ade Obisanya, the wife of his dreams and one of the members of the church in Oke-bola, Ibadan, on February 12, 1954. His other wives were: Sarah Adefolaju Adebajo, Rev. Mother S. Omowunmi Adebajo, and Pastor Dr. Lydia Abeke Adebajo. His marriages were blessed with children, grandchildren, and great-grandchildren.
In the course of his ministry, Adebajo conducted a series of spiritual revival meetings in Yorubaland, where he preached the gospel and signs and miracles took place. Some of the places he held meetings were: Mapo Hall Ibadan, Ebute Igboro, Ohumbe, Eyekanse, Oke Odan, Ihunbo, Ilase, Ifonyintedo, Ado Odo, and Oke Olowogbowo, Lagos. He was assisted in his ministry by three men: the Very Rev. Prophet Michael Obisesan, also known as Atayero, who was the general evangelist and registered trustee of the African Apostolic Church of Nigeria; the Right Rev. Zacchaeus Oladipupo Arowosegbe, also known as Omotitun, the prophet, founder, and primate of the New Born Apostolic Church of Nigeria; and the Right Rev. Apostle Clement Emmanuel Ojo Adebayo, the prophet, founder and primate of the True Jesus Apostolic Church of Nigeria. These three were the assistants appointed for him by the Lord at his call in July 1946, and, with Adebajo, symbolized the four cardinal directions. The four were used by God in the spiritual reawakening that rocked the cities and villages in Yorubaland during the late 1940s and early 1950s.
Other fruits of his ministry include: Bishop E. A. Adekanbi, founder of St. John's Church of Nigeria with headquarters at Mushin, Lagos, Nigeria; Apostle S. Ade Ogunnaike (J.P.), founder of Christ Love Apostolic Church of Nigeria, with headquarters at Odo Ona, Ibadan; Pastor Emmanuel Fatunkasi of the Apostolic Church, Ibogun, Ifo; Pastor Isaac Bankole of United Apostolic Church, Oko Oba, Agege, as well as many other clergymen and -women.
Adebajo had his wilderness experiences occasionally, when he spent time alone with God in the Agala Wilderness, at Olorunkole Mount of God at Ibadan, and other sacred places.
Adebajo pioneered the church known as Aladura Apostolic Church (Gboran) Nigeria in 1948. On October 20, 1951 Adebajo began a crusade in Abeokuta City which resulted in the planting of the first congregation of the Aladura Apostolic Church (Gboran) at Ijemo Agbadu Quarters in Abeokuta. The crusades, which consisted of miracle power revival meetings, culminated with the healing of Madam Simbi, the deaf and mute woman. The Abeokuta revival meetings attracted many people and drew the attention of the alake (traditional ruler), Oba Ademola II, the paramount ruler of Egbaland, who invited Adebajo to conduct revival meetings in his palace in the presence of his chiefs. During the Ake Palace revivals a miracle occurred when rain outside of the palace was suspended in the air and fell without hitting the ground. It was one of the most remarkable days in Adebajo's ministry.
The establishment of the Ijemo-Agbadu Church in 1951 was followed by the founding of churches in: Ilaro, Oleyo Quarters, in 1954; Sagamu in 1955; Ilaro at Leslie Quarters in 1962; Somolu/Ketu–the general headquarters–from 1965 to 1967; Aiyetoro at Joga Quarters in 1968; Aiyetoro at Olowu Quarters in 1974; Idode in 1976; Igbogila in 1978; and Olorombo Quarters Abeokuta on July 20, 1994.
The Aladura Apostolic Church (Gboran) was incorporated under the Land (Perpetual Succession) Act Cap 98 in Lagos on December 27, 1992, with the Certificate of Registration no. 2192. There were six registered trustees and the church registered a constitution. On April 16, 1986 the churches at Ketu and Sagamu were approved by the Federal Ministry of Internal Affairs (Marriage Registry Division) for the celebration of marriages. The Aladura Apostolic Church (Gboran), now known as the Prayerful Apostolic Church (Gboran), strongly believes in the efficacy of prayers and its motto is "Fervent Prayer."
Adebajo was anointed prophet in October of 1946, ordained a full priest and pastor in 1948, a general evangelist in 1949, a reverend in 1954, and a consecrated founder and primate in 1958. He became an apostle in 1960, a senior apostle in 1965, a most senior apostle in 1970, and an apostle doctor in 1997. Adebajo was a life member of Bible Society of Nigeria beginning in 1982, and a founding father and member of the Elders Committee of the Kosofe Auxiliary of the Society from 1989 until his death. Adebajo also served as one of the spiritual fathers of the International Council of Community Churches (U.S.A.), Nigeria Chapter. In recognition of his contributions to christianity, Adebajo was awarded an honorary degree of doctor of divinity in Spiritual Evangelism by Mount Olives Academic University, Missouri, U.S.A. on November 2, 1997, and was also made the Gospel Mayor and Fellow of Christ Ambassadors (FCA) in West Africa. In 1998, as a federal government-sponsored candidate to the Holy Land of Israel, he became a Jerusalem pilgrim. He was awarded the ECOWAS International Golden Award in Church Planting on the March 14, 1999.
Adebajo made great financial investments in support of the Christian prophetic ministry entrusted to his care. He was a distinguished shareholder of many reputable companies throughout Nigeria. Among his many functions throughout the years, he served as the national publicity secretary, Nigerian Shareholders Solidarity Association (1998-2000); chairman and member, Audit Committee of Vitafoam Nigeria PLC; chairman and member, Audit Committee of Atlas Nigeria PLC (1992-1993); member, Audit Committee of Van Leer Nigerian PLC (1993-1999).
Adebajo died on February 9, 2006, at the Olabisi Onabanjo University Teaching Hospital, Sagamu, Ogun State, at the age of 77.
Michael Leke Ogunewu
---
Sources:
Pastor C. A. Adebajo, Prayerful Apostolic Church, Ketu, Lagos, Nigeria. Interview.
Rev. Zaccheus Ojo, Chairman of Kosofe Auxiliary of the Bible Society of Nigeria, Lagos. Interview.
Funeral Service Brochure.
---
This article, received in 2008, was researched and written by Dr. Michael Leke Ogunewu under the supervision of Rev. Dr. Deji Ayegboyin, DACB liaison coordinator.