Classic DACB Collection
All articles created or submitted in the first twenty years of the project, from 1995 to 2015.
Adebawo, Samuel Olatunji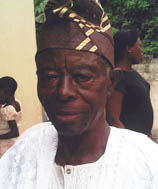 Samuel Olatunji Adebawo was born on February 14, 1925 to Pa Daniel Oreyiga Adebawo and Madam Efunroye Adebawo (née Adewoga) at Ilisan-Remo, Ogun State, Nigeria. Pa Oreyiga was of the Odugbalujo royal lineage of Iwaye quarters, Ilisan-Remo. Adebawo attended the infant division of Wesley Primary School between 1932 and 1934. Thereafter, he was taken by his paternal uncle, Pa J. O. Adewodu, a Methodist pastor, to Igbobini where he attended classes for Standards 1 and 2. He returned to Wesley Primary School at Ilisan where he read Standards 3 to 6, graduating in 1943. Adebawo started a career as a pupil teacher from 1944 and 1946 at Eleja Primary School, Sagamu. His love for that profession early in life prompted him to apply to the Methodist mission as a teacher. He was given a job and posted to Badagry, Lagos State, in 1947. The following year he taught at Omoluabi Model School, Ijebu-Ode. He ended his teaching career at Children Home School, Ibadan, a school founded by a fellow Remo, Mrs. Ogunlesi of Offin in 1949.
At this time Adebawo decided to make a career change, a providential move that etched his name in the history of Ilisan-Remo and of the Seventh-day Adventist Church. In 1950 he joined Ibukun-Olu Medicine Stores, a firm run by prominent Ilisan chief, J. F. K. Osibodu (a.k.a. Ibukun-Olu) in Ibadan. As a salaried sales agent his work extended beyond Ibadan to Zaria and later to Cameroun, Ghana, and other countries along the West African coast.
By 1954 he was already working in Zaria when he married his wife, Madam Efunnuyi Adebawo. The marriage was blessed with six children. Born in 1955, the eldest, Olugbenga, is presently a professor of biochemistry and dean of the Faculty of Basic Medical Sciences of Olabisi Onabanjo University (2009). The other children include Iyabo, Owolabi, Olubusola, Oladipo, and Oluseye. Three of them are chartered accountants; one is an inspector of education while another is chief nursing officer at Olabisi Onabanjo University Teaching Hospital, Sagamu, Ogun State. His wife, Felicia Efunnuyi, has been a pillar of support to him throughout his life journey, encouraging him and providing financial and moral support as a caring housewife.
1957 was a landmark year for young Olatunji Adebawo as the Seventh-day Adventist (SDA) Mission came to Ilisan, looking for land to build a private university. They had been to Oke Eri, Ijebu-Ode, Iperu, and Abeokuta where the available land did not meet their requirements. When the expatriates representing the mission got to Ilisan, they found a suitable parcel of land which had access roads and was close to the power grid and potable water. Unfortunately, the Olofin of Ilisan, Oba Green Adebo, the monarch at that time, was walking a fine line between feuding Action Group and NNDP party stalwarts and refused their offer. Mr. Latoye came to brief Chief J. S. K. Osibodu (a.k.a. Kitoyi, elder brother to J. F. K.) at Ibadan, on how the white men had come to Ilisan and had left without obtaining land for such a "laudable program" as the establishment of a university. Both Chief Osibodu and Adebawo were delighted at the news of the possibility of a private university being sited in their hometown. Young Adebawo took the chief to Pastor Roger Coon of the SDA mission at Oke-Bola, Ibadan. Convinced that this development would bring fame and progress to the town, Chief Osibodu and Adebawo went back to Ilisan to confer with the king and were able to arrange a rapprochement between Kabiyesi, the Olofin, and the SDA mission. They were able to win over the monarch and obtain land for the new school from eleven landowning families. They broke ground on Thursday, September 17, 1959. In time, the school that began as Adventist College of West Africa (ACWA) grew to become Babcock University, an institution that dominates the socioeconomic landscape of Ilisan today. In its fifty years of existence, Babcock University, the flagship institution of the SDA church in West Africa, with a philosophy of integrating faith and learning, has produced thousands of graduates who are having a positive impact all over West Africa. The famous English poet and playwright William Shakespeare once described a town with a university as a city. Ilisan is now one of the cities in Nigeria, providing employment for thousands, and Adebawo's name is forever linked with this development.
Adebawo eventually left for Ghana as an agent to Ibukun-Olu Stores in 1957. In 1958, he started his own business of selling medicine in Accra, Ghana. He returned from Ghana in 1964. In 1965 Adebawo enrolled at the new college (ACWA) as a student in 1965. He graduated with a diploma in ministry in 1967. He also received a diploma in salesmanship a few years later (1972). He had converted from being a Methodist to a Seventh-day Adventist in the course of his training at the college.
After some initial difficulties, and after working at Sagamu as a pastor at the suggestion of ACWA lecturer Pastor Baumann, he was eventually posted to Inisa and then to Owobale near Lalupon. He worked at various times at Ayede, Ise-Ekiti, Akure, Ondo, and Ilisan-Remo as a pastor and evangelist. Scores of people were converted and baptized as a result of his work as a pastor in the various stations where he labored. He was ordained into the gospel ministry on May 29, 1976, thus becoming the first Ilisan indigene to be ordained in the Seventh-day Adventist Church worldwide.
He retired as the district pastor of Remo, a territory comprising more than seventeen SDA churches. Since retirement Adebawo has been working in his local church as chairman or member of various committees and in the community as a peacemaker and elder statesman. Although he is not involved in partisan politics, he has served and is still serving as a community leader (Olori ebi) of the Oyemuti clan of Itun Mosimi. Since September 3, 2006 when this title was conferred up him he has been more occupied with developments that will enhance peace and progress in the Ilisan community and the church. In this capacity as Olori ebi, he has successfully reorganized the family meeting for every member to be known and heard. He relishes this position and his activities in the church because with these appointments he is at a vantage point to do good to all (2009).
Abiodun Ayodeji Adesegun
---
Bibliography
Babalola, D. O. The Compass, Ikenne-Remo: G. Olarotayo Press, 2001.
Interview with Pastor S. O. Adebawo at his residence at New Koregun Street, along Ikenne-Remo Road, Ilisan-Remo on Monday, September 7, 2009.
SDA Yearbook 2007. Hagerstown, M.D. Review and Herald Publishing Association, 2007.
---
This article, received in 2009, was researched and written by Dr. Abiodun Ayodeji Adesegun, a lecturer in the Department of History and International Studies at Babcock University, Ilisan Remo, Ogun State, Nigeria.