Classic DACB Collection
All articles created or submitted in the first twenty years of the project, from 1995 to 2015.
Adeniji, Johnson Adewuyi Ajagbe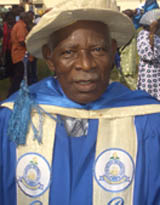 Johnson Adewuyi Ajagbe Adeniji was born to Pa John Adeniji Akangbe Ogundele of Kiyan Compound, Oke Ofa Atipe, Ibadan, and Madam Marian Jolaade Adeniji (née Adeoye) of Alukosu Compound, Itutaba, Ibadan on May 31, 1926 at Alagbede village, near Ibadan. His mother originally hailed from Owo Baale, a village about twenty-six kilometers from Ibadan, capital of Oyo State, Nigeria. Both parents were traditional religion worshippers until late in life, when they converted to Seventh-day Adventism at different times. The young Johnson had an early contact with Seventh-day Adventists (SDA) as they ran the only elementary school at Owo Baale, where his parents lived. He started formal schooling there in 1935 but his schooling was interrupted. He eventually completed Standard six at the SDA primary school in nearby Erunmu in 1947.
Johnson joined the services of the SDA Mission at its headquarters in Ibadan in 1949 as a clerk and Bible instructor at the Voice of Prophecy (VOP) Bible Correspondence School. He was baptized into the SDA church in 1953. He stopped the VOP work in December of 1954 when he began a new job as an SDA evangelist. He was posted to Sango Otta, near the commercial city of Lagos, and stayed on until 1956. As a result of the Constituency meeting (a triennial meeting of church delegates to review SDA work and elect new officers) held at Ile-Ife in what is now Osun state in Nigeria, Adeniji was sent to the Bekwai Ashanti SDA secondary school in Ghana for further studies. He was there in 1956 and 1957, and returned in 1959 for higher level classes with people like Gabriel Solademi, James Kio, Joseph Efuntade, Dimeji Aborishade, Emmanuel Ola Atolagbe, and Aaron Erondu, among others. Along with those mentioned above, he became a leader of the fledging SDA work in Nigeria.
Adeniji returned from Ghana as a pastor in 1960 and was transferred as the district leader of Okitipupa in the heartland of Ondo state in 1961. He supervised the churches in Okitipupa, Igbobini, Igbokoda, and Ugbo up to September 1962, when he received another transfer to Ikirun, more than 100 kilometers away. His stay at the new station was short-lived (three months) as he gained admission to study for a B.A. in theology at the flagship SDA institution of higher learning at the time, the Adventist College of West Africa, Ilisan-Remo. He graduated in 1966, and was among the first to receive a degree from the institution. He was posted to Yoruba town, Ile Ife as hospital chaplain, church pastor, bible teacher, dean of men, and district pastor. Some of these multifaceted assignments were related to the SDA hospital and School of Nursing which were established there in 1944. In his reminiscences (2010), Adeniji says that it was the grace of God that sustained him through that period.
Johnson was formally ordained to the gospel ministry on January 20, 1968 under J .O. Adeogun, who was the SDA mission president at the time. The latter had succeeded G. Ellstrom, the last of the expatriates as leader of the West Nigerian Mission, the umbrella church organization in southwestern Nigeria. Adeniji was then appointed as Education Secretary of Youth and Public Affairs. In that capacity, he took the SDA youth organization, Missionary Volunteers (MV) to the International Youth Congress in Zurich in 1969. He also attended summer school at Newbold College, Bracknell, England that same year, an endeavor that became preparatory to attending graduate school at Andrews University, Michigan, U.S.A. He received an M.A. in religion from Andrews in 1970 and returned home immediately.
Just as he was being posted to his old station at Ikirun, he received news that he had been elected president of the West Nigerian Mission at the West Africa Union Mission delegate constituency in Accra, Ghana. Adeniji's tenure as SDA leader (1971 - 1981) afforded him the opportunity to impact the church tremendously in evangelism and in the field of education. He pioneered radio and television evangelism and he was soon known as a televangelist. His Amazing Facts program was initially sponsored by an auxiliary organization of the world church (SDA) but funding stopped at the end of the Cold War when the church began to give more emphasis to the emerging countries of Eastern Europe. He received local sponsorship through SDA philanthropists like Dr. Deji Adeleke, the Springtime Foundation, and a Muslim leader in Nigeria, Alhaji Abdulazeez Arisekola-Alao. His relationship with the latter speaks volumes about how well he was able to relate to people of the Islamic faith. Through the program and traditional methods of evangelism, thousands were added to the church in what is now known as the Edo/Delta area. Adeniji became chairman of the board of governors of the Adventist Seminary of West Africa (1971 -1982) that later became Babcock University, during a turbulent time for education in Nigeria. He oversaw the transition of the institution from being the Adventist College of West Africa to Adventist Seminary, in 1975. The change in nomenclature and mode of operation was effected to avert the military government's takeover of the school. The institution that had been offering four B.A. majors, namely, Business Administration, Biology, Religion, and Theology now had to restrict itself to the last two because of the new status as a seminary. The Board also authorized the affiliation with another SDA flagship institution, Andrews University, in Berrien Springs, Michigan, the same year.
Adeniji resolved another land issue at Maryland, Lagos which is the present headquarters of the Seventh-day Adventist Church in Nigeria. It was a long, drawn out crisis involving the Mushin Town Council that wanted to take over the land in 1974. Pastor Gustavsson (Sweden) was the head of the church in Nigeria at the time, and Adeniji was president of the West Nigeria Mission. The land was located in a prime area of Maryland Junction, opposite the Catholic complex. It had been legally acquired by the church, but this was an era of military involvement in politics, and anything could happen. It was providential that the pastor had come to know the military governor of the old Western state (now comprising Ogun, Oyo, Ekiti and Ondo states), Brigadier-General Oluwole Rotimi in 1972. A mutual friend of the two, Dejo Oyelese, had died in an auto accident in 1972 and both the governor and the pastor had met at his funeral, where the latter preached. Adeniji apprized Governor Rotimi of the problem and he contacted his Lagos counterpart, Brigadier-General Mobolaji Johnson, who ordered the Mushin Town Council to stop harassing the Adventists. It was a triumphant delegation comprised of Pastor Gustavsson, Pastor Adeniji, Pastor D.T. Agboola and Mrs. Khanji that met with Mr. Bajulaye, the chairman of the Mushin Town Council in Lagos to receive the requisite approvals for the building of the SDA national headquarters.
Adeniji also oversaw the amicable resolution of a land tussle between the Ilisan community and the seminary in the early 1980s. The host community was not happy that so much land had been given to the school which they expected to become a full fledged university, only for it to become a seminary. They seized part of the land and wanted to take more back, but they were restrained from taking more land and the land that was seized is now being returned (2010) as it is needed for the new Babcock University Medical College.
Adeniji became the pioneer director of the Cross Rivers mission station in the Niger Delta area of Nigeria and then held several positions at the country headquarters of the church in Maryland, Lagos. He retired in 1990 and returned to his old love of broadcasting the gospel, an endeavor that ended in January of 2010 for lack of funds. He received an honorary Doctor of Humane Letters from Babcock University in 2006 for his activities as a church leader.
His marriage to his now late wife Alice Olanike Ayoka Adeniji, in 1954, produced seven children. He also had a child before this marriage. The children include Funke (1950), Demola (1955), Yemisi (1958), Remi (1966), Bose (1964), Ronke (1966), Bidemi (1968), and Gboyega (1972). They are all successful, and some of them live in the United States. He met his new wife, Florence Adunni Adeniji (née Adeoye), at an adult camp meeting at Erunmu in 2007. The relationship that developed led to their marriage in October, 2008. At present (2010) Adeniji enjoys the fulfillment that comes with watching the growth of the SDA work in Nigeria, a work that he nurtured along.
Abiodun Ayodeji Adesegun
---
References:
Adesegun, Abiodun Ayodeji, "The Educational/Health Work of the SDA in Southwestern Nigeria." M.A. diss., University of Ibadan, 1985.
——-, "Christian Education in the Seventh-day Adventist Church in Remo, 1959 - 2004." Ph.D. diss., University of Ibadan, 2009.
Alalade, Adekunle A. Limiting Factors to the Success of the Seventh-day Adventist Church in Africa. Ibadan: Agbo Areo Publishers, 2008.
Adeniji, Dr. Johnson. Oral interview by author, December, 26, 2009, Agugu, Ibadan.
SDA Yearbook 1989. Hagerstown, Maryland: Review and Herald Publishing Association, 1989.
---
This article, received in 2010, was written by Dr. Abiodun Ayodeji Adesegun, DACB liaison coordinator and a lecturer in the department of History and International Studies at Babcock University, Ilisan-Remo, Ogun State, Nigeria. This article was updated with information provided by the author in an email dated 9/3/2010.