Classic DACB Collection
All articles created or submitted in the first twenty years of the project, from 1995 to 2015.
Akindiya, Samuel Ogunkunle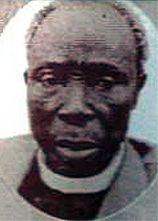 Family background, education, and early career
Samuel Ogundele Akindiya was born on May 25, 1911, into an idolatrous family of Akindiya, in Oguntinu's Compound, Oke-Ago-Owu, Abeokuta, the present capital city of Ogun State in Southwestern Nigeria. His mother's name was Bolarinwa Olaniya, and she was from Labuta's Compound, Totoro, Abeokuta.
His parents were adherents of African indigenous religion, serving such deities as Ogun, Obatala, Ifa, and Osun, but the most prominent of these was Ifa. His father was a farmer (a specialist in cocoa production) while his mother engaged in trading. His parents eventually moved from their village to another village called Oko-Omi in Igbo Awori, to find improved working conditions. Ogunkunle (as he was called before his conversion) developed a passion for western education and was determined to be educated at all costs, in spite of his parents' illiteracy. At around age twenty, he hired a certain Mr. Joseph Fagbohungbe to teach him the Yoruba alphabets, and how to read and write in English. Unfortunately, his private teacher relocated to Lagos. However, with his strong passion for western education, Ogunkunle traveled to Lagos in 1931 in search of his teacher. He eventually succeeded in locating him, and following his advice, he enrolled at the Methodist School in Yaba, Lagos. He also worked as both sexton and gardener in the mission church in order to support himself and pay his school fees. In 1932, after spending some time in that school, he left Lagos to return to his hometown. There, he enrolled at Owu Baptist School, Abeokuta. In 1933, he proceeded to Gbadebo Training School, Ilugun, Ogun State, and finally, between 1934 and 1935, he attended the Methodist School in Itesi, Ogun State, where he completed his Stanzas IV and V education. This training allowed him to work in government establishments such as the Nigerian Railways, and the Nigerian Hides and Skin factory.
His conversion, pastoral calling, ministerial trainings, work, and marriage
Ogunkunle was converted to Christian faith through the direct efforts of his brother Amos Adelani Akindiya, who was the first member of the idolatrous family to convert to Christianity. After conversion, Ogunkunle began to attend the Methodist Church in Oko-Omi. He was baptized there in 1928 by Rev. Henry, and assumed the baptismal name "Samuel."
In 1937, he joined The Apostolic Church (in which he was later to become a minister) while he was at Odo Okun, Modakeke, in the present Osun State of Nigeria. He was attracted to The Apostolic Church through the testimony of a divine healing, as a certain Mr. Ojelade testified about his being miraculously healed from a sickness without the use of medicine. Wanting to know more about divine healing, which was then a major practice in The Apostolic Church in Nigeria, Samuel Ogunkunle Akindiya decided to join The Apostolic Church at Odo-Okun, Modakeke (which is now an Area Headquarters, the equivalent of a diocese). In 1938, he was re-baptized by this leading classical Pentecostal denomination. Shortly after, in the same year (1938), he was given "The right hand of fellowship," a type of New Testament oriented initiation rite into full church membership.
In 1939, based on divine leading and encouragement from Pastor Akinwumi, Samuel decided to join the full-time pastoral ministry of The Apostolic Church. Apart from the in-service ministerial training, he attended The Apostolic Church Bible College, Ilesa (now The Apostolic Church Theological Seminary, in affiliation with the University of Ibadan).
He was ordained into pastoral office on January 14, 1951 at The Apostolic Church, Ilesa Area Headquarters, Oke-Oye, Ilesa, Osun State. In January of 1961, barely ten years after, he was called and ordained into the office of apostle, the highest ordination office in the Church's five-fold ministry: apostle, prophet, evangelist, pastor, and teacher (see Ephesians 4:11).
After his enlistment in the pastoral ministry of The Apostolic Church, Akindiya served in different capacities at different locations in the country. Starting his ministry at Modakeke, he worked in such places as Odo-Okun and Ogudu. He was later transferred out of Modakeke to Ilesa, Otan Ile (1948), and Ilara Mokin (1948-1952), where he worked as school manager for the church.
In January of 1951, while at Ilara Mokin, he married Alice Olanrewaju Adejimi, a former pupil in The Apostolic Church Primary School, Ilara Mokin, where he was working as school manager. The marriage was blessed with many children, including elder Peter Akindiya, of blessed memory.
He was later transferred to Jebba and Ijebu-Ode in 1952. He left Ijebu-Ode for Ikoro-Ekiti in 1959. Between 1968 and 1972, he worked in Ilorin (the present capital city of Kwara State). In 1972, he was transferred to Akure, and shortly after, to Idogun. In 1973, he was finally transferred to his hometown, Abeokuta, as The Apostolic Church Abeokuta District Apostle. In 1979, through his indefatigable efforts, the District assumed Area status, and he was appointed by the church's executive council as the first Abeokuta Area Superintendent in the same year, an office he retained until his retirement in 2002.
On assumption of office as an Area Superintendent, he became a member of the church's LAWNA (Lagos, Western and Northern Areas) general executive council. He was later admitted as a member of the LAWNA executive council - the highest ruling body in The Apostolic Church LAWNA. He voluntarily retired from active ministerial service on May 26, 2002, after serving for almost sixty-three years.
His major contributions
Samuel Ogunkunle Akindiya contributed immensely to the growth and expansion of The Apostolic Church work in Abeokuta and the surrounding region. He was a distinguished school manager and church administrator, and made numerous other contributions:
In 1979, he was instrumental in the church's acquisition of a landed property at Oke Lantoro in Abeokuta for use as a private church cemetery, the first of its kind in the history of the church in that area.

In 1982, his expansion drive led to the establishment of two distinct Area Headquarters in the Abeokuta Area. These two areas are Ilaro Area and Ifo Area, each with its own superintendent.

He was also instrumental in the purchase of over seven acres of land at a place called Onibode in Abeokuta, which today is serving as the convention ground for the Abeokuta metropolitan areas.

In January of 2002, through his indefatigable efforts, three additional Areas were carved out from the Old Abeokuta Area from within the city of Abeokuta itself: Igbore Area (inaugurated on January 13, 2002 with Pastor R. K. Olowonefa as the first Superintendent), Igbehin Area (inaugurated on January 20, 2002 with Pastor S. O. Arapasopo as the first Superintendent), and Olurunda Idofin Area (inaugurated on January 27, 2002 with Pastor J. A. O. Olaninwa as the first Superintendent). He also encouraged and promoted education and youth ministry in the church. He was very accommodating, and as a result was very much loved by the people, both within and outside of the church. His hobbies were singing and visitation, especially to smaller assemblies and to those who were weak in the faith.
His last days
Samuel Akindiya was called into glory on December 9, 2009. He was buried on February 19, 2010. He is survived by his wife, deaconess Alice Akindiya, his children: deaconess Rhoda Susana Onigbinde (née Akindiya), deaconess Phebian Oyelade (née Akindiya), deaconess Janet Olu-Ayorinde (née Akindiya), and deaconess Deborah Olowo (née Akindiya), and his extended family.
Samson Adetunji Fatokun
---
Sources:
Pastor Philip Sunday Olowo, interview by author [Olowo is son-in-law to the deceased, and Assembly pastor, The Apostolic Church, Idofin Assembly, Olorunda-Idofin Area, Abeokuta, Ogun State, Nigeria].

Excerpts from "Pastor Samuel Ogunkunle Akindiya's Funeral Ceremony Pamphlet," Lagos: The Apostolic Church LAWNA Printing Press.

Lekan Lisoye and Moses Ogunleye, *The Making of a Minister

The Biography of Pastor Samuel Ogunleye Akindiya* (Abeokuta: T.A.C. Ijemo-Agbadu, 1999).
---
This story was researched and submitted by Rev. Dr. Samson Adetunji Fatokun, who is Senior Lecturer in Church History and Pentecostal Studies in the department of Religious Studies at the University of Ibadan, Nigeria, where he also serves as the DACB liaison coordinator.