Classic DACB Collection
All articles created or submitted in the first twenty years of the project, from 1995 to 2015.
Awoniyi, Joel Dada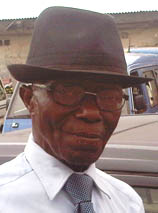 Joel Dada Awoniyi was born on June 20, 1928 to Awoniyi Anisingin and Bolajoko Anisege at Oke-Ode in the present state of Kwara, in Nigeria. His parents were ardent traditional religion worshippers. His elder brother, Fadun Romanus Awoniyi was a great influence in his early life and education because he led his younger brother Joel to the Sudan Interior Mission (SIM), which was the only known Christian mission in their area at the time. Fadun Romanus was baptized into the SIM, which later became the Evangelical Church of West Africa (ECWA) in 1926.
By 1936, Romanus had become affiliated with the Seventh-day Adventist (SDA) mission and in 1937 both he and Joel were baptized into the SDA church by Pastor W. Till, an expatriate missionary. Romanus subsequently became the headmaster of the SDA primary school at Ipoti-Ekiti in the present Ekiti state, in southwestern Nigeria. He brought his younger brother to the school in 1942 for some formal education. Joel had received home schooling before this and was therefore admitted to Standard three. He received his Standard six certificate in 1945.
Joel Dada Awoniyi began his apostolate as a pastor/teacher for the SDA church and primary school at Ikun-Ekiti, a position he held until 1947. He was then posted to Omu Aran in Kwara state the following year, but did not stay long as his senior brother, Romanus (who had been appointed the church pastor of their hometown, Oke-Ode), was transferred. Awoniyi was sent there to succeed him and he stayed until 1949.
In 1950, Awoniyi was sent to the Teacher Training School at Ihie in southeastern Nigeria, for further studies. The school was the highest level SDA school in Nigeria at the time, and he was there until 1952. As a newly trained teacher, he was sent to Erunmu, the birthplace of the Seventh-day Adventist mission in Nigeria, to teach in the elementary school. Erunmu is twenty-five kilometers from Ibadan, the capital of the old Western Region. By 1954, Awoniyi was back at Ihie for further training. He graduated in 1956 and was posted to Oke-Ila, in present day Osun state. His stay there was brief, as he was called back to Erunmu to serve in the newly founded Secondary Modern School (1957-1958). His career seemed to be oscillating between the teaching profession and the pastorate, as he was called to serve as the pastor of the Otun-Ekiti SDA church in 1959.
Awoniyi had a passion for education and self-improvement. He had just gone for a qualifying examination at Jos, in the famous College of Arts in Zaria, when he received word that Pastor Grover C. Winslow, the newly appointed principal for the Adventist College of West Africa (ACWA) at Ilisan-Remo, Ogun state, was on a student recruitment drive. He was told that there was not a single Yoruba student among the prospects. He made up his mind to attend the school, if only to represent his people. Thus it was that on September 17, 1959, at the groundbreaking of the new liberal arts college, Joel Dada Awoniyi became one of the seven "foundation" students of the institution now known as Babcock University.
Awoniyi did not like the food at the new college, which was served by a caterer named Ejeh. The food was said to be sub-standard. A great improvement in the food came with the arrival of Dr and Mrs. Riley. Mrs. Riley was a nutritionist who started the practice of baking whole wheat bread–a bread for which the school became famous. It became standard fare, and was eventually sold in department stores in Lagos, Ibadan, and other southwestern cities.
Awoniyi was one of the students who helped to mould the blocks that were used to build the first college church on the campus. He graduated with a diploma in 1962 and proceeded to Newbold College in Bracknell, U.K., where he obtained a Bachelor of Theology degree in 1963. While at Newbold, Awoniyi held three different student worker positions in order to raise the money he needed for his tuition.
Awoniyi went on to Andrews University, Michigan, U.S.A., the SDA flagship institution, from 1963 to 1967. He obtained a B.A. in theology as well as an M.A., and a M.Th. from the university. He was briefly sent to the SDA secondary school at Ede, Osun state, on his return. On the basis of his academic qualifications, he was then sent as a lecturer to his alma mater, ACWA. He taught courses in Systematic Theology, New Testament and Old Testament. He was ordained into the gospel ministry along with his friend and compatriot, James Kio, in early 1969. He was also appointed dean of men and head of his department at the seminary. His wife, Vertibelle Awoniyi, whom he had married in Ile-Ife, Nigeria, became the head of the cafeteria. They have two children, Andrew and Deborah, who both hold a Ph.D. in nursing in the United States. Vertibelle, a trained nurse, also began the school clinic in 1972. That original clinic has become the burgeoning Babcock University Medical Centre and Teaching Hospital today. The pioneering effort of the Awoniyis to put the clinic on an even keel is well known in SDA circles. Awoniyi was also involved in doing evangelism in the towns near the seminary, including Sagamu, Ikenne, Irolu, Akaka, and others. Scores of people were converted to Christianity as a result of his effort. His effort in Ilisan, where the college is located, was also significant, as he evangelized the people of the town and was responsible for the establishment of Ilisan Church No. I. He also helped to build it by doing bricklaying and by soliciting funds from the college and well meaning individuals. Awoniyi taught until 1974, when he decided to go back to Andrews University for a Doctor of Theology (Th.D) degree.
The Th.D degree required students to have proficiency in German, French, Hebrew, and Greek, in addition to the class work and dissertation. Awoniyi was awarded the Doctor of Theology (Th.D.) degree, with distinction, in 1979. He immediately returned to ACWA, which had been renamed as the Adventist Seminary of West Africa (ASWA). Between 1982 and 1983, Awoniyi completed a project of the Bible Society of Nigeria in the form of a translation of the New Testament from Koine Greek into Yoruba. His work and that of other scholars became IROHIN AYO, a new translation employing modern Yoruba orthography. Awoniyi had thus followed the path of the revered Samuel Ajayi Crowther, who had been the first to translate the Bible into Yoruba. He became at various times vice-president for student affairs and acting president of the institution in the absence of Dr. Roland McKenzie, who was substantive president between 1981 and 1983. He became the first staff member/scholar in the history of the institution to be promoted to the rank of professor when he was named professor of New Testament in the early 1980s.
Awoniyi retired from the services of the institution and of the SDA church in 1995. He went to Ile-Ife, the cradle of Yoruba civilization, where he supported his wife, who was the principal of the SDA School of Nursing in the 1990s. They both left for home at Oke Ode after her retirement. They established the SDA Secondary School at Oke Ode in 2002, and followed that by establishing the SDA Nursery and Primary School No. I there in 2004. A second elementary school was established in the town in 2008. The schools are named after the SDA church, and they are jointly managed by the church and the Awoniyis.
The legacy of Joel Awoniyi overlaps evangelical, educational, and pastoral spheres. There are testimonies of his advocacy, of his involvement in church planting, and of the help he provided for the erection of church buildings. Awoniyi not only provided for the education of his own children to the doctorate level, but also sponsored the education of scores of extended family members and church members. Among those who have benefitted (aside from his own children), are Professor Moses Adetunmbi, Dr. Caleb Awoniyi, Dr. Abraham Kuranga, and Dr. (Mrs.) Ruth Adunola Aderanti. He broke down the prejudices that existed in his time, the barriers that denied blacks the opportunity of higher education. He persevered and received an education that helped him serve others as a better instrument in the hand of God. As of this writing (2010), Joel Dada Awoniyi spends his time in retirement travelling and playing with his grandchildren.
Abiodun Ayodeji Adesegun
---
Bibliography
Adesegun, Abiodun Ayodeji, "The Health/Educational Work of the Seventh-day Adventist Church, 1914 - 1984." M.A. diss., University of Ibadan, 1985.
——–, "Christian Education in the SDA Church in Remo, 1959-2004." Ph.D. diss., University of Ibadan, 2009
Aderanti, Mrs. Ruth Adunola (niece of Awoniyi). Interview by author, April 13, 2010, Babcock University, Ilisan-Remo, Ogun state.
Awoniyi, J. D. Service Record. Letter to Andrews University, undated.
Awoniyi, Joel D. Interview by author, April 11, 2010, Babcock University, Ilisan-Remo, Ogun state.
Babalola, D. O. The Compass: The Success Story of Babcock University. Ikenne-Remo: G. Olarotayo and Co., 2002.
Kio, James B. Interview by author, April 13, 2010, Babcock University, Ilisan-Remo, Ogun state.
---
This article, received in 2010, was written by Dr. Abiodun Ayodeji Adesegun, DACB liaison coordinator and a lecturer in the department of History and International Studies at Babcock University, Ilisan-Remo, Ogun State, Nigeria.