Classic DACB Collection
All articles created or submitted in the first twenty years of the project, from 1995 to 2015.
Crowther, Samuel Ajayi (B)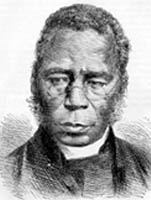 Bishop Samwel Ajayi Crowther was the first African Bishop in the Anglican church. His appointment was part of the movement to create an indigenous African mission, but the movement failed in the face of colonial British missionary resistance to African leadership.
Crowther was a Yoruba youth when he was captured by Muslim slavers during the civil wars that devastated Nigeria during the early 1820s. His family was sold to Portuguese traders and then liberated when a British cruiser on antislavery patrol seized the ship and released its human cargo in Freetown, Sierra Leone. In Freetown, Ajayi entered a school run by the Church Missionary Society (CMS) and was baptized a Christian in 1825, taking the name Samwel (Samuel) Crowther.
He was sent to England for a year's further schooling and then became the first African to graduate form the CMS's new college, Fourah Bay Institute. Crowther continued as a tutor there and became an evangelist before returning to England in 1841 to be ordained. He married a woman he had met on the slave ship, who was baptized Susanna; one of their children later became archdeacon of the Delta Mission, which his father founded.
Crowther was the ideal candidate for the CMS's intended purpose of creating an indigenous African church. Intelligent and reliable, soft-spoken and devoted, he was Victorian in his manners and African in his outlook. The progressive secretary of the CMS, Henry Venn, took him under his tutelage and passed on his vision of an African church "independent of foreign aid or superintendence." In 1843, Crowther was posted to Abeokuta, Nigeria. In a poignant moment, he met and recognized his mother there. In 1848 he baptized her.
Crowther believed that Christianity and trade were inseparable. In 1854 and 1857 he accompanied William BAIKIE's expeditions up the Niger River and wrote two accounts of the voyages.
He remembered much of his childhoood Yoruba and preached in the Yoruba language. He translated the New Testament and the Book of Common Prayer into Yoruba and published a small dictionary of the language in 1857. Crowther could put aside his natural reticence; he was known to enter sacred huts to destroy carvings of Yoruba gods. In 1857 he was made head of the Niger Mission and, as the work developed and plans were laid for the first African-staffed diocese, he was the only choice to head it. In 1864, Crowther was consecrated with the title of "Bishop for West Africa beyond British Jurisdiction" and was awarded an honorary doctorate by Oxford University.
The Niger Mission came with serious problems. Crowther's position was not well defined, and he faced opposition from resident Anglicans as well as from Africans. Perhaps most significantly, his personnel from Sierra Leone were inadequately trained, knew little of the local languages, and adapted poorly to the climate. Despite all of this, the mission prospered, and within a few years there were 600 Christians with 10 priests and 14 catechists.
In the contemporary context of Social Darwinism–a doctrine that argued the existence of a scientific basis for racial differences and posited the superiority of whites–many Europeans believed in the moral obligation of the so-called advanced races to govern those who were "less developed"; they used this theory as an intellectual justificiation for colonialism. Young liberal elements in the CMS dismantled Venn's Africanization policy, and increasing pressure was brought on Crowther by opponents of an African church. Sir George GOLDIE wanted English missionaries who would advance British colonial designs. The new generation of British missionaries, staunchly committed to the Christian duty of colonialism, refused to work under an African bishop, so Crowther was forced to accept a white associate who was given control of finances. Because the establishment of an endowment for the Niger Mission was the key to its future independence, this was a major blow to his prestige and authority.
Crowther was humiliated in a number of ways. His missionary ship, the Henry Venn, was taken from him and turned into a merchant vessel, making Crowther dependent on traders for transport inland. Anonymous and unproven accusations were made to the CMS about the management of the mission, and Anglican church law was flouted in the conduct of the investigation. Crowther neither saw the report nor had any opportunity to reply to it. Finally, the finance committee met and suspended the Nigerian priests Crowther had ordained. The bishop, then over 80, resigned his post in protest. Crowther's humiliation was a turning point that thwarted African control and produced a foreign church. In another, parallel turn of events, it fostered the growth of new African churches that were free of white monopoly.
Crowther was the victim of the twin thrusts of colonialism and Western missionary zeal, both underpinned by racism. At no point, however, were any accusations made against Crowther himself, even though he was the obvious target. Almost all church historians have failed to reveal the exact accusations, and their racist nature was not openly discussed until many years later.
Norbert C. Brockman
---
Bibliography
Lipschutz, Mark R., and R. Kent Rasmussen. Dictionary of African Historical Biography. 2nd edition. Berkeley: University of California Press, 1986.
Dictionary of National Biography. London: Oxford University Press, 27 volumes, 1921-1959.
The New Encyclopedia Britannica. 15th edition. Chicago, IL, 1988.
Ewechue, Ralph (ed.). Makers of Modern Africa. 2nd edition. London: Africa Books, 1991.
Rogers, J. A. World's Great Men of Color. New York: Macmillan, 2 volumes, 1974.
Additional reading: Ayaji, Jacob F. A. Christian Missions in Nigeria, 1841-1891 (1965).
---
This article is reproduced, with permission, from An African Biographical Dictionary, copyright © 1994, edited by Norbert C. Brockman, Santa Barbara, California. All rights reserved.