Classic DACB Collection
All articles created or submitted in the first twenty years of the project, from 1995 to 2015.
Crowther, Samuel Ajayi (D)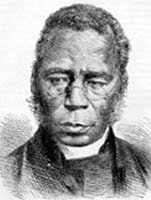 A Native of Yoruba country. Was rescued from slavery. Educated at the Fourah Bay Institution, and subsequently, 1842, October, at the Church Missionary College, Islington. Schoolmaster and Catechist at Sierra Leone. 1843, June 11, deacon and October 1, priest by Bishop of London. 1864, June 29, consecrated Missionary Bishop of the Niger Territory by Archbishop of Canterbury, in Canterbury Cathedral; Honorary Degree of D.D. conferred by University of Oxford. 1864, February 9, visited England, and July 24, returned to the Niger; 1870, February 20, to England, and June 24, to Niger; 1873, January, to England, and July 1, to Niger; 1877, January 13, to England, and July 21, to Niger. 1882, February 18, to England, and October 14, to the Niger. 1889, October 8, to England and 1890, February 8, to Niger. 1891, December 31, died at Lagos. First Native Bishop. In 1841, accompanied the first Niger Expedition. In 1880, was awarded a gold watch by the Royal Geographical Society for his travels and researches on the Niger. (See C.M. Intelligencer, February 1892.) Translated, with the assistance of the Rev. T. King, part of the Bible and Book of Common Prayer into Yoruba. Author of the Yoruba Vocabulary, etc., and elementary works in the Nupe and Ibo languages.
---
Source:
Church Missionary Society, Register of Missionaries (Clerical, Lay and Female) and Native Clergy from 1804 to 1904.