Classic DACB Collection
All articles created or submitted in the first twenty years of the project, from 1995 to 2015.
Dennis, Thomas John (A)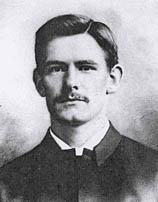 Thomas John Dennis was born the eldest son of a family imbued with missionary spirit, no less than eight members becoming missionaries in the service of the Church Missionary Society [CMS]. He was of a serious temperament inclined to be bookish rather than sporty. Employed as a gardener, his studious tendency was acknowledged by his employer who gave him unrestricted access to his library. About the same time he came into contact with Rev. C. F. Childe who had been principal of Islington College in London. Childe gave Dennis home tuition so he could apply for training by the CMS and Dennis was admitted as a student at an unusually early age. Grateful for the tuition Dennis brought honor upon himself by becoming dux of Islington and as a result, earned a place in the Oxford and Cambridge Preliminary Examinations.
Shortly afterwards he was made a deacon at St. Paul's Cathedral and accepted a curacy at St. Mary's Islington. However, Dennis was attracted at the time with appeals for volunteers to go to Africa and joined a party of missionaries. Suddenly an urgent request came from Fourah Bay College and he was sent to fill the vacancy. Dennis plunged into the job with his usual characteristic energy, and also gained for himself quite a reputation outside the College, where he ran Scripture Union meetings in his spare time. His health however, was to be a problem, as he suffered severe attacks of fever. During one such attack, he was put on a ship for the Canary Islands to recuperate, but in his poor condition, it was remarkable that he survived the journey at all.
After his first period of service he returned to West Africa and was assigned to the Niger Mission. However, he remained for some time in Sierra Leone as acting Vice-Principal of Fourah Bay College. Dennis was ordained a priest by the bishop of Sierra Leone in 1894 and then preceded to the Niger where he arrived at Onitsha to begin his life's work. His earlier years were spent in the neighborhood of Onitsha, but more particularly on the Asaba side of the river. It was during this time that he laid the foundations of his unique knowledge of the language. His greatest monument will remain the translations of the New Testament, the Prayer Book and finally the Old Testament. All these translations were initially made into three main dialects, eventually being adapted into one translation of the most acceptable to all Ibo language speakers. By 1905 he had been promoted to archdeacon of the Upper Niger and in 1907 Dennis was appointed diocesan secretary. In order to free him for his onerous task, a minute was passed relieving him of all other duties. Dennis organized a central point at Ebu–an outlying village of Owerri, and with a handpicked set of native helpers began the task, his wife typing the pages ready for the printer. The New Testament in "Union" Ibo firstly appeared in 1910 and by 1913 the entire translation of the Bible was available in one volume. Dennis was already a graduate of Durham University having taken a Bachelor of Arts degree in 1903, and Master of Arts in 1906. International recognition, for his work followed and Dennis was about to be conferred with a doctorate honoris causa by the Oxford University authorities when his tragic death deprived him of the honor.
Archdeacon Dennis was essentially a missionary in every sense of the word, fulfilling his Master's word by the preaching of the Gospel. The Mission House at Ebu was daily thronged with visitors. He took every opportunity to preach a sermon, and his success, which grew from very unpretentious beginnings, was prodigious. Congregations were numbered in their thousands from about one hundred out stations, their financial contributions practically making the Ebu Mission House and the translation project self supporting.
Most pathetic was his untimely, tragic end. Both he and his wife had been hurrying home to be with their five children for the school holidays, when hostilities at the end of the First World War took their toll. Archdeacon and Mrs. Dennis had embarked on the African Steamship Company's vessel SS Karina at Sierra Leone on route for Liverpool, when on August 1, 1917 a German submarine torpedoed the ship a few hours from their destination. Mrs. Dennis survived the incident but unfortunately the Archdeacon was thrown into the sea and drowned, in what was to be a tragic end to a brilliant career and when the news was announced, an inestimable loss to the Niger Mission and the West African Missionary Movement.
A. C. Stuart Donald
---
Sources:
The Hastings and St. Leonards Observer; Crockfords Clerical Directories; Lloyd's Register and Lloyd's War Losses; Henry Martyn Centre.
Correspondent: Mr. Okey Ofoma.
Acknowledgements:
Catherine Walker, Assistant Keeper of Maritime History, Aberdeen Maritime Museum; Dr. Sue Sutton, Archivist, the Cambridge Centre for Christianity Worldwide; Joan Harding Editor's Secretary, Hastings and St. Leonards Observer; Roger Bristow Information Services Librarian, Hastings Library; John Goodfellow Author and Historian; Richard Christmas Compiler Crockford's Clerical Directory London; Michael Ade, Archivist, The Anglican Communion, London; Michele Sigg, archivist, Dictionary of African Christian Biography, Canada; Rachel Rowe, archivist, Church Missionary Society (CMS) Photographic Collection; Philippa Bassett, Archivist, University of Birmingham Special Collections; Elizabeth Hammond, Secretary, The Argus Newspaper, Hastings.
Photograph Credits:
Photographs courtesy of the Cambridge Centre for Christianity Worldwide.
---
This article, received in 2008, was originally the Centenary Booklet published by the Egbu Diocese in Owerri Province, Nigeria. The author is A. C. Stuart Donald, trustee, lay representative, and eventually elected secretary to the Trustees of St. Andrew's Cathedral, Aberdeen, for over twenty years. He retired in 2003 to become Keeper of the Aberdeen Diocesan Library and Honorary Archivist.
---
Photo Gallery