Classic DACB Collection
All articles created or submitted in the first twenty years of the project, from 1995 to 2015.
Dennis, Thomas John (B)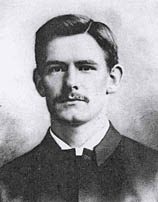 Thomas John Dennis was a British missionary in West Africa. He was born in Sussex, England. He was a gardener before he volunteered with the Church Missionary Society (CMS), which trained him at the Preparatory Institute, Clapham (1889), and at their college in Islington, near London (1890-1893). For 24 years he served in Sierra Leone and Igboland (Nigeria). Assigned to Fourah Bay College, Sierra Leone, he showed commitment to hard work, excellent education, and love for African people. In Igboland, he devoted himself to evangelism, education, rigorous administration, and especially a new vernacular translation of the Bible incorporating elements from various dialects. He advanced the mission into central Igboland from 1906. Dennis earned Durham's B.A. (1897) and Oxford's honorary M.A. (1916) for his Union Ibo Bible. He died in a ship mishap. Miraculously, his Bible manuscript washed ashore, a gift from a caring, humble missionary. The first grammar school in Igboland-Dennis Memorial Grammar School, Onitsha (1925)-is a worthy tribute to the "greatest of all who have made a lasting impression on Igbo life and thought."
Ogbu U. Kalu
---
Bibliography
F. K. Ekechi, "The Missionary Career of the Venerable T. J. Dennis in West Africa, 1893-1917," Journal of Religion in Africa 9, no. 1 (1978): 1-26; Frances M. Hensley (née Dennis), Niger Dawn (n.d.; 1948?); G.O.M. Tasie, "Igbo Bible Nso and the Evolution of the Union Igbo, 1905-1913," Journal of the Niger Delta Studies 1, no. 2 (1977): 61-70.
---
This article is reproduced, with permission, from Biographical Dictionary of Christian Missions, copyright © 1998, by Gerald H. Anderson, W. B. Eerdmans Publishing Company, Grand Rapids, Michigan. All rights reserved.
---
Photo Gallery