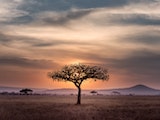 Nyong Etim Ekpo was born on 19th March 1921 at Natonda to Ete Etim Ekpo Okon and Madam Nkoyo Owitighi of Mben Mong Ekanem Esin in Bakassi Local Government Area of Cross River State.[1] He had his primary education at Christ African Church Primary School, Calabar, Hope Waddell Training Institution, and Nigerian School of Commerce Port Harcourt. He worked for United Africa Company (UAC) Ltd Okopedi Itu. He later left and worked with Metal Box Company Ltd Apapa and Nigerian Technical Company (NITECO). When he returned home, he joined Dukon Technical Company Calabar. He joined the Eternal Sacred Order of the Cherubim and Seraphim in 1942. He rose through the ranks to become a Special Senior Apostle and the Chairman of Calabar Province in 1978. He became the Chairman of the Organization of African Instituted Church (OAIC) Cross River Chapter, after the death of Elder Eyo Oku, who was the Chairman of the OAIC. He was a prophet through whom the evangelism of the gospel was spread through Calabar. He was noted for the spiritual gift of healing with which he healed and converted many sick folks to the church. He died on 16th June 1997. He was married to Prophetess Mary Ekpo. He left behind 12 children and 23 grandchildren.[2]
Ekpenyong Eyo Oku
---
Notes:
Biography narrated by Eim Ekenyong.
Interview with Etim Okon by writer.
Sources:
Emuchay, N. Functions of the Church Administrators
Famidumu, E. Olu. Moses Orimolade Tunolase
Okwu, E. C. and Alex Amaramiro. 'Called to serve' Biography of Dr. G. I. M. Otubu. Owerri: Colon Concepts Ltd, 1996.
Omayajowo, J. Akinyele. Cherubim and Seraphim: History of an African Independent Church. New York: NOK Publishers International, 1982.
Otubu, J. A. M. Book of Liturgical Practices for ESOCS.
---
This biography is reprinted with permission from: Ekpenyong Eyo Oku, "The History of the Eternal Sacred Order of the Cherubim and Seraphim Church (ESOCS)" in Calabar, Nigeria" in The History of African Independent Churches - Book One, eds., Mary Bjork, Lynn Hansen and Thomas A. Oduro, (Accra: Type Company Limited, 2022), 431-451. This biography has been edited for posting on the DACB website. All rights reserved.